Petite Meller's Big Moment
The French singer has a thing for pastels, studies philosophy.
---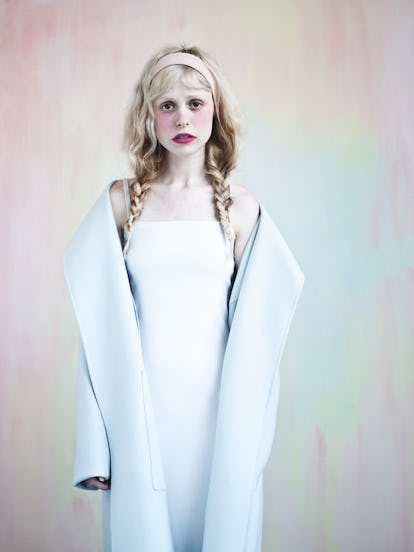 Photography by Van Sarki Styled by Lindsey Frugier
Like Lana Del Rey, the strange, alluring French pop singer Petite Meller seems to play a fantasy character. Except her world of make-believe—which, like Del Rey's, blends a stylized nostalgia with the theatrical gestures of a romantic young woman—is distinctly her own: in the handful of music videos she's put out, the elfin Petite, who resembles a young Mia Farrow with kabuki makeup, frolics in landscapes urban, suburban, coastal, and snow-covered, all of them sweetened with sugary hues.
Meller emerged as a solo artist on her first trip to New York. Several years ago, while on tour with another band, she began to haunt the jazz clubs of Harlem and Greenwich Village. It brought her back to her childhood growing up in Paris and Tel Aviv, when her father played Dizzy Gillespie records in the house. "The vibe made a turn in my life," she recalls in her accented English, which comes out in the same breathy coo as her falsetto. "So I started writing a song about the magic of the city.
That song, "NYC Time," which she will release on September 29 as a single, made its debut on the Internet last year in the form of a thrillingly weird music video. The catchy pop track, embellished with jazz saxophone, scores the sight of Petite being carried, like a child, by a burly black man out of the suburbs, through Brooklyn, and into midtown Manhattan. It's playful, but also darkly sexual.
This carefree Lolita appears over and over again in Petite's videos. In "Backpack," she wears a 1930s bathing suit while water-skiing across the French Riviera—in homage to Henri-George Clouzot's unfinished 1964 masterpiece Inferno, in which Romy Schneider was meant to play a dangerous young seductress who also happened to enjoy water sports. In fact, Meller borrows freely from the films of the French New Wave, as well as the writings of Jacques Lacan and his ilk (she is currently pursuing her masters in philosophy).
She is a nostalgic artist, and is also a locavore. She enjoys working with people in their natural environment, and often casts from the street. She found the anonymous man for her "NYC Time" video, in the subway by Yankee Stadium, writing poetry. "We're great friends now," she says, laughing gently. "He lost weight—he's not so big anymore."
Currently, she's bouncing between cities—London, L.A., Stockholm—recording her forthcoming debut album with a different producer for each track. In the meantime, to quell our anticipation, here is an exclusive look at her new music video for the never-before-heard demo, "Conspiracy."