Lady of the Manor
With her $85 million castle, an army of assistants, publicists, and pooches, not to mention her bedazzled-handbag line, Petra Ecclestone is Hollywood's new billionaire queen bee.
---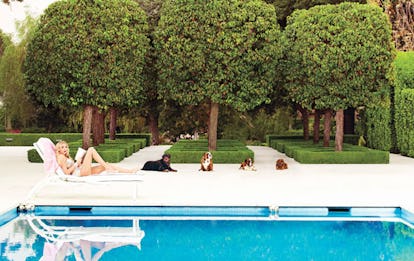 Outside the Manor, a 56,500-square-foot castle in Los Angeles's Holmby Hills built in 1991 by Aaron and Candy Spelling and bought last summer by Petra Ecclestone—the 23-year-old daughter of Formula One mogul Bernie Ecclestone—for a reported $85 million, a man inspected the wheels of a white Range Rover with a thick black stripe down the hood and petra written on the grille. His colleague polished a matching black one, marked stunt, for James Stunt, Petra's husband of six months. Also arrayed, in fan formation in a motor court that is said to have space for a hundred cars, were a white Ferrari and a white Rolls-Royce Ghost (Petra's) and a black Lamborghini and a black Rolls (James's).
The interior of the Manor, once the domain of acres of chintz and known for housing Candy's doll collection and the infamous gift-wrapping room—and, according to her memoir, for being the locus of her greatest social anxieties—has been Petra-fied. Designed in three weeks and installed in nine, a feat that required 500 workers and the tireless attention of the celebrity designer-builder Gavin Brodin, the house has been transformed from an old Dynasty-like set to a massive VIP lounge. Five thousand square feet of white marble lashed with thick black stripes pave the foyer; black carpet streaks up the sweeping double staircase to the second floor. Dark velvets line the walls, and little crystals sparkle everywhere.
I found Petra in the living room, a vast white-on-white-on-white space, perched on the edge of a couch, pulling at the tips of her wavy bright-blonde hair with slender fingers and wearing a loose cream-­colored sweater and short frayed jean shorts, with leopard flats at the end of slim tanned legs. She is pretty, wide-eyed, and speckled with beauty marks. As she played with her hair, a gigantic gem flashed: a 10.5-carat Asscher-cut diamond, given to her by James, 30, for their engagement. "He owns gold mines," she told me. "It's very random." Her bodyguard handed her a Starbucks cup.
"I've got quite masculine taste," Petra said. "I don't like a lot of pattern. This room is the only light room; everything else is very dark and kind of sexy, with, like, a boudoir feel to it. You're not scared if you stain something." She paused and then said apologetically, "I know that the house is huge, and yes, it really is quite overwhelming, but with the other houses we looked at that were a similar size to this, you felt like you were in a museum. They didn't feel homey. I think because there was a family here previously, it was warmer and cozier." (Candy and Tori's acrimonious relationship notwithstanding.)
A few minutes later, we set out on a tour of the house, down a corridor that smelled of fresh paint, past James's study, where a giant fish tank, to be filled with rare puffer fish and angelfish, was being installed. The hallway was lined with portraits by Sir Anthony van Dyck, Sir Godfrey Kneller, and Sir Peter Lely. "All my Lelys are important," James told me later. "In Althorp, the Earl of Spencer has the Windsor Beauties, which is a very famous group of pictures by the artist. I've been trying to rival the Windsor Beauties. I have more, I think, than him, and I'm just five off the Royal Collection."
"James's Old Masters!" Petra said indulgently. "Very different than my taste." We passed a sculpture by Marc Quinn of twin Pamela Andersons in bikinis: hers. "I've never met her; I just love the piece," she said. "I think it's so fun." She showed me more living rooms, the solarium, and the swimming pool, which she had yet to use.
"I need space," she said, as we headed downstairs. "I was living in an apartment before, in London, so it's a change. That was 5,000 square feet. Then I moved into our other house in London, which was 20,000 square feet."
In January, Petra bought a historic, grade II–listed house in the city's posh Chelsea neighborhood, which is valued at $87 million. Her sister, Tamara, the 27-year-old subject of a British reality show called Billion $$ Girl, recently bought a house on Kensington Palace Gardens, the most expensive street in England. The sisters' spending habits are apparently causing their father some concern. In December, The Guardian reported that he had established a £3 billion trust for them to build a real estate portfolio. "The idea was that they'd buy superquality property that would be long term—for their kids and everything else," he said. "Didn't happen. They haven't done that. So they've had access to money, which they've spent."
Petra is a modern-day princess, albeit one reared in the age of Paris Hilton. Her devotion to canines—she collects English bulldogs, ­Maltese, Maltese poodles, rottweilers, boxers, and Cavalier King Charles spaniels—rivals the Queen's. Her wedding, at Odescalchi Castle (where Tom Cruise and Katie Holmes were married), was as luxurious as a coronation: Guests were served Château Pétrus ($6,000 a bottle) and entertained by the Black Eyed Peas. Until recently, the event was believed to have cost $7 million. Then Bernie Ecclestone testified in the corruption trial of a German banker, where it was revealed that the wedding had actually cost nearly $19 million, a level of spending encouraged by his ex-wife, Petra's mother, a Croatian former model named Slavica. " It was worth every penny because it made my daughter happy," Slavica was quoted as saying in Grazia. "Who cares about money?"
Like a good royal, Petra has the common touch: While giving nothing away, she is perfectly lovely, cordial, and gracious. "You'll never see us falling out of the nightclub with drugs," James says. "There will never be a scandal." And now that she lives at the Manor, she has her own coat of arms: a large M encircled by laurels and flanked by a pair of English lions, designed by her decorator.
In Hollywood, Petra and James associate with the tabloid aristocracy: Brandon Davis, the Hilton sisters, Mel Gibson. (James assured me that the couple also has "a lot of friends you won't have heard of, old-money people who have houses here. They're kind of like us. They bounce back and forth. They're the richest people in Europe, but they're not known in America.") They go on outings to Boa steak house on the Sunset Strip and to Beacher's Madhouse, a nightclub at the Roosevelt Hotel. Recently, at Beacher's Madhouse with Gibson, Petra and James spent a reported $250,000 on Cristal for other patrons, though none of their party partook. (She is "90 percent teetotal," succumbing only on rare occasions to a glass of champagne or a Malibu and pineapple.) "I've been to clubs all around the world, and I kind of feel like I've done it and I've seen the majority of the clubs," Petra told me. "Beacher's is fun, and you see different things when you go there. They have midgets and dwarfs, and they have, like, crazy people dressed up in panda and bunny-rabbit costumes, and amazing contortionists who can bend in crazy ways. I love the fact that you're kind of partying, but then you can sit down and watch what's going on."
The basement level of the house is meant to ­resemble a nightclub, with a bar, a bowling alley, and a pool room. There is a cinema with 20 custom theater seats, where Petra and James screen movies for their new friends. (The night I was there, Gibson came over and was subjected to a viewing of his 1996 film Ransom and nearly forced to reenact it. "I told him, 'I'm going to pretend to be the kidnapper; you're going to be you. Go to the other end of the house,' " James said. "But we didn't end up doing that.") At last, we came to Candy's doll room, which Petra converted into a spa, with a massage parlor, three hair stations, and two manicure-pedicure chairs, for the making of living dolls. (The gift-wrapping room became an office for Petra's assistant.)
The Manor's second story contains six enormous guest bedrooms, including one known as the Prince Charles suite, where Charles and Diana stayed when the Spellings threw a party for them. But the pièce de résistance is the master suite: 7,000 square feet of living space, which includes a kitchen, a living room, his and hers closets and bathrooms, and, of course, a bedroom. The living room was strewn with bags from Saks—seven of them full of Giuseppe Zanotti shoes, and five bags stuffed with dresses. "They're being sent back," she said. I peeked into the bedroom. Petra's Mickey Mouse doll, which she has had since birth, was tucked into a black duvet on the king-size bed.
The closet has been designed to resemble a boutique, with a second level reached by a pair of staircases and two glass-top center islands, on which Petra displays tiny Missoni bikinis still in their pouches and a Juicy Couture velour tracksuit with bride emblazoned on the derriere in rhinestones. "I live in my Birkins," she said, showing me a collection of 25 bags, including a hot pink one, a
yellow one, the purple one her father gave her when she was 16, and the black one James got her. "I'm running out of colors," she said. "I want more, is the problem. They need to make me one."
Near the Birkins is a shelf of purses Petra designed for her label, Stark, which launched in January: structured clutches in exotic skins (python, alligator) with heavy-duty hardware, crystal ornaments, and names like High Maintenance, Working Girl, and Morning After. They are sleek and attractive and reminiscent of Judith Leiber designs. Date Night is covered with yellow, pink, and orange crystals in an animal-print pattern. The bright palette—there is also acid green, hot pink, and tangerine—is an homage to Petra's favorite artist, Tracy Emin, whose neon piece More Love hangs outside her bedroom door.
"I want to be known for my business," Petra said when we settled back down in the living room. "­Everyone always talks—because I'm rich and I'm privileged, and I understand that. At the end of the day, I don't need to work, and I think it's good that I have the drive and willpower to get up and do something in the morning even though I don't need to. No one ever talks about the good in me; they just say that I'm spoiled." She went on, "Yes, I have money, and I understand that, and I work. And I think anybody else in my position wouldn't say no if they had the opportunity to live the way that I live."
Petra's creative ambition is the sand in her pockets. After attending Frances Holland School in London, she was accepted by Central St. Martins college, a prestigious art school whose fashion alumni ­include Stella McCartney, Hussein Chalayan, and Phoebe ­Philo. But instead of attending, Petra decided to start Form, a high-end men's wear line inspired by the sportiness of Formula One. She hired someone she described to me only as "a patternmaker"—the famous Savile Row ­bespoke tailor Edward Sexton, who helped launch Stella McCartney's career. (Sexton was Paul ­McCartney's tailor and designed his suit for the cover of Abbey Road; he was Bernie Ecclestone's tailor, too.) Form debuted at Harrods in the fall of 2008 and folded just over a year later. "I learned so much—it was like, Why do I need to go to school?" Petra said of the experience.
Being in Los Angeles, Petra says, will help her promote Stark. "The line is very red carpet, celebrity driven," she told me. "So I'm here to kind of push that side of things." With that in mind, she met with a newly hired publicity firm, Wetherly Fashion Group, in the middle of November at its showroom in West Hollywood. Wetherly also represents J. Brand jeans and Nicky Hilton's jewelry line.
Petra arrived courtesy of her bodyguard (she hasn't mastered right-side-of-the-road driving) a mass of styled blonde curls swirling around her head, eyelashes heavy with mascara, clutching an oversize foam board. The publicity team filled her in: The stylist Karla Welch's assistants had come in and shown interest in the pink and orange leopard crystal bag. "Her girls are definitely the kind of girls who would use that—like Olivia Wilde or like an Amy Poehler, they could put that on her," one of the publicists said.
"This is the new collection," Petra said, turning over the foam board to reveal images of clutches, envelope bags, totes. "It's kind of, like, dark metallics. It goes into reds, dark greens, and then ­midnight blue. We've added two bigger, oversize bags."
"What we could do is, we could discuss with you a very, very targeted gifting," one of the publicists said. "With the smaller bags, it's equal parts what the stylist says and what the celebrity likes. With the bigger bags, those are the 'I'm going to go to Whole Foods' bags. How many times do they get shot leaving Whole Foods? Those are the times they're going to pick their bags themselves."
"It needs to be very targeted," the other publicist said. "Like, Penélope Cruz would be great, but she's not seen out in public very often."
"Our reasoning is not only their A-list fame, but it's also about who is shot by the paparazzi," her colleague said. "Where are we going to get the most bang for our buck here? If we were to give one of these bags to Julia Roberts, whenever Julia Roberts is out now she looks like a mom. She's wearing her sweats or she's wearing her cargos, and she may even have a backpack on."
"Like a Blake Lively, perhaps? That kind of girl?" Petra suggested. The publicists said they would float the idea to Lively's assistant. Petra took notes with a rose gold pen that had a pink crystal at the end.
Then she mentioned that sales of a tubular black crystal clutch with a panther-head clasp, known as the Beverly Drive, would benefit the Meningitis Trust, a charity she has supported since she contracted the disease as a teenager.
"That's fantastic to know," the first publicist said. "Everyone likes promoting something that's doing good."
Petra smiled. "You don't feel as guilty buying it," she said.
Petra and Tamara are said to have had a normal upbringing. Bernie, the five-foot-three-inch-tall son of a trawler, worked his way up from selling spare motorcycle parts to owning a majority stake in Formula One.
Slavica, who is six feet two, grew up in a coastal village the daughter of a fireman and a vegetable seller, posed naked for a magazine, became a Fila model, and married Bernie in 1985, after meeting him at the Italian Grand Prix. Bernie and Slavica divorced in 2009; prior to that, Tamara has said, Slavica cooked dinner for the family every night, and Bernie did the washing up.
"My parents were very well-off, but we didn't have a crazy-huge house," Petra told me. "We didn't have thousands of workers and staff; it was just my mum doing the majority of the housework. We didn't have nannies. I wasn't brought up in any sort of extravagant way." But a fiction of simple housewifery is harder to maintain when your house is bigger than the White House; you are attended by caretakers, housekeepers, an assistant, several bodyguards, and a butler; and you don't know how to cook.
One afternoon just before the holidays, Petra invited me over for a lesson from her chef Jeffrey Nimer. Rodney, the butler—"He just helps around the house," Petra said—opened the door. Petra was in the living room in her pajamas—gray velour sweats, gray sweatshirt with pink lettering (love pink), gray moccasins—meeting with Lauren Bosworth, one of her managers, whose agency's other clients, Bosworth told me, include Dr. Drew, Piers Morgan, and Ivanka Trump.
"We're learning how to do a roast chicken, 'cause that's James's favorite," Petra said, leading the way to the kitchen. She had exactly one hour to spend on the project. Nimer was ready, in a blue apron, with the ingredients laid out. There were whole asparagus and diced asparagus; whole mushrooms and chopped mushrooms; sprigs of rosemary, ­marjoram, and thyme next to ramekins filled with minced versions: remedial food prep for someone who might not have ever seen an intact mushroom in her life.
Petra plopped her ring on the counter beside the herbs and struggled to put on a pair of rubber gloves. "Oh, gosh," she said. "I don't think I've ever worn gloves." The chef unwrapped a whole chicken and showed her how to tuck its wings under to maintain the shape. "What happens if you take them off?" Petra asked, and Nimer had to explain that the wings were one of the parts that people like to eat: "Like when people go out for chicken wings, that's what this is." He instructed her to pour some olive oil on the bird and sprinkle it with herbs. They filled the cavity with halved lemons. "These are all herbs from the garden, and lemons from the tree," he said.
"Really?" she said. "Whose tree?"
"Your tree. You've got an amazing tree out there." He told her to turn the bird over, to coat it with herbs. "Ugh," she said, wincing and giggling. "I feel sick." Then she cut one potato ("Perfect! Exactly!" said the chef), butchered an onion ("It's not very stable with my nails"), stifled a yawn, and got lost quartering a mushroom ("I went the wrong way! What way was it—this way and then the other way?"). Every few minutes, she wandered over to a Pack 'n Play containing Beau, her eighth dog, a miniature Pomeranian who had recently arrived from Korea and was wrestling with a Chewy Vuitton plush purse dog toy. "My concentration!" she said, chiding herself. Rodney was in the pantry, bagging vitamins; the next day, Petra was going to London for two weeks.
Nimer asked her if she'd like to try a potato now that he had cooked them. She smiled, declining, and turned away to give her boxer, Rocky, a kiss, then checked her phone. When the hour was up, she politely walked me out and showed me the Union Jack hanging from the ­flagpole just outside the door. "We're British, and we're proud to be British," Petra said. She added that Gavin Brodin, her interior designer, who is also proudly British, thought of it as more of a statement piece. "He said, 'It's kind of like, We have arrived!' "
Ecclestone with one of her eight dogs.

Tom Ford's ostrich embroidered mesh dress. Her own ring. On dog: Puppy Kisses hair bow.

Photographer: Roe Ethridge Stylist: Patrick Mackie
Ecclestone in her screening room.

Dolce & Gabbana's jeweled lace dress. Her own jewelry; Tabitha Simmons shoes. Scattered on the floor: Stark bags; Tom Ford shoes; Christian Louboutin shoes; Oscar de la Renta shoes; Roger Vivier shoes; Brian Atwood shoes.

Hair by David von Cannon for Redken at Streeters; makeup by Yadim for Dior Addict; manicure by Lisa Jachno for Sephora by OPI at Aim Artists. Set design by Gille Mills at the Wall Group.

Lighting designer: Chris Bisagni; digital technician: Andrew Hanson. Photography assistant: Drew Schwartz

Photographer: Roe Ethridge Stylist: Patrick Mackie
Hair by David von Cannon for Redken at Streeters; makeup by Yadim for Dior Addict; manicure by Lisa Jachno for Sephora by OPI at Aim Artists. Set design by Gille Mills at the Wall Group. Lighting designer: Chris Bisagni; digital technician: Andrew Hanson. Photography assistant: Drew Schwartz