Pharrell Williams Takes a Knee at UVA's Charlottesville Benefit Concert in Solidarity with NFL Players
Stevie Wonder and John Legend have done the same.
---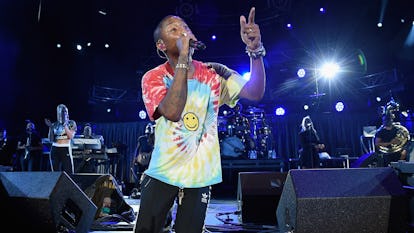 Kevin Mazur/Getty Images
Joining the ranks of Stevie Wonder and John Legend, Pharrell Williams is the latest musician to #TakeTheKnee in solidarity with over 100 NFL players this weekend in protest against police brutality and racial inequality. And he did it at a particularly poignant locale, too—the University of Virginia's benefit concert for Charlottesville, which was swarmed by white supremacist and white nationalist demonstrators earlier this August.
"I'm in Virginia right now, I'm home—can't nobody can tell me what to do if I wanted to get on my knees right now," said the singer and rapper, who was born in Virginia Beach, before doing just that while the crowd cheered him on. "If I wanted to get on my knees right now for the people of my city, for the people of my state, that's what that flag is for."
"When I think about the potential of this country, the potential of this state, the potential of these people, the potential of this amazing, amazing university, there's only one word that I feel on the inside," Williams continued, right before jumping into a rendition of hit song "Happy."
The taking the knee in protest—commemorated on Twitter as #TakeTheKnee—was started more than a year ago by former San Francisco 49ers quarterback Colin Kaepernick, who kneeled during the national anthem to make a statement about race and police brutality in America. For his actions, Kaepernick has been subjected to endless criticism, the most recent of which came from the President of the United States himself. "Wouldn't you love to see one of these NFL owners, when somebody disrespects our flag, to say, 'Get that son of a bitch off the field right now. Out! He's fired. He's fired!'" said Trump at a rally on Friday night for Republican Senator Luther Strange, before encouraging people to boycott NFL games as a counter-protest, reported The Guardian. Kaepernick's mother, Teresa, chose to massively own POTUS in response by tweeting, "Guess that makes me a proud bitch!"
Since Trump's comments, more than 100 NFL players have taken the knee during their games on Sunday. Over the weekend, they were joined by Stevie Wonder, who took the knee and prayed before his performance at the Global Citizens Festival in New York (where Williams was also featured as a performer), and John Legend, who kneeled on tour and penned a rousing op-ed defending the action in Slate. Ice Cube, who knows that brevity is the soul of wit, opted for a somewhat pithier response: Along with a less-than-flattering picture of the president, he tweeted, "Never let a son of a bitch distract you from doing what's right. #knee deep." Hear, hear, Ice Cube.
Watch Pharrell Williams's Take W's Screen Test: