Philipp Plein Drags Black Lives Matter Into His Ferrari Legal Battle
The designer has attempted to weaponize the Black Lives Matter movement in his crusade not to pay Ferrari $200,000.
---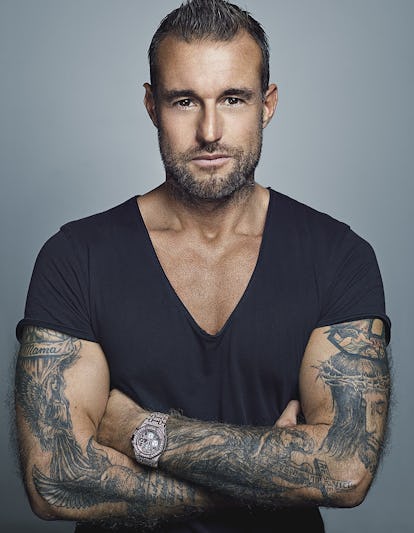 Steven Klein
It was all but guaranteed that Philipp Plein would join the long list of companies who've bungled their attempts to address the worldwide protests in support of Black Lives Matter, prompted by the police killing of George Floyd. The German designer has never seemed to mind controversy—like that time he titled his spring 2017 show "Alice in Ghettoland," or that time he adopted the slogan "Make NYFW Great Again." (Or that time he cast and paid Chris Brown and Tekashi 6ix9ine to take the stage of his spring 2018 show.)
Still, it's hard to believe that Plein would be so spectacularly tone-deaf as to attempt to weaponize the movement in his ongoing legal battles with Ferrari. Two years ago, the Italian company sued Plein for $2 million, pleading him to stop promoting his brand with their cars. In response, Plein staged a protest in Times Square. "An injustice against one of us is an injustice against all of us," he captioned an Instagram of the proceedings, which prominently featured 50 Cent. (The rapper's team later insisted he only happened to be in the area, and wasn't even aware a "protest" was going on.)
Ferrari has since conceded to reduce that $2 million down to $200,000. But Plein clearly still isn't satisfied. On Friday, he Instagrammed an official letter to the CEO of Ferrari, stating his intention to continue fighting Ferrari in court. But since Plein is of the opinion that continuing their legal battle would be "idle and tone deaf" at present, his lawyer proposed a different way in which they could settle the matter "once and forever all": that Ferrari waives all claims and appeals, in exchange for Plain donating $200,000 to a charity supporting the Floyd family or Black Lives Matter movement in both of their names.
Plein broke down the letter, which features a prominent typo, further in an almost entirely all-caps caption, claiming that Ferrari S.P.A. has spent two years "dragging [him] into court to get a lot of money from [him]." Since "at the end neither Ferrari S.P.A. nor me really need this money," Plein continued, he could simply make a donation to the Gianna Floyd Fund, in support of the six-year-old daughter of Roxie Washington and George Floyd. The proposal was not, Plein assured in all-caps, "AN OPPORTUNITY TO PROMOTE MYSELF OR MY BRAND."
Two days later, Plein updated his followers that Ferrari's answer to his all-caps question of "ARE YOU WITH US ???" was no. But since Plein has "always supported the AFRICAN AMERICAN CULTURE AND COMMUNITY," he decided to donate $200,000 of his own money, along with a $2,000 tip to GoFundMe. Once again, he used the hashtag "#blacklivesmatter"—but only after the hashtag "#BlackLivesAlwaysMatteredtoPhilippPlein."
The response appears to be mostly positive, apart from quite a few "thought you said $200,000" comments. The pandemic will no doubt postponed any following legal proceedings, but it doesn't appear to have slowed Plein down one bit. The designer is currently vacationing in Monaco, while his staff doubles down on getting his new Mykonos boutique up and running. While there were no customers in the video Plein posted of its official opening on Monday, there was a hint of what could potentially be a new legal battle: The giant bedazzled skull housed in a display case sure looks like a Damien Hirst.
Related: Munroe Bergdorf Was Rehired by L'Oréal, the Brand That Fired Her for Speaking Out Against Racism