Phlemuns Is the L.A. Designer Dressing All Your Favorite Musicians in Denim, From Solange Knowles to Miley Cyrus
Meet James Flemons, the 28-year-old vintage denim enthusiast with fans ranging from Solange to Miley Cyrus.
---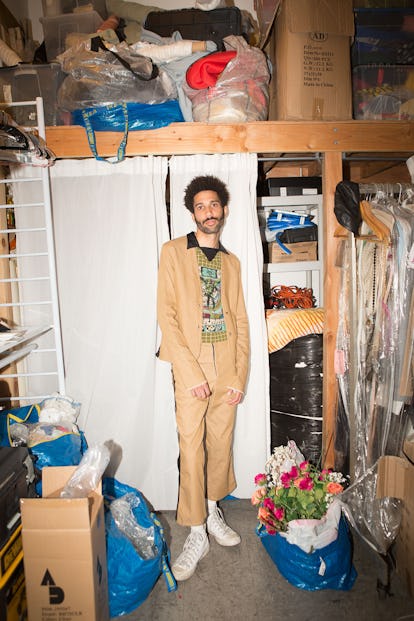 Photo by Phoenix Johnson
When Solange Knowles likes a designer on Instagram, she really likes them. As in, she goes on her phone and not only double taps their photos, but also leaves comments. One might go as far as deeming her fashion's most enthusiastic Instagram fan.
The 28-year-old designer James Flemons of Phlemuns witnessed this firsthand when Knowles expressed her love for a cinched-waist drawstring dress from his Spring 2016 collection. "Every time I posted it, she somehow found it," the still-bewildered designer from his Los Angeles studio. "I was like, 'If you want it, you can have it! I love you; you're Solange!'"
Before he knew it, Flemons was collaborating with Solange's company, Saint Heron on a capsule collection featuring multiple colors of the same dress she'd Instagram-stalked. Since then, he's released a total of four collections, most recently a denim capsule, and his clothes have been worn by a range of stylish young musicians including Miley Cyrus, Dev Hynes, Lil Yachty, Kelsey Lu, and Amandla Stenberg.
Knowles has always remained Flemons' first and foremost supporter though, and she's not only dressed her own son in his suits, but also featured his collection in her music video for "Don't Touch My Hair." A few months ago, Solange also sought out Flemons to design the band's costumes for her Museum Tour. On Thursday, they'll perform songs from A Seat at the Table at the Guggenheim Museum in an assortment of monochromatic ensembles.
While Solange is a fan of Phlemuns's minimalist color theory, it actually all started with 50 shades of denim. Well, to back up even further, it really began with a young Flemons stealing his older sister's Barbie art kit stencils to sketch costumes for the music videos they watched together religiously, "Back when there was no Netflix." Hence, his full-circle love of working with and styling musicians.
Born in Los Angeles, Flemons grew up only familiar with designer names like Sean Jean, Karl Kani, and Rocawear. He was always fascinated by runway fashion, however, and eventually found his way to the Fashion Institute of Design & Merchandising (FIDM) in Los Angeles where he graduated in 2010 with a degree in Product Development. He then went on to work for Marc by Marc Jacobs in San Francisco and New York, but left after a few years to move back home and find his own voice as a designer.
Flemons' first stop was the thrift store, seeing that his personal style was vintage-inspired, plus he needed cheap fabric to take apart and piece back together—a patchwork way of working that quickly became his signature.
"I was really, really bad at sewing," said Flemons of his background. "Like, the worst in my class. I would always finish last and have problems with my machine. I couldn't get anything right, and I'm such a perfectionist that it gave me anxiety. So, the style of my clothes became me figuring things out. If it doesn't work, I'll just add on to it to make it work—eventually."
Five years later, Flemons is a master mix-and-matcher, sourcing heaps of vintage jeans from Goodwill or Saint Vincent de Paul and piecing together the different shades and cuts into create garments that, today, are impeccably tailored. They're all unisex, too, with both male and female clients flaunting '70s-style short shorts, crop tops, and hip-hugging bell bottom jeans.
"Through thrifting, I was more exposed to women's clothes," said Flemons of his gender-fluid style. "In department stores, it's so divided; there was no thought to look through the women's section growing up. But being in a thrift store, things get put back in other places and you're just free to roam around. I finally found jeans that fit me."
It is Flemons' vintage roots mixed with a modern sensibility that has allowed him to be the perfect fit for so many musicians, too. He's also carved out a sweet spot in the middle ground between comfortable, relaxed fabrics and upscale, more formal cuts. His denim capsule collection, for example, features very literal Canadian tuxedos as well as denim corsets fit for the Queen of Silver Lake—L.A.'s foremost emerging hipster neighborhood, where his studio is based.
In the future, Flemons said he can see himself bringing his inherently California collections to New York Fashion Week, but for now, his one-man operation is simply too small for a cross-country leap.
It's also working for him, thanks to platforms like Instagram and eager fans like Knowles who keep his sewing machine singing.
Watch W's most popular videos below.