5 Minutes with Condola Rashad
The theater world's newest darling has got to be 23-year-old actress Condola Rashad, who's winning critical raves for her role in Lynn Notage's Pulitzer Prize-winning drama, Ruined. The first starring role and major show for...
---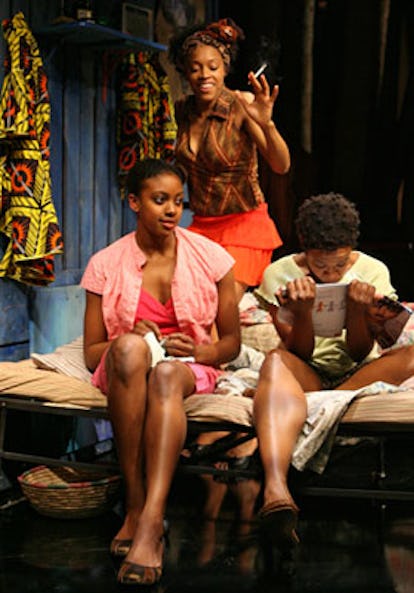 The show has been extended twice, and considering the subject matter, you must be exhausted. How do you manage? The longer [the play] extends the harder it gets to do. It's just about trying to find ways to keep yourself in a good place during the day so that you're able to go to that dark place at night. You almost have to force yourself to go out and get in the sunshine. I try and spend as much time with my dog as I can.
Lynn Nottage wrote the play based on her interviews with Congolese survivors. Did you meet any of the women she spoke to? I didn't get a chance to speak to any of them. But a lot of my research was based on watching documentaries with [Congolese women], so I was able to see them.
Until now you've mostly been a comedic actress. Were your friends and your family surprised when they saw you in this role? My friends were but my family wasn't, because I did a few serious roles in college. My parents were actually more surprised about the singing. My mom knew that I could sing but I've never had to sing in any show, so that was definitely a new thing for her.
Is American Idol—or at least a possible record deal—on your mind? Starting a band is something that I've always kind of wanted to do. I do create songs and play the guitar. But my focus is definitely on acting. I think if there's going to be singing involved in my career it would probably be in musical theater.
How did your mom, who is probably one of the most iconic TV mothers in history, handle you wanting to act? My mom was very supportive, but very adamant about not having me go into the acting world at an early age—she wanted me to experience other things, which I really appreciate now.
You were pretty young when The Cosby Show was actually on the air. Did you watch it? I didn't because I was always there when she filmed it! I watched cartoons growing up.
And you didn't grow up in a brownstone in Brooklyn with a brother named Theo? Nope. Mount Vernon.
Ruined is at the Manhattan Theater Club through June 28.
Photos by Joan Marcus (top) and Bruce Glikas