Armani Model and Math Teacher Pietro Boselli is Too Much
The Italian male model tells the story of how one student launched his career with a viral Facebook post.
---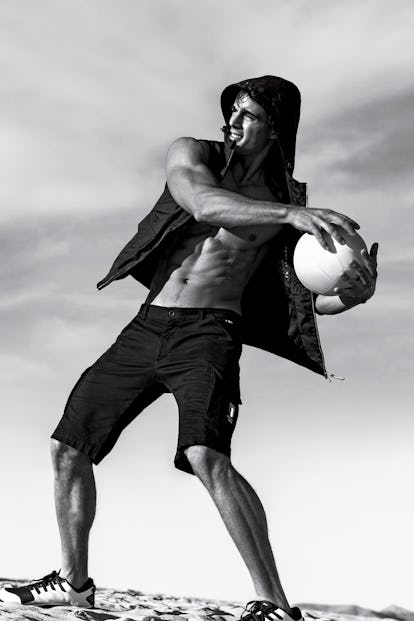 Imagine walking into your first economics class at the University College of London to discover that your professor was Italian male model Pietro Boselli. After saying a few Hail Mary's, you'd tell the entire world on Facebook, of course. This is exactly what student Arief Azli did in January 2014 with what became a viral post, solidifying Boselli's position as "The World's Sexiest Math Teacher." It gets better: Boselli's course was called "Modeling and Analogies," which had nothing to do with the modeling we all know about – it was a class about mathematical models – but still. He also says "maths" instead of "math," which is just too much. But wait, there's more! He went on to get his doctoral degree in "computational fluid dynamics," studying the "wet steam flow" in large turbines. After being discovered by Armani Junior at the age of six, Boselli, who was born in the northern Italian town of Negrar – it's near Venice – has gone on to model for Abercrombie & Fitch, Equinox, and Charlie by MZ underwear. Most recently, the 28-year-old was cast by Armani once again to model the EA7 Emporio Armani collection, which will be worn by the Italian team at the Olympics and Paralympics in Rio 2016. On the phone recently from Milan, he took time off from eating his mom's cooking and going to the gym – a typical day – to answer a few pressing queries from a long-distance admirer.
You started modeling for Armani at age six. Do you remember being on set? Yeah I remember meeting Giorgio Armani at a fitting. They walked me and my mother to this meeting room where we were introduced to him. I didn't even know who he was. For me, it was like a normal thing. I thought, "This is what everyone must do." It's so nice that he's still there. It's really impressive at his age. When we do a fashion show, he's still there backstage sending you out on the runway and making sure all the details are okay.
"My workouts are really intense. I like going in and smashing it out. The gym is not a place where I hang out." – Pietro Boselli
What's your fitness routine? Working out has always been an integral part of my life. I grew up near the Alps, so I was very much into outdoor activities like climbing and trail running. When I moved to London, I started going to the gym. And now that I travel I a lot, I still managed to do one or two workouts in a day wherever I go. It helps with everything. Even my Ph.D. studies. It gives you a clear mind. Keeps me structured and feeling good. My workouts are really intense. I like going in and smashing it out. The gym is not a place where I hang out.
What were you like as a kid? Were you always good at math? I had a lot of energy. I was a bit naughty. My dream was to travel and explore the world. As a kid, I thought there were places that were still undiscovered and I wanted to go find them. Later in high school, I discovered that I was good at school and had an interest in science, mathematics, and physics. For me, engineering was the obvious choice in terms of applying my studies and being creative. At 18 I was doing fashion shows and I had a career ahead of me, but I didn't even question continuing my studies.
How do you balance studying with modeling? Do you have a life equation? The best rule of time management is: if you have something to do, do it now. People spend so much time planning, but it's important to be flexible and spontaneous as well. This way, you get things done. During the years of my undergrad, of course I had deadlines and it was less flexible. But during my Ph.D., I could manage the hours myself. I would work in the office all night, slept there, and then I could take a day off and go for a shoot or something.
Can you tell the story of the viral Facebook post that deemed you the "World's Sexiest Maths Teacher," and how it launched your career? I've been teaching at university for five years, and each year I have around 100-120 new students. So, every year someone is bound to find out that I do modeling on the side. They've made some posts, and I've even seen Facebook fan pages. And then one day some magazine picked up my student's Facebook post and re-posted it. That blew up. I had just started my Instagram at the time and I went from 20,000 followers to half a million in a day. I couldn't even log in.
How did the sudden fame make you feel? I didn't give it much importance at the time. It wasn't something I was looking for and I didn't really know what to make of it. Now that it's been over a year, I appreciate it more. I now have a platform that I can use to covey a message and image. It's powerful!
How was it in class? Was it awkward or just funny? It was fine. It was an academic environment and people were serious about their studies. Sometimes there would be a funny comment or someone would ask for a picture. But after the post went viral, things started to feel different. More people were in my class than they were in the major.
How do you explain to other models what you do? I get all sorts of random questions. I never know what to answer when people ask, "So, what do you do?" I'm like, "Where do I begin?" When I tell people I'm a math teacher, the response I get most often is, "Oh, I'm awful at mathematics." And I'm like, "Okay, what do you want me to do?"
Do people ask you to multiply and divide on the spot? All the time. They're like, "What's 1 + 1?" and I'm like, "Really?"
Can you explain to someone who doesn't know anything about math what your Ph.D. was about? I was doing designs of big turbines for power plants. The class I taught was called "Modeling and Analogies."
Wait, did you say modeling? Like modeling as in mathematical modeling of physical phenomenon. Everything in nature can be explained through mathematical equations. Like the motion of fluid; I used equations to predict how this would happen with a turbine. And knowing this, I was able to redesign it.
Do you have a favorite equation or something that sparked your interest recently? How does it transfer over to your daily life? The theory of inequality: if something is greater than something else, than they are not equal. It's an equation that states that entropy is always increasing. Entropy, for me, represents the unpredictably of life. We always have to try new things and not accept the state of our current environment.
Watch W's most popular videos here: