Pink's Six-Year-Old Daughter Just Starred in Her Third Music Video
After appearing at the Grammys, Willow Sage Hart steals the show in Pink's new video, "Wild Hearts Can't Be Broken."
---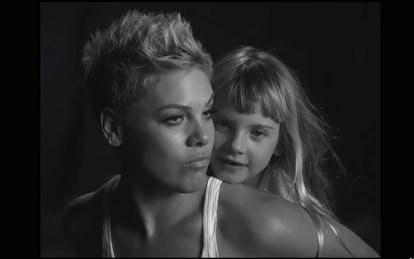 Vevo/YouTube
Over the last year or so, Pink seems to have been doing her very best to share the spotlight with her six-year-old daughter with Carey Hart, Willow Sage Hart—and at the very least to make sure we all know her daughter is her no. 1. In her acceptance speech at the MTV VMAs last year, for example, she told the crowd about how she made her daughter a PowerPoint presentation about beauty and self-acceptance, after Willow casually told her that "I'm the ugliest girl I know."
More recently, at the Grammy Awards on Sunday night, Willow was back—this time looking indisputably adorable with blonde bangs, plus a cardigan topping off a tutu. Her mom, meanwhile, opted to change out of her gown and into a white tee and jeans when she took the stage at the awards—an ensemble it turned out she'd soon reprise in her new music video for her song "Wild Hearts Can't Be Broken," released on Monday night.
The video, which is in black-and-white, shows Pink pared down, comfortably without a bra, in simple white tank top, which turns out to match her daughter's white t-shirt when she turns up shortly after Pink declares the song her "battle cry," staring up at her mom and sitting on her lap. She turns up again after Pink's gone through quite an emotional performance, kissing her mom's cheek and ending things with a laugh.
Related: Pink Gets Interviewed by a Cute Little Kid:
It may seem a bit odd for Pink to wait until now to release a video for a song that she wrote for the film 2015 Suffragette, but its lyrics, such as "There's rage and terror and there's sickness here/I fight because I have to/I fight for us to know the truth," not to mention her insisting that "there's not enough tape to shut this mouth," made it an appropriate (and much needed) fit for the Grammy Awards on Sunday night, where Time's Up and the #MeToo movement were barely addressed on stage. (The night saw only a single woman win an award, and the Recording Academy's president said that women need to "step up"—the latter of which Pink addressed in a handwritten note, eloquently expressing her outrage (complete with two different colored pens).
As it turns out, Pink was another step ahead of us with her choice: The video was in fact a joint effort with UNICEF, highlighting Pink's promise to contribute to the organization, and particularly its "empower[ment of] women and children around the world." A UNICEF ambassador, Pink continued: "In honor of girls and woman all over the world standing up for themselves, I am going to be making a donation in all of your names to this wonderful organization and I encourage you to do the same if the spirit moves you."
All that also means that Willow, at just six, is also already beginning to help out other women—and adding to her growing resumé in the process. "Wild Hearts Can't Be Broken" was in fact Willow's third music video to date; she showed up in 2015's "Just Like Fire," as well as in 2013's "True Love," when she was just two. No wonder she seems to have had no trouble at all backstage at the Grammys in finally meeting her idol, Rihanna.
Related: Pink on Finally Ending Her Feud with Christina Aguilera: "We Grew Up"