Piper Perabo on Off Broadway's 'Lost Girls' and the Syrian Refugee Crisis
The actress returns to the Lucile Lortel Theater for John Pollono's Lost Girls.
---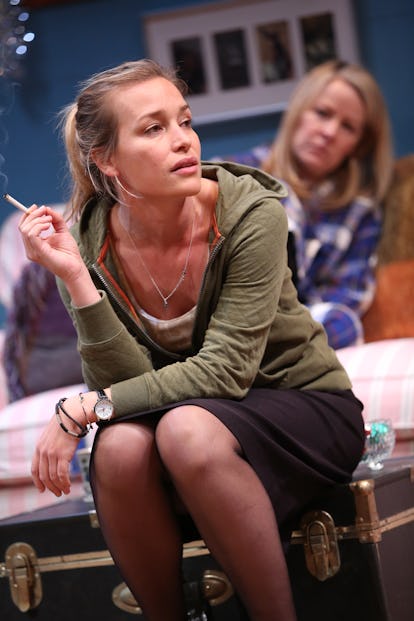 Piper Perabo, though probably still best known for her role in Coyote Ugly, made an impression on the theater crowd when she made her Off-Broadway debut in the Neil LaBute play Reasons to Be Pretty at the Lucille Lortel Theater, later traveling with it to Broadway. Now, the Golden Globe-nominated actress, who has since starred as Annie Walker, a rule-defying CIA agent on five seasons of the USA network show Covert Affairs, returns to the Lortel for John Pollono's Lost Girls, which opens Monday, November 9th, in an MCC production directed by Jo Bonney.
Perabo is Maggie, a financially strapped single mother who must contend with Lou, the father of her child and her high school sweetheart when their teenaged daughter goes suddenly missing in the midst of a wintry New England storm. Adding to the tension is Maggie's biting mother and her ex-husband's perky, angelic new wife, whose presence forces Maggie and Lou to face their treacherous past together—and the repercussions it portends for the future.
Here, Perabo, who is currently developing (alongside her writer-director husband Stephen Kay) a television series, The Fight, about a present day female photojournalist, chats playing tough, pulling punches and volunteering with the Syrian refugee crisis.
Maggie comes across as pretty angry character, relentlessly so. As an actress, is it difficult every night to tap into such a dark place? My job is to advocate for her. So Maggie doesn't think she's angry. Maggie is just defending herself, defending her choice, defending her kid or defending her mom. I feel so many women have so much on their plates every day I'm sure she seems angry from the outside, [but I think] she's just trying to get through the f–king day.
How did you tunnel into that perspective? Earlier this year, in January, I went to a conference of the AFL-CIO about raising the minimum wage. I was introduced to people who are really fighting that fight on a daily basis and there were women at that conference who are single mothers and working two minimum wage jobs and have to choose between rent and food. It really opened my eyes to a day-to-day struggle that's going on. And so I was sort of primed to fall in love with this play.
Were there any other specific angles that drew you to this work? John has a great handle on naturalistic dialogue, which I'm really drawn to. It's really hard to write the way people really speak. I think for modern theater, that's something we're really aiming at so I was really excited by the language that John is able to capture in the play.
Speaking of linguistics, you have a very strong New England accent in this play. How did you work on that? Well each character sort of has had a different hope in life and people's accents mirror where they've come from and also where they're trying to get to. And I know how John speaks and once I got the part I started angling to meet his family and so eventually he relented and we went to Rhode Island where some of his family live and had some dinners with them that I recorded just the audio on. So a lot of my accent is based on how those women speak. Actually they came to see the play and I was so nervous because they're such badasses and I was like, If I f–k this up they're going to drag me outside in the snow and beat me, so I had to make sure I did the best I could.
This is your first time on stage since Reasons to Be Pretty in 2009. How does it feel? The Lucille Lortel is so small, I'm guessing you can really see the audience. I mean you can definitely see the first two rows. I know if you're uncomfortable in your seat, I can see you moving. I can see the squirming if you're getting bored so I try to keep it racy.
Have you seen anything surprising or humorous? No, not this time. When we did Reasons to Be Pretty at the Lortel I don't know why, there were so many noisy people, like people who wanted to take their raincoat on and off a hundred times or they brought bags of chips and inhalers and all this stuff I never realized was so loud. This time people are really quiet. They might just be afraid of Maggie and so they might be afraid to make any noise.
Fair, I mean, god forbid you turn on us, s–t might go down. Your character does almost punch someone in the play. Yeah, Meghann Fahy is very brave. I've never actually hit her, but I've told her if she has a back-up, I might hit her one night, so she knows it's possible.
Just to scare her or because you want to know what it's like to hit a girl? Umm, both? Have you ever punched a girl?
No, I haven't, only guys who had lots of padding on in kickboxing. That's probably really satisfying. I asked a lot of my girlfriends as I was getting ready for the play, hey, have you ever punched another girl in the face? I haven't found a girl yet who said, oh yeah, I punched a girl in the face.
Did they want to? I'm sure. I mean, haven't you ever wanted to punch a girl in the face?
I feel like I've wanted to bitchslap more than punch. Maybe you're just a really nice person.
No, that's definitely not the case. On a different note, about six weeks ago, you went to Greece to help with Syrian refugees and wrote a series of essays for the Huffington Post on your experience. What prompted you to do that? I got involved with the International Rescue Committee about two years ago [through my cousin] and they handle all facets from the time a crisis point flares up and there needs to be a refugee camp set up, they stay with people all the way until they get back home or to a new home. And there's this one island in Greece, Lesbos, that's really close to the Turkish coast. Those who get as far as Turkey, the next step is to get a smuggler to put you on a raft and you cross the sea and the island you hit if you're lucky is Lesbos. When I was there 6 weeks ago it was 4,000 people [arriving each] day. They're getting days now where it's 9,000 people a day. And this is a small island with not a strong infrastructure and the smugglers put people on these rafts, they sort of look like cheap Zodiac boats, and there shouldn't be more than 8 people on a boat like that and there's 45 people on them. And it's people who can't swim, some have life jackets, they have their kids on their laps. They're only doing it because they have no other choice. I went to see the situation for myself and try to understand more clearly what's going on. I think you can get a lot of explanations that are too short when you watch the news at night. It's not enough information to understand the problem or why the problem's not being solved more quickly and so I wanted to go and see for myself. And then I saw so many things that I thought weren't being talked about that I started writing these essays about my trip. I'm still in contact with a team that's working there.
So when the play ends, you plan to do another volunteer trip with them? Yeah, we only have one night off a week so you can't get there and back in one day. Even Annie Walker and her amazing suit couldn't move that fast.