Pippa Middleton Confirms She's Pregnant With First Child
The royal-in-law confirmed the news in a fitness column.
---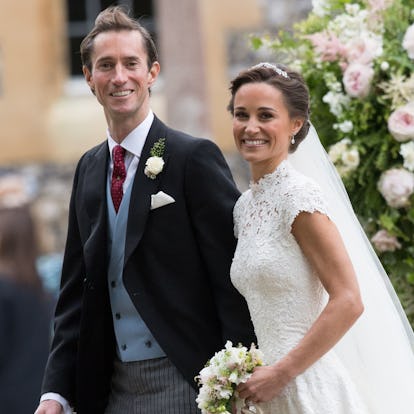 Samir Hussein/Getty Images
Amid much speculation, Pippa Middleton finally confirmed that she and husband James Matthews are expecting their first child, and thus giving Prince George and his siblings their first first cousin. Of all places, Middleton casually announced the news in her recurring fitness column for Waitrose Weekend, a weekly magazine published by the British supermarket chain.
The article, bluntly titled "Exercising during pregnancy," details Pippa's fitness journey and the ways in which she's adjusted her exercise regimen for her first trimester.
"When I learned the happy news that I was pregnant," she wrote, confirming the news, "I realized I needed to adjust my normal 4 to 5 day a week routine and find a way of continuing my exercise safely throughout the three trimesters." She continued by saying that although she's read "loads" of content on how to safely work out during pregnancy, she has ultimately been"disappointed by limited technical information on what you can and can't do." Pippa then thoughtfully offered some helpful tips on exercises for women in their first trimester of pregnancy, including lunges, squats, and reverse flyes, thus becoming perhaps the most practical and useful celebrity birth announcement ever.
"I've noticed my body change and weight increase," she wrote about her fitness journey through pregnancy so far,"but through effective exercise and sports I feel that it's being strengthened to support a healthy pregnancy, birth and recovery."
Pippa also noted that "this being my first pregnancy, I had so many questions I felt were still unanswered" by the workout options available to pregnant women, but promised to keep the public updated with her findings as she continues on her pregnancy exercise journey, so this won't be the last we hear from Pippa about her experience. "Who knows what the next few weeks have in store," she concluded," but I look forward to sharing my pregnancy workout experiences with you every month."
Rumors about Middleton's pregnancy have been circulating since April, just a few days before her sister Kate Middleton gave birth to Prince Louis, but this is the first public confirmation—let alone from Middleton herself—that the couple has a new addition on the way.
In case you're wondering, Pippa also confirmed that she doesn't get the same morning sickness as her sister.
Related: Pippa Middleton Channels Sister Kate Middleton with New Haircut
Pippa Middleton's Most Elegant Looks, from Her Alexander McQueen Bridesmaid Dress to Her Giles Deacon Wedding Dress
In September 2008, Pippa Middleton wore a low cut, nude-colored gown with an embellished waistband to the Royal Parks Charity Gala in Hyde Park.

Getty
In June 2009, the British socialite attended the Jaeger-LeCoultre Polo Charity Cup in Richmond, England, wearing a perfect, satin wrap dress with wedge heels that were very on-trend at that moment.

Getty
The fitted white Alexander McQueen gown that Pippa wore to her sister's royal wedding in April 2011 has become iconic, thanks to its flattering shape and elegant silhouette. Middleton looked beautiful and demure without taking attention away from the bride.

Getty
In September 2011, Pippa wore white again–this time, in a much more casual style.

Getty
Pippa Middleton attended the premiere of the film 'Shadow Dancer' in London in August 2012 wearing a black and white dress by British designer, Alice Temperley.

Getty
In March 2013, Pippa attended the Cheltenham Festival wearing a yellow bespoke coat by Katherine Hooker, a fur hat, and big sun glasses by Givenchy. While she typically wears more muted tones, this bright shade really works!

Getty
Pippa continued to wow in bright colors at the wedding of James Meade and Laura Marsham in England in September 2013, wearing a brilliant blue lace dress by Tabitha Webb and a hat by Gina Foster.

Getty
In February 2014, Pippa attended another English wedding wearing a cream lace dress and coordinating coat and an Edwina Ibbotson Millinery fascinator.

Getty
Ever an English rose, Pippa wore a blush embroidered silk top and skirt from the BOSS Fall 2014 collection to the GQ Men of the Year Awards in September 2014.

Getty
In September 2014, Pippa attended the launch of Tabitha Webb's first retail store in London, wearing a dress from the designer's own collection and a clutch by Beauchamps of London.

Getty
Pippa supported Disability Snowsport at a fundraising ball in London in March 2015 wearing a pale blue pleated gown by designer favorite, Hugo Boss.

Getty
Pippa paired a heart-shaped Radley purse with her Tabitha Webb dress at the British Heart Foundation: Roll Out the Red Ball Fundraiser in February 2016.

Getty
In April 2016, Pippa joined athletes in supporting the ParaSnowBall, in London, wearing a demure grey gown, keeping with the winter theme with an embellished collar.

Getty
Pippa looked stunning and summery in an L.K. Bennett dress and a pink clutch at the Frost Summer Party Fundraiser in London in July 2016.

Getty
In May 2017, Pippa sported a printed dress by Erdem to attend a fundraising event in London.

Getty
Pippa Middleton wowed in a couture wedding dress by British fashion designer Giles Deacon.

Samir Hussein/Getty Images