At Pitti Uomo, Gosha Rubchinskiy Proves He Can Do It All
"Today it's interesting for me to show the movie. So we made a movie," the Russian fashion designer says.
---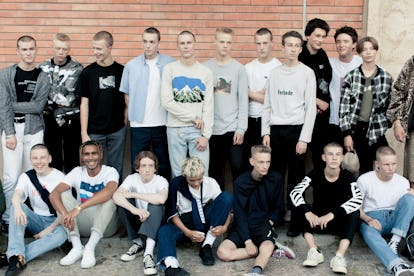 Where Russian fashion designer Gosha Rubchinskiy, 32, goes — a scene follows. His eponymous label, which has been produced by Comme des Garçons since 2012, has always attracted a devoted, cult-ish fan base who will do almost anything to purchase a pair of his baggy '70s-inspired jeans and sporty logo tees. This season at Pitti Uomo was no exception. For his Spring 2017 men's wear collection, which was comprised of very young men in the kind of basic jeans and branded gym style sportswear he grew up wearing as an artsy, star-struck skater kid in '90s Russia, Rubchinskiy and his stylist Lotta Volkova cast a crew of 30 teenage boys street cast via Instagram, and took over Florence's abandoned tobacco factory on the outskirts of town. Following the show, the designer premiered a film called The Day of My Death, which was directed by underground Russian actress and film director Renata Litvinova and inspired by the life and tragic death of Italian director Pier Paolo Pasolini. Rubchinskiy, who is also a photographer, also produced a book of his stills from the film featuring characters bearing a striking resemblance to Pasolini as a young man for the occasion. In between events, the designer opened up about his many multi-media projects.
Do you think of yourself as a designer or photographer more? Which came first ? I don't like it when people give you a name, or put you in a box. I prefer to be Gosha. Today I want to do a collection, tomorrow I want to do a book, in a month I want to do a movie. I'm a storyteller, I think. I'm not just a designer, or a designer/photographer. You can tell stories in different medias and if it's interesting to you, you need to do it. Today it's interesting for me to show the movie. So we made a movie.
Was this your first film? No, it's not, but this is the first one with this kind of quality, this kind of production and this kind of cooperation with the great Renata [Litvinova] so…
What was your first experience with Pasolini's work? The first Pasolini film I saw was "The Gospel According to Saint Matthew" (1961). It's a passionate film, in black and white, about Christ and it was very emotional for me. Later on I saw everything, of course. I'm a fan of cinematography and I know the great directors and iconic movies. Pasolini has always been one of my favorites. I see some resemblance between the things I do and the subjects he treated, so I feel there is a connection between us. That's why I chose him as my inspiration this season.
The clothing you design is more accessible than most. What's your point of view on how much fashion should cost? For me, it's always been from the start about selling my stuff at an affordable price, because I don't just want to do illusional fashion for someone with a lot of money. I want real boys wearing it. These are people who I am inspired by, and I want them wearing it. Before, when we produced in Russia, it was the same. So when I started prodction with Comme des Garçons, the idea from the start was to maintain an affordable price season by season by season. That's why we use these kinds of fabrics, or this kind of technology. We're trying to keep everything on the same level and be realistic.
And yet, a jacket from Gosha can cost more than many can afford. Why is that ? That's because I want to do something interesting. Sometimes you want to do more than just a T-shirt or a sweatshirt. A cool jacket in a cool fabric costs more. I don't want it to be really cheap, and you just come and buy it. I want to make it possible to buy, but you really need to want this thing, especially for young kids. They save up for months and then they can buy something
What did you save up to buy when you were a kid? It's hard to say. I grew up in the '90s in Moscow. I remember wanting to wear a cool leather jacket and platform shoes. Of course. It's just streetwear, but that was something hard to find in Moscow when I was a teenager. It was high priced in small stores, and, you needed first to find where you could buy it and then save up the money to pay for it.
You're 32. But many of your models resemble you as a teenager. Are you nostalgic for your youth? I think I'm the same 16 year old boy. That's why, when I choose boys or characters, I'm always doing a portrait of me. These are pieces from Gosha, but the feeling, it's about me.
What were you like when you were a teenager? I stayed at home to do some drawings- Just classic art drawings like still lifes with pencil, watercolor, this kind of thing. I was in art school. At the same time, I was crazy about some of the first fashion magazines in '90s Russia…
Like what ? They were like Russian versions of The Face or i-D. I wanted to be someone in their pages, but I didn't know if I wanted to be a band member, a fashion designer or an actor. All I knew was that I wanted to be there. That was the first time I saw Renata [Litvinova] was in the pages of these magazines. I couldn't imagine back then that twenty years later I'd be doing this project for Pitti and she would direct a film for me.
So you already knew about her in the 1990s ? Yeah, of course. When I was a teenager. She's a big name in Russia.
She's intriguing looking. And the actress in the film. She's fantastic looking, too. Who is she? Alexandra Cherkasova. She's new. Quite new.
Who are your other girls these days? So girls like Lotta, like Renata or like Alexandra…they've got a Gosha look and you can see it in the movie.
When are you going to design women's wear? I don't want to do a special collection for girls, but girls are already wearing Gosha. I prefer this.
So maybe a dress? Maybe one day. I don't know. Sometimes a Gosha sweatshirt can be a dress.