Pop Music Is Becoming Sadder but More Danceable According to UC Irvine Study
Call it the "Lemonade" effect.
---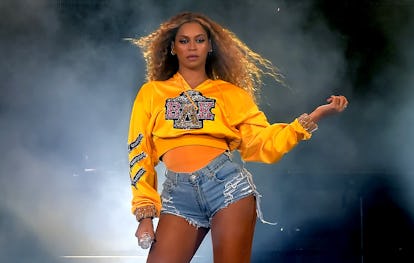 Kevin Winter/Getty Images for Coachella
If music is a reflection of our present world, then it's official: We're living in dark times. According to a new study conducted by the University of California at Irvine, pop music has been on an emotional downward spiral over the past three decades, as The Associated Press points out. As culturally dominant pop music has become much sadder—think Beyoncé's Lemonade, SZA's CTRL, Charli XCX's Pop 2 mixtape, which actually features a song called "Tears," Selena Gomez's penchant for singing about breakups, and the Weeknd's ennui—the genre has become increasingly focused on loneliness and social isolation.
"'Happiness' is going down, 'brightness' is going down, 'sadness' is going up, and at the same time, the songs are becoming more 'danceable' and more 'partylike,'" co-author Natalia L. Komarova told The Associated Press. "The public seems to prefer happier songs, even though more and more unhappy songs are being released each year."
That doesn't mean pop music hasn't become more upbeat, tempo-wise, though. While it's become a clearer mirror of the social media dystopia we all live in, pop music has become easier to dance to. Part of that is no doubt due to the influx of electronic music and the slow death of guitar-centric music (which, the study confirmed, began losing favor in the early aughts). Another explanation, as offered by Komarova: "People seem to want to forget it all and dance."
If there is a silver lining here, it's that as music has gotten sadder, pop music has become less male-dominated on paper. That is to say, there have been fewer male artists responsible for pop's biggest hits and, correspondingly, the "maleness" of music has decreased, according to the study.
Yet female pop artists are still struggling to gain the respect, pay, and safety of their male peers. That was all the more glaring when Recording Academy president Neil Portnow said at last year's Grammys, where more than 90 percent of recent nominees were male according, that female artists need to "step up."
"It has to begin with…women who have the creativity in their hearts and souls, who want to be musicians, who want to be engineers, producers, and want to be part of the industry on the executive level," Portnow told Variety, suggesting that gender disparity in music is the fault of women instead of the men (like Portnow) who sit at the top of the industry, perpetuating systematic sexism.