Travel Pro Poppy Delevingne Believes that Jetlag Is for Amateurs
The English It girl reveals her travel secrets–from what she wears on a flight to the best airport for shopping.
---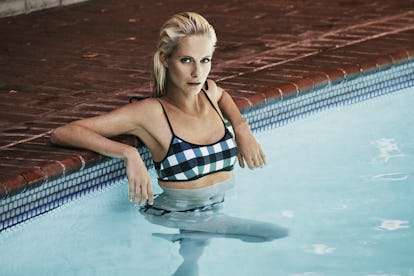 Don't complain about jetlag to English model and actress Poppy Delevingne. "Jetlag is for sissies," she said. "Get over it."
If anyone knows, it's her. The British model and actress spends a lot of time in the air these days, flying around the globe for both work (she has her first big acting role in Guy Ritchie's upcoming film "Knights of the Roundtable: King Arthur" and an ongoing collaboration of chic suits and beachy dresses with Solid & Striped) and play. Here, Delevingne explains when it's appropriate to travel in an animal onesie and what to steal off an airplane during your next trip.
Where are you headed this summer? I'm taking my husband to Positano as he's never been before. You'll catch us by the pool at Le Sireneuse drinking Aperol spritz from noon until night…
Favorite airport lounge or restaurant? Terminal 5 in Heathrow. That place is dangerous. I once missed a flight because I got stuck in Prada.
Best or worst person you have ever been seated next to on a plane? Grace Jones was once on a plane with me. I just wish she'd brought her hula hoop.
Best freebie you've stolen off a plane? A captain's badge. I was only five years old.
What's the greatest travel advice you have ever received? Jetlag is for sissies. Get over it.
Airline with the best or worst food? Virgin has the best food for sure. I go bonkers when they bring the scones and jam out…
Is plane your favorite mode of travel? Or, what's your preferred transportation method? Canoe.
Go-to travel outfit? Frame Denim boyfriend jeans, James Perse T-shirt, Balmain blazer, and a Bamford scarf and cashmere socks. On some occasions, an animal onesie.
Best travel shoe? Feiyue trainers. I live in them. If only they could speak…
Name five essential pieces of clothing/accessories that are always in your suitcase: White tie bikini from my collaboration with Solid & Striped; Ralph Lauren initial bag with fringing; the gingham slit dress from my collab with Solid & Striped; Yosuzi rainbow hat; Miu Miu sunglasses.
Name something that always saves you when you are traveling… My HUNZA G little black dress. It's perfect for any magic moment.
Best beauty products for travel? Neostrata Bionic Face serum, SkinCeuticals eye balm, Jo Malone red roses perfume in miniature size, Sisley Hydrating Mask, and some Charlotte Tilbury lippie in case something exciting happens…
What's a big packing mistake to avoid? Large shampoo bottles. They will always explode.
Most luxurious hotel bathroom you've ever seen? My new one in London is pretty mega. The loo has my name and address on it. (It's not a joke.)
What's your favorite hotel in the world? The Beverly Hills Hotel. Because it's pink and pretty damn perfect.
Favorite off-season destination? Venice in the winter. It's so beautiful you want to eat your right hand…
Best souvenir you have ever picked up on a trip? My husband—I found him in Ibiza.