Poppy Okotcha Is the Freshest Face in Fashion
The model talks about her first fashion week experience.
---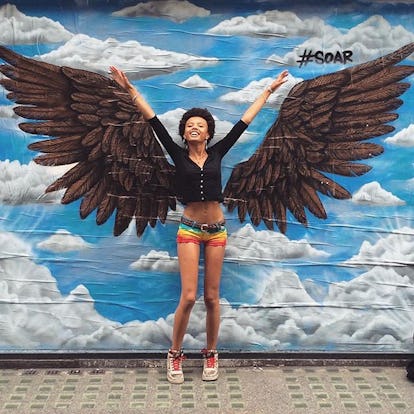 Poppy Okotcha made her runway debut at Spring 2016 Fashion Week, walking for the likes of Chloé, Alberta Ferretti, Giamba, Vivienne Westwood, and more. Here, the 19-year-old Brit who goes by "Pops," talks about her most nerve-wracking experiences (like breaking her shoe in the Jacquemus show), and how it feels to be one of the freshest (and most adorable) faces in fashion now.
Is this your first time walking Paris Fashion Week? Yes
How did you practice walking the runway? One evening in my mum's kitchen we moved the dinning table out the way and I just walked up and down for ages… Not particularly professional!
What were the most challenging moments? The hardest part is finding makeup remover after the show! Everyone's rushing off to their next thing and if you're not at the top of your makeup remover game you'll leave with a full face of crazy colorful makeup! The most nerve-wracking part is when you have outfit changes and have to whip your clothes off in time for your next walk!
What's been the most exciting moment for you this fashion month? Going home… No, I'm joking! Every show was super exciting.
What was the funniest moment? My shoe kind of broke at the Jacquemus show, so I hobbled the whole show. In my head I was laughing hysterically but had to keep a straight face.
Who are your style icons? Grace Jones and Marie Antoinette—both awesome, controversial women with incredible wardrobes. And probably my sister, too. She knows how to dress.
What's something always in your travel bag? A book, water, and a paper map of the city I'm in. You can survive anything with those three.
What music are you listening to right now? Stevie Wonder.
What's your favorite thing to do when you have some downtime? Seeing my family in the countryside.
Photos: Poppy Okotcha Is the Freshest Face in Fashion
Jacques Spring 2016
Photo courtesy of the brand.
Chloe Spring 2016
Photo courtesy of the brand.
Alberta Ferretti Spring 2016
Photo courtesy of the brand.