Princess Beatrice's Wedding Reception Has Been Canceled
Yes, it's coronavirus related.
---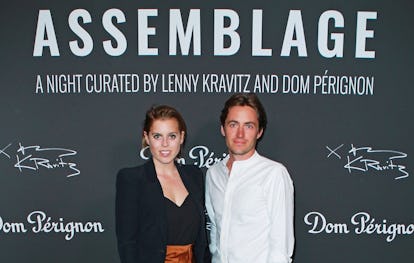 Princess Beatrice of York's wedding was already scheduled to occur under the cloud of various House of Windsor dramas, but now the coronavirus is causing Beatrice to rethink her nuptials completely.
Beatrice, the eldest daughter of Prince Andrew, Duke of York, and Sarah, Duchess of York, was set to marry her fiancé, Edoardo Mapelli Mozzi, on May 29th. The wedding was expected to be a smaller affair than that of Prince Harry's. Only 150 guests were scheduled to attend, but a royal wedding is still a royal wedding.
Now, according to a statement from Buckingham Palace, Beatrice is definitely canceling her wedding reception and rethinking if any ceremony at all is feasible under the conditions.
"Princess Beatrice and Mr. Mapelli Mozzi are very much looking forward to getting married but are equally aware of the need to avoid undertaking any unnecessary risks in the current circumstances.
"In line with government advice for the U.K. and beyond, the couple are reviewing their arrangements for 29th May. They are particularly conscious of government advice in relation to both the wellbeing of older family members and large gatherings of people.
"Therefore, the planned reception in the Buckingham Palace Gardens will not take place. The couple will carefully consider government advice before deciding whether a private marriage might take place amongst a small group of family and friends."
A supposed friend, gossiping to The Telegraph, says that the couple may just end up getting married on the date anyways, even if its just the two of them and a chaplain.
The royal family is said to be following government advice about how to handle the disease, which included stringent guidelines for those in high-risk category. One such group is people over 70, which includes Queen Elizabeth as well as Prince Charles and his wife Camilla.
Beatrice's wedding was already set to take place after her father Prince Andrew stepped down from all public duties due to his ties to Jeffrey Epstein.
A Look Back: Royal Weddings
Crown Prince Naruhito of Japan and his future wife, Masako Owada pose in traditional Japanese costume before their June 2, 1993 wedding in Tokyo. The prince reportedly proposed several times before Owada accepted in December 1992.

Photographs: Jerome Albertini
It's as close as the United States gets to a royal wedding: former First Daughter Chelsea Clinton (in custom Vera Wang) weds Marc Mezvinsky in an interfaith ceremony at the Astor Courts in Rhineback, New York on July 31, 2010

Photographs: Jerome Albertini
Jordan's Crown Prince Hamzah (half-brother of King Abdullah) and Princess Noor celebrated their wedding on May 27, 2004 in Amman, though they had already wed privately in August 2003. The pair divorced in September 2009.

Photographs: Jerome Albertini
Princess Margaret (Queen Elizabeth the Second's younger sister) and Tony Armstrong-Jones leave Westminster Abbey after their wedding on May 6, 1960. Princess Margaret broke off her engagement to Peter Townsend (a divorcee who was 16 years her senior) amidst pressure from her family and was later married to Armstrong. Theirs was the first royal wedding to be broadcast on television and attracted around 300 million worldwide viewers. The pair divorced in 1978.

Photographs: Jerome Albertini
Prince Albert, Duke of York (later coroneted King George VI) wed Elizabeth Bowes-Lyon at Westminster Abbey on April 26, 1923 as King George V and Queen Mary (on right) look on. Prince Albert' (as he was known before his coronation) proposed to Bowes-Lyon twice before she accepted in 1923. Their relationship was recently brought to the screen in The King's Speech.

Photographs: Jerome Albertini
Grace Kelly, already American silver screen royalty and Prince Rainier married on April 18 1956 in the Palace Throne Room of Monaco and had a church ceremony the following day at the Saint Nicholas Cathedral. Her dress was designed by MGM's Academy Award-winning costume designer and took 36 seamstresses six weeks to complete.

Photographs: Jerome Albertini
Princess Elizabeth and Philip Mountbatten, Duke of Edinburgh began to exchange letters in 1939, when Elizabeth was only 13 and were secretly engaged seven years later, though the King, George VI, insisted that the engagement be delayed until Elizabeth was 21-years-old. Their Westminster Abbey wedding on November 20, 1947 was broadcast on BBC radio to 200 million people.

Photographs: Jerome Albertini
The culmination of a controversial relationship between Prince Charles and Camilla Parker Bowles, the pair were married in a civil ceremony at Windsor Guildhall on April 9, 2005. Parker Bowles wore a Philip Treacy hat and the couple's rings were crafted from special 22 carat Welsh gold, a Royal Family tradition dating back to 1923.

Photographs: Jerome Albertini
Crown Prince Felipe of Spain and bride Crown Princess Letizia Oritz Rocasolando pose with bridesmaids in the Royal Palace after their May 22, 2004 wedding in the Almudena Cathedral in Madrid.

Photographs: Jerome Albertini
Prince Andrew, Duke of York, and Sarah Ferguson wed after a two-year courtship at Westminster Abbey on July 23, 1986. Amidst much tabloid speculation, the pair separated in 1992 and officially divorced in 1996.

Photographs: Jerome Albertini
Princess Caroline of Monaco wed French businessman Philippe Junot (17 years her senior) in a civil ceremony in Monaco on June 28, 1978 amidst doubt from the royal family about the match. The pair divorced in October 1980.

Photographs: Jerome Albertini
Perhaps the most iconic of royal weddings, Diana Spencer marries Prince Charles at St. Paul's Cathedral (rather than Westminster Abbey, as St. Paul's offers more seating) on July 29, 1981. More than 600,000 people lined the streets to watch the procession and globally, the ceremony was watched by more than 750 million people. The couple divorced in August, 1996.

Photographs: Jerome Albertini