Everything We Know About Euphoria Season Three
HBO's gritty hit teen drama will return for another high-octane season.
---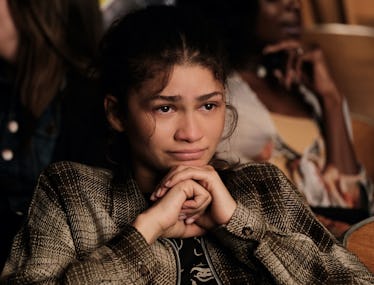 Eddy Chen/HBO
Spoilers for season two of Euphoria ahead.
Though it got off to a slightly slow start with season one, HBO's hit teen drama Euphoria shot to the top of the streamer's most-watched lists with 2022's season two. After becoming an international cultural phenomenon (who can forget the delightful chaos of Euphoria Sundays on Twitter?), the show that won Zendaya her first Emmy and launched a thousand thinkpieces will return for its third installment. Here's everything we know about Euphoria season three so far:
What is the plot of Euphoria season three?
The plot of Euphoria season three is still largely under wraps, but that doesn't mean we can't speculate! And there a few details we do know, specifically about when the third installment takes place.
Speaking to Vogue in April 2023, the show's costumer designer Heidi Bivens said season three might take place five years after season two. "I'm really excited to read the scripts," she said. "There is talk of it being approximately five years in the future, and that they're not in high school anymore. Dorothy's not in Kansas anymore. I mean, it might be a total trip. Who can say? But knowing Sam's brain, it's gonna be exciting, and he will challenge all of us, because he won't want to repeat himself. It'll be something new for the audience to discover."
Zendaya seemed to confirm the time jump as well, telling The Hollywood Reporter last August, "I think it'll be exciting to explore the characters out of high school." She also spoke on her character Rue's continued development, saying, "I want to see what Rue looks like in her sobriety journey, how chaotic that might look. But also with all the characters, in the sense where they're trying to figure out what to do with their lives when high school is over and what kind of people they want to be. What was special about [season two] was that we got to dive into [the other characters] in a much deeper sense. I think we can do that again with the third season. There's so much talent, you want to make sure everybody has the chance to have that."
There are IMDB notes that indicate Euphoria season three will be filming in multiple countries; in the past, the show has only taken place in the fictional town of East Highland. It seems production for season three will take place however, in Singapore, Italy, England, and Ireland in addition to the USA.
Beyond that, we don't know much except that oft-controversial creator Sam Levinson has plenty of surprises in store. Speaking to Hypebae after his first Emmy win, Colman Domingo (who plays NA sponsor Ali to Zendaya's Rue), said, "Sam Levinson and I had some really deep conversations as of last weekend actually. Where he's talking about the arcs of all the characters and what he wants to do to expand that, to actually re-examine at times. It's an organism and he wants it to keep shifting it in many ways and I think he's going to take some really big swings actually with season three."
Which cast members will return?
It's likely most of the main cast will return for season three, including Zendaya as Rue Bennet, Sydney Sweeney as Cassie Howard, Alexa Demie as Maddy Perez, Hunter Schafer as Jules Vaughn, Maude Apatow as Lexi Howard and Jacob Elordi as Nate.
In February 2022, season two breakout Dominic Fike told Jimmy Fallon that his character, the moody, guitar-playing drug addict Elliot, would "absolutely" be part of season three.
Actor Eric Dane, who plays Nate Jacob's duplicitous father Cal, has also confirmed his return. At the end of season two, Cal was arrested after Nate turned him into the police with damaging evidence of his underage relationships. Speaking to Variety, Dane addressed his character's possible arc: "There's gonna be redemption. That's the trajectory he's on. I can't imagine Cal's life from solitary confinement. It's tough to work Cal into the storyline when he's behind bars."
Images of Elordi training for his role as Nate also recently hit the internet, seeming to confirm his return:
One character who definitively won't be returning is Kat Hernandez, played by Barbie Ferreira. Kat's character sparked tons of discourse, given her treatment as the show's sole plus-size character, in addition to endless rumors about behind-the-scenes drama between Ferreira and Levinson.
On August 24, 2022, Ferreira announced with an Instagram Story post that she would not be returning to Euphoria season three. "After four years of getting to embody the most special and enigmatic character Kat, I'm having to say a very teary eyed goodbye," she wrote. "I hope many of you could see yourself in her like I did and that she brought you joy to see her journey into the character she is today. I put all my care and love into her and I hope you guys could feel it. Love you Katherine Hernandez."
It's also questionable whether drug dealer with a heart of gold Fezco (Angus Cloud) and his child sidekick Ashtray (Javon "Wanna" Walton) will return, and if so, in what capacity. The season two finale appeared to see Ashtray killed, but in an interview with Entertainment Weekly, Javon said: "Well you see [Fez] get arrested, so I'm sure he is going to be in the back of a cop car. And with Ashtray, we're not 100 percent if he's dead, because you saw absolutely no blood, right? And you didn't see him fall. You did hear the bullet, but you didn't see him get shot. So, there [are] little things that could potentially bring him back for another season."
If Fezco returns, will he be in a jail cell? And will Chloe Cherry's scene-stealing Faye come back? Time will tell.
When will Euphoria season three be released?
There's no official (or even tentative) release date yet. Fans have been speculating that season three could premiere sometime in 2024, and when asked about it, Zendaya seemed to confirm this. "I think that might be true," she said. "I honestly don't know. There [are] some executives that know better than me, you might wanna ask them. I'm gonna be busy for a while."
Is there a Euphoria season three trailer yet?
There's no trailer for Euphoria season three yet; stay tuned for updates.