Prince Harry Told Jane Goodall About Megxit a Full Six Months Ago
Just one of the perks to being Harry and Meghan's idol since childhood.
---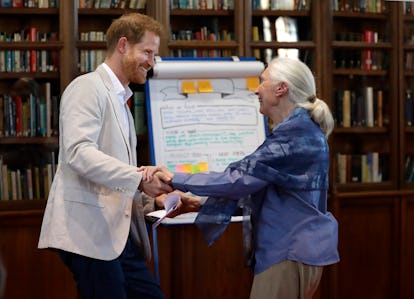 Kirsty Wigglesworth/WPA Pool/Getty Images
At the start of this year, Meghan Markle and Prince Harry announced that they were stepping back from their senior roles in the royal family. Everyone—including even the Queen—was shocked. At least, everyone except Jane Goodall. It turns out that the Harry gave the 86-year-old primatologist a hint a full six months beforehand, on the action-packed afternoon they spent dancing, doing an interview for Meghan's guest-edited British Vogue issue, and greeting each other as chimpanzees.
Like Leonardo DiCaprio, Harry and Meghan have both idolized Goodall since their childhood. In July, the couple benevolently offered up the venue of Windsor Castle for a gathering of Roots & Shoots, Goodall's environmental action group for youth. It was there that Goodall first met their then two-month-old son Archie, even before his cousins Prince George and Princess Charlotte.
"I think I was one of the first to cuddle him outside the family," Goodall recently told the Daily Mail's Weekend Magazine from the coastal town of Bournemouth, where she's been social distancing. "He was very tiny and very sleepy—not too pleased to be passed from his mummy."
At that point, Goodall decided to impart a bit of her extensive knowledge. "I made Archie do the Queen's wave, saying, 'I suppose he'll have to learn this,'" she recalled. To which Harry tellingly responded: "No, he's not growing up like that."
Their secret was safe with Goodall, but she wouldn't have been the first to let something slip about Archie, who's now 11 months old. Last year, when he was five, Prince George accidentally revealed Archie's name long before Meghan and Harry got the chance to do so.