Which Royal Title Will Meghan Markle and Prince Harry's Baby Receive?
It could go one of several ways.
---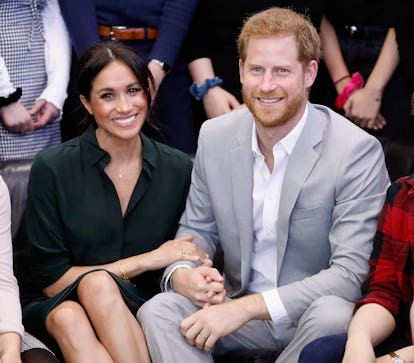 Chris Jackson
Meghan Markle and Prince Harry's baby announcement has sparked a lot of questions, but one of the main ones is: What title will the newest royal baby hold? It seems that the answer isn't that straightforward, especially considering the fact that we don't know what the baby's sex is just yet.
Because Meghan and Harry were dubbed the Duke and Duchess of Sussex on their wedding day, if the couple's baby is a boy, he would eventually inherit his father's title one day, as the eldest son. Their hypothetical son would take on the title Earl of Dumbarton, before inheriting the "Duke" moniker, William Bortrick, chariman of Burke's Peerage, tells People. If they had additional sons , they would be called Lord (His Name) Windsor and daughters would be referred to as Lady (Her Name) Windsor.
But this isn't necessarily how things will pan out. Queen Elizabeth might have other plans in mind if she wants her unborn grandchild to have similar titles to Prince William and Kate Middleton's three children Prince George, Princess Charlotte and Prince Louis. Meghan and Harry's sons would then be called His Royal Highness Prince (His Name) of Sussex, while daughters would be titled Her Royal Highness Princess (Her Name) of Sussex.
If Meghan and Harry don't have any sons, the title of dukedom won't live on, but considering Meghan and Harry are both feminists (the "About" page on the royal family's website highlights the importance of empowering women), it won't likely bother them too much.
Because of the Succession to the Crown Act 2013, gender no longer determines who will become the next king or queen: just birth order.
But Meghan and Harry could do away with giving their child a title altogether. Since the royal couple has definitely taken their own path thus far, they could go the untraditional route.
We'll just have to wait and see.
Related: Meghan Markle and Prince Harry Are Expecting Their First Child