Prince Harry and Meghan Markle Went to See Hamilton On Date Night
Prince Harry and Meghan Markle reportedly attended the popular hip-hop musical 'Hamilton' on London's West End on Friday Night.
---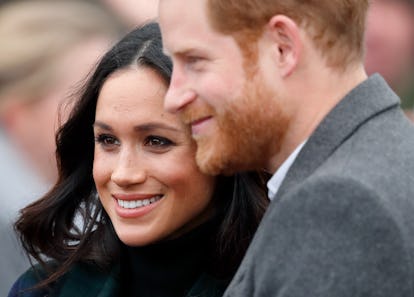 Photo by Max Mumby/Indigo/Getty Images
Prince Harry and Meghan Markle may be part of the British royal family, but they are also just like every other hip young couple who love this decade's most popular show, Hamilton. The royal and royal-to-be took in the founding fathers musical on Friday night at the Victoria Palace Theatre in London's West End.
Leslie Garcia Bowman, a cast member in the show, confirmed the royal couple's attendance on Twitter, calling it an "honor" to have them in the audience.
This isn't the first time that Markle has seen the multiple-Tony-winning show. She saw it in New York, on Broadway, with close friend (and possible bridesmaid!) Quantico star Priyanka Chopra. At the time, she posted a picture of the two of them with the playbill on her now-scrubbed Instagram page, according to Marie Claire.
This is, however, the first time that she's seen it as an (almost) member of the royal family, which might have been the littlest bit awkward since an English monarch is, you know, the quasi-villain of the show. King George III is presented as a comic figure in the musical, but it's still about the American revolution and the overthrow of a colonial power.
It's nice to see the messy bun enthusiast and male feminist taking some time to enjoy being young and in love as they prepare for and plan their upcoming May wedding. And the show, however ironic, is a natural fit for the couple. Markle's story loosely mirror's Hamilton's in that they were both born to relatively normal circumstances and rose to national prominence throughout which they remained unconventional tradition-breakers. In Hamilton's case, that meant setting up our country's financial system, and for Markle it means giving her own wedding speech but, you know, still. To each their own. Don't throw away your shot. Etc.
Related: Meghan Markle Will Break Tradition and Give Her Own Wedding Speech