2-Year-Old Prince Louis Got a Chic Quarantine Haircut
The royal baby is suddenly a baby no more.
---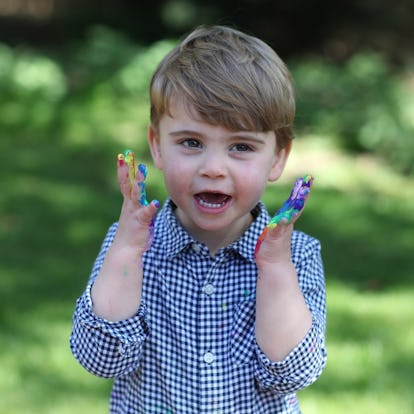 Photo courtesy of Kensington Royal Instagram.
Suddenly the royal baby is a baby no more.
Celebrating his second birthday, just two days after his great grandmother celebrated her 94th trip around the sun, Prince Louis posed for some photos taken by his mother, the Duchess of Cambridge, while playing with some paint and making the delightful kind of mess that only a toddler would make with some rainbow colored finger paint.
Kate Middleton shared the snaps she took of her son on the Kensington Royal Instagram account in honor of his second birthday, where he showed off his ability to paint with his hands, and debuted what appears to be a somewhat alt haircut he must have gotten while in quarantine with his family in England.
It's hard to believe he's already two years old, but with those little side swept bangs, Prince Louis looks like he's at least ready to start kindergarten.
It has been reported that Prince William's hair has been cut by celebrity hair stylist Joey Wheeler, but what about the royal children? One can't help but look at these birthday photos of the fifth in line to the royal throne and wonder, who gave Prince Louis these bangs?
It can be assumed that since they are in quarantine, it was likely the handiwork of either a hair stylist or a live-in assistant to the family, but considering the Duchess took the photos of her son, maybe she has been trying her hand at giving out quarantine haircuts too. She wouldn't be the first celebrity mom to act as hair stylist at home during a pandemic. And don't be surprised if one of these royal children ends up sporting a change in hair with some Manic Panic sometime in the near future.
Related: 9 Overreactions to the Photos of Prince Louis's Royal Christening