Prince William and Prince Harry Open Up About the Last Time They Spoke to Princess Diana
In a new trailer for the documentary 'Diana, Our Mother: Her Life and Legacy,' Prince William and Prince Harry discuss their last conversation with their mom.
---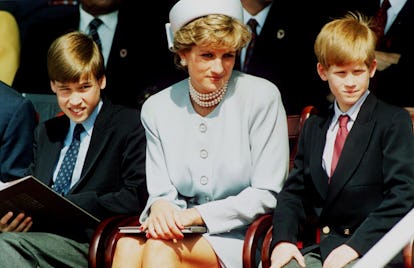 Anwar Hussein/Getty Images
HBO's documentary Diana, Our Mother: Her Life and Legacy promises to be emotional, considering Prince William and Prince Harry will open up about memories of their mother, Princess Diana. But there's one memory in particular the men wish they could change: the last time they spoke with her.
At the time of her death in 1997, the princes hadn't seen their mother in a month, since they were spending the summer in Scotland with their father, Prince Charles, and grandmother, Queen Elizabeth II, while Diana was vacationing in Paris. The boys, who were just 15 and 12 years old at the time, spoke to Princess Diana on the day of her death; they were playing outside when she called. And as reported by the Washington Post, 20 years later they still have regrets about that phone call, according to a new trailer for the show.
"Harry and I were in a desperate rush to say goodbye, you know, 'See you later'.… If I'd known now, obviously, what was going to happen, I wouldn't have been so blasé about it and everything else," Prince William says in the documentary. "But that phone call sticks in my mind, quite heavily."
Harry added, "Looking back on it now, it's incredibly hard. I'll have to sort of deal with that for the rest of my life. Not knowing that was the last time I was going to speak to my mum. How differently that conversation would have panned out if I'd had even the slightest inkling her life was going to be taken that night."
In recent months, both William and Harry have been vocal about mental health advocacy and how they dealt with their own grief following Princess Diana's death. Harry has said that he's "probably been very close to a complete breakdown on numerous occasions" over the course of the last 20 years.
Though the documentary, which will air on July 24 on HBO at 10 P.M., treads into some deep and heartbreaking material, it also promises some happier memories of the People's Princess, including funny never-before-told anecdotes. Princess Diana was known for her humor, and Harry says one of her "mottos" was "You can be as naughty as you want, just don't get caught."
The princes will also discuss their family life, as well as Diana's public life and her work to fight homelessness, HIV, and AIDS. A few of Diana's friends and family members, some of whom have never before spoken publicly about her, will also be featured. But there's one thing that comes across no matter who is telling the story: Diana loved her sons more than anything. William says in a trailer for the show, "We felt very loved by her, Harry and I. And I'm grateful that that love still feels like it's there."
Related: Prince William and Kate Middleton Tried to Get Game of Thrones Spoilers Out of One of the Show's Actors
See What's Trending in W Video:
Princess Charlotte and Prince George Are the Ultimate Kid Jet-Setters
Catherine, Duchess of Cambridge, Prince William, Duke of Cambridge, Prince George of Cambridge and Princess Charlotte of Cambridge depart Victoria on October 1, 2016 in Victoria, Canada.

Getty
October in Victoria, British Columbia, can be a bit chilly, and young Princess Charlotte demonstrated that she knows the art of layering. Trading white ankle socks for warmer tights, the little Princess paired a burgundy cardigan over a floral printed dress (a signature of hers!) with of course, matching Mary-Janes.

Getty
Princess Charlotte of Cambridge and Prince George of Cambridge look out of the window of the plane as they arrive at Warsaw airport during an official visit to Poland. Prince George wears a blue and red checked button down shirt for his arrival in Europe.

Getty
A few days earlier, the young royals arrived in Warsaw, Poland, which was the first leg of their royal tour.

Getty
Prince George may be past his terrible twos, but the young royal did not seem as eagar as his younger sister to practice his royal wave and shake hands with German diplomats. However, he still looked the part by wearing on of his go-to pairings, a button-down shirt tucked into shorts, worn with a belt and black shoes.

Getty
Duchess Catherine looked fresh and lovely in an all-white ensemble, while Princess Charlotte stole the show in a red printed high-waist dress, with little white socks and red mary-jane shoes.

Getty
Last fall, the young royals performed had their first overseas adventure, accompanying Mum and Dad on an official Royal Tour of Canada. Charlotte's bow was a sweet touch, while Prince George's knee-socks were the perfect accessory for a growing toddler.

Getty
In Canada on her first Royal Tour last fall, Princess Charlotte received her first lessons in the royal wave, while dressed in a blue printed dress, white ankle socks, and blue mary-jane shoes.

Getty
The royal family is currently touring Germany, with stops in Berlin, Heidelberg, and Hamburg. Here, Prince William, little Prince George, Duchess Catherine, and Princess Charlotte arrive in Berlin to a red carpet welcome.

Getty
Prince George and Princess Charlotte arrive at Berlin's Tegel Airport during an official visit to Poland and Germany on July 19, 2017 in Berlin, Germany.

Karwai Tang
Duchess Catherine holds the hands of her two children, and walks with the young royals down the red carpet. She may have opted to dress Prince George and Princess Catherine in matching shades of blue in honor of Germany's flower, the cornflower.

Getty
Prince George and Prince William, Duke of Cambridge arrive at Warsaw airport ahead of their Royal Tour of Poland and Germany on July 17, 2017 in Warsaw, Poland.

Karwai Tang
Prince William, Duke of Cambridge, Catherine, Duchess of Cambridge, Prince George of Cambridge and Prince William, Duke of Cambridge arrive at Berlin Tegel Airport during an official visit to Poland and Germany on July 19, 2017 in Berlin, Germany.

Franziska Krug
Prince George, Princess Charlotte of Cambridge and Catherine, Duchess of Cambridge coordinated in pastel pinks and purples before departing from Hamburg airport on the last day of their official visit to Poland and Germany on July 21, 2017.

Karwai Tang
Prince George boards the helicopter in a button-down shirt and shorts.

Samir Hussein
Prince George, Princess Charlotte of Cambridge and Catherine, Duchess of Cambridge coordinated in pastel pinks and purples before departing from Hamburg airport on the last day of their official visit to Poland and Germany on July 21, 2017.

Pool/Samir Hussein