A Princess Just Shaved Off Half of Her Hair
This is far edgier than Meghan Markle's "messy bun."
---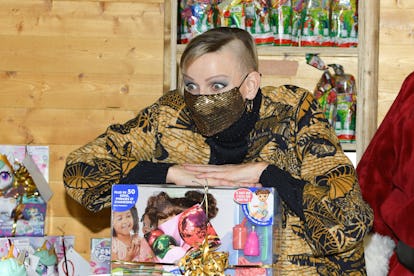 Charlene, Princess of Monaco's style has always stood out (the late Karl Lagerfeld is a family friend, and her husband, Albert II, Prince of Monaco, is the son of Grace Kelly), but her latest haircut is almost unprecedented by royal standards. At a Christmas gift distribution event, Charlene revealed that she's shaven off an entire side of her head, resulting in an edgy but chic "half-hawk." The 42-year-old mother of two has always opted for short styles, even at one point in the past sporting a closely cropped pixie cut, but her latest 'do takes it to a new extreme.
Then again, we did pinpoint buzzing all your hair off as a quarantine trend earlier this year. So the look is certainly in style.
It's unclear how long Charlene has had the cut. She's kept that side of her head obscured on Instagram recently, and has appeared in a hat during other recent public appearances. Though, the Princess was sporting a classic bob in early November.
It's certainly a world away from the haircuts we've come to expect from European royals. Remember, half of England was left clutching their pearls when Meghan Markle dared to rock her trademark "messy bun" in public.
Raised in South Africa, Charlene was a competitive swimmer before marrying into the Monaco royal family. She even competed in the 2000 Olympics as a member of a relay team. It was actually through a swim meet that she first met Prince Albert back in 2000. Though, the couple didn't become a public item until 2006. The couple married in 2011, and Charlene gave birth to twins, Princess Gabrielle and Prince Jacques, in 2014.
The internet has long commented on Charlene's resemblance to actress Charlize Theron (the pair was actually raised in the same South African town). Perhaps Charlene took inspiration from Charlize's buzzed Mad Max look?
Related: Meghan Markle's Messy Bun Is Surprisingly Groundbreaking