Princess Charlotte Bosses Around Prince George, Says the Queen
The 2-year-old was previously described as "the one in charge."
---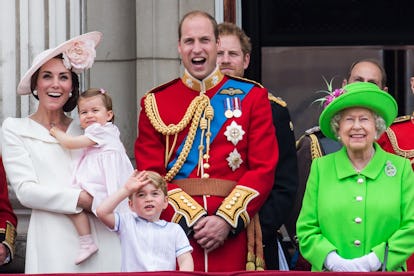 Samir Hussein/Getty Images
At the age of 2, Princess Charlotte is already shaping up to be a formidable leading lady. Having mastered the royal wave and preschool fashion, Charlotte is also the boss of her older brother, Prince George, according to the Queen herself.
Queen Elizabeth II revealed this tidbit of toddler politics during a royal event on Sunday, Us Weekly reports. According to the outlet, a 10-year-old British student named Emily Clay had won a signed bible from the Queen, and during the presentation of said bible, Queen Elizabeth decided to make some small talk with Clay. According to Us Weekly, the Queen asked Clay whether she "looked after" her younger sister, to which her mother quipped, "It's the other way around." Queen Elizabeth replied adding: "It's like that with Charlotte and George," she reportedly said.
This should not come as that much of a surprise if you've been keeping close tabs on the royal family. Last March, Princess Charlotte's iron-fisted rule of the Kensington Palace playroom was corroborated by none other than the Duchess of Cambridge herself. According to a fellow mom, Samantha Burge, who was at a royal event, Kate Middleton said that "Charlotte is growing up really fast. She is the one in charge." But of course, it's all in the good interest of her brother George. "[Kate said] they are both becoming really good friends, George and Charlotte," Burge added.
With Kate Middleton and Prince William's third royal child due to arrive in April 2018, it should be very interesting to see how this shakes up the royal offspring dynamic. Based on what Queen Elizabeth II and the Duchess of Cambridge have said, it looks like Princess Charlotte will be taking good care of both her older and younger siblings.
Related: Kate Middleton's Hairstyles Through The Years