Inside Princess Olympia of Greece's Spectacular, Socialite-Filled 21st Birthday Party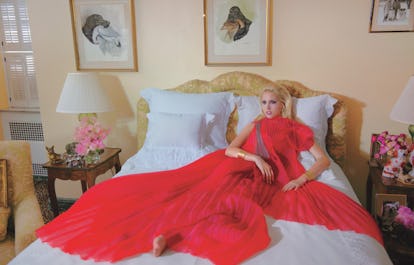 Princess Olympia, a.k.a Princess Maria-Olympia of Greece and Denmark is turning 21 on July 25, but we already have the pictures from her party, and they are as fabulous as you'd expect. The soirée, held in the Cotswolds region of England, attracted celebrities and socialites such as Paris and Nicky Hilton, Poppy Delevingne, and Talita von Furstenberg, the granddaughter of famous designer Diane von Furstenberg and the birthday girl's cousin.
Olympia shared the party with her father, Pavlos, Crown Prince of Greece, who was celebrating his 50th (his birthday is on May 20), and their combined ages lent the party its theme: "5021 Revolution." According to People, "guests were told to 'revolutionize' their black tie ensembles for the party," which led to some unique twists, like lace-ups with a ball gown and spiky headdresses. Princess Olympia wore a blush gown by Steven Khalil and multicolored platform sneakers by Gucci.
The inside of the party space appeared to be very pink and floral and, of course, included lots of cake — it's a birthday, after all. There were also stacks of macarons and candles all around, adding to the decadent atmosphere. But the highlight of the event was undoubtedly Pavlos' speech in his daughter's honor: "In your life, you have done a lot of things that impressed, depressed, and driven us crazy…. Let me tell you a few things about life with Olympia. First of all, you're beautiful, you're full of energy — energy that comes from your mother."
Here, a look inside the party:
Related: [Princess Olympia of Greece Shares Her Beauty Secrets](Olympia of Greece Loves Swimming, Doesn't Wear Perfume)
See What's Trending in W Video: