Princess Sofia of Sweden Looked Straight Out of a Fairytale at Her Son Prince Gabriel's Christening
She looked straight out of a fairytale.
---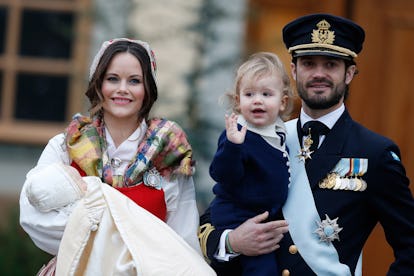 MICHAEL CAMPANELLA/MICHAEL CAMPANELLA/WireImage
Princess Sofia of Sweden's rise to becoming a royal has been anything but traditional — prior to marrying Prince Carl Philip the 32-year-old worked as a reality TV contestant (and even kissed famed adult star Jenna Jameson for the cameras at one point) — but since her marriage to the fourth in line for the crown, her life has been a storybook unfolding. Such was the case when she attended the christening for her second son, Prince Gabriel, who was celebrating his third birthday. For the occasion, Princess Sofia looked like she emerged from the pages of a fairytale, wearing a Swedish folk costume known as Svenska folkdräkter which consists of a bonnet-topped red and white ensemble that pays homage to Dalarna, a place mentioned in her baby son's title Prince Gabriel, Duke of Dalarna.
Princess Sofia was the only royal to wear a Swedish folk costume to the christening, where she and Prince Carl Philip were joined by King Carl Gustaf, Queen Silvia, Crown Princess Victoria, Prince Daniel, and their adorable daughter Princess Estelle and son Prince Oscar. Plus, Princess Madeleine and Christopher O'Neill were also in attendance, although their own children Princess Leonore and Prince Nicolas were not due to jet lag caused by their last trip to the States, People reports.
While everyone gathered at the Drottningholm Royal Palace Chapel in Stockholm to celebrate Prince Gabriel, it was his brother, one-year-old Prince Alexander, who became the center of attention during the christening. After Prince Alexander grew restless from sitting — and from Prince Carl Philip's dad jokes, as People notes — he bolted from his seat before falling on the ground and crying.
Earlier in the month, Princess Sofia joked about the challenges of raising two children. "It's quite different having two children rather than just one," she told Swedish magazine Kupé, as People reported. "We try to create as much family time as possible in the evenings, with bathing and getting into a nighttime routine. Gabriel has started sleeping and eating more regularly." When asked if the hardest parts were over, she relatably replied, "Ask me again in a few months."
Watch: The 15 Best-Dressed Royal Kids Around the World