Priyanka Chopra and Nick Jonas Debuted Their Official Wedding Looks on Instagram
The newlyweds honored their heritages with two traditional ceremonies, with the appropriate ensembles to match.
---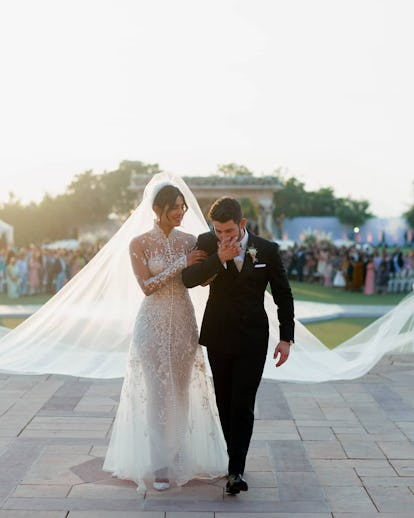 Photo by @priyankachopra.
After days of buildup, the wait is finally over: the official wedding photos of newlyweds Nick Jonas and Priyanka Chopra have arrived. The three-day long ceremony was a blend of the cultures from the couple's families, and they both dressed in the appropriate ensembles to match.
For the Hindu bridal ceremony that took place on Sunday, Chopra wore a traditional red lehenga designed by Sabyasachi. According to reports from People, the ensemble involved 110 embroiderers and took 3,720 hours to sew in "hand-cut organza flowers, French knots in silk floss, and layers of thread work." Chopra also requested that Jonas's name, and her parents' names (Ashok and Madhu) be sewn into the lehenga's waistband. "For the Indian wedding, I wore Sabyasachi. I always knew I wanted a red traditional silhouette for my wedding but Sabya brought in incredible French embroidery to the mix and with incredible jewelry and Western-inspired veil it was just such an amalgamation of who I am," Chopra told People. Jonas wore an ensemble that consisted of a traditional hand-quilted silk sherwani with a chikan dupatta and chanderi tissue safa, complete with a rose-cut kalgi and diamond necklace from Sabyasachi. The couple both wore Christian Louboutin shoes.
For the Christian ceremony on Saturday at the Umaid Bhawan Palace, the bride and groom (and the entire wedding party) wore Ralph Lauren, who, until now, had only designed three wedding dresses in the last five decades (his daughter, daughter-in-law, and niece were the lucky trio). Of course, Chopra and Jonas first publicly met back in 2017 as Lauren's guests to the Met Gala.
Chopra's classic, hand-embroidered white gown reportedly took 1,826 hours to make. Underneath the high-collared gown were 2,380,000 mother-of-pearl sequins embedded into a strapless column dress, and a 75-foot tulle veil trailed behind. Similarly to the ensemble Chopra wore for her Hindu ceremony, she requested that her husband's full name be embroidered into her wedding gown, along with her parents' names and a portion of her mother-in-law's lace wedding dress to honor the Jonas side of the family. Inside of Jonas's black tuxedo lapel, he embroidered the Urdu phrase "My Jaan" or "My Life."
The newlyweds shared two separate posts of the wedding ensembles on Instagram, with Jonas captioning his photos with "Happiest day of my life," and Chopra captioning her photos with "And forever starts now…"
Related: Priyanka Chopra's First Wedding Gift Is Worth a Small Fortune