Gen W: Proenza Schouler
To celebrate its 10th anniversary, Proenza Schouler rounds up a cast of key collaborators.
---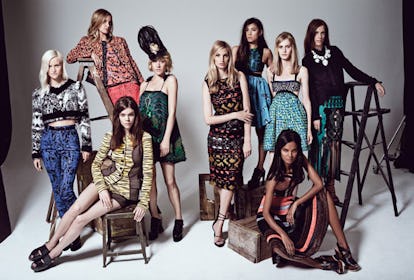 On an oppressively humid evening in July, Lazaro Hernandez and Jack McCollough, the designers behind Proenza Schouler, were discussing the future of a cactus. The question at hand was where the spiky cylindrical blob should go inside their first retail store, located on the fashion gold coast of Manhattan's upper Madison Avenue. Designed by the British architect David Adjaye, the boutique was set to have its grand opening the following morning, marking the most assertive commercial leap yet for a company that has quickly grown into one of the most distinguished American fashion brands. McCollough and Hernandez, both 34, had been in the store most of the day, tasking themselves with the sort of menial jobs most professionals of their ­stature prefer to outsource to a team of minions: unpacking boxes, hanging clothes, assessing the placement of clothes, reassessing said placements. Now all that remained was finding the ideal home for the cactus, which was proving to be a challenge.
Lazaro Hernandez and Jack McCollough, wearing their own clothing.
"Maybe it should go here?" McCollough asked.
"Or here?"
McCollough and Hernandez still manage to project an almost wide-eyed curiosity that's all the more refreshing given that this year marks their 10th in an industry that often can be tinged with cynicism. As Chloë Sevigny, a longtime friend, puts it: "A lot of designers are really intimidating. But Jack and Lazaro? Whenever I see them, which is typically at some kind of event where I'm inherently nervous and uncomfortable, I want to be around them—the same way I want to be in their clothes. You feel good, you feel cared for, you feel beautiful, you feel powerful."
McCollough and Hernandez have been united, as a couple in life as well as in business, since they met as students at New York's Parsons School of Design—and thus operate as single organism, finishing each other's sentences and reaching decisions through a kind of osmosis that is as charming as it is mysterious. For instance, if you were to sneak into their Massachusetts farmhouse, where they hole up a few times a year to sketch their collections, you would encounter an exchange similar to the cactus ­debate: the two of them seated with their drawings at a large table, having a back-and-forth in which the tiniest of details—button sizes, the length of an inseam, fabric finishes—are dwelled on for hours. It is not so much that they are masochistic perfectionists (though they are) but that their definition of perfection is perpetually in flux.
"Yes, on some level I recognize that we've become professionals, but we don't feel that way, you know?" explained McCollough. The more introspective of the two, he was dressed that evening in jeans and a T-shirt, a variation on the ironic preppie theme they both favor. With numerous tattoos covering his arms, he looks like a rebellious kid from a conservative household, which happens to be how McCollough grew up, in New Jersey, the son of a banker and a stay-at-home mom. "Hell, the last thing we want," he added, "is to feel like professionals. That's so boring."
"Exactly," chimed in Hernandez, who was wearing a T-shirt, shorts, and a Yankees cap backward. The son of Cuban émigrés, he grew up in Miami, where he honed his understanding of the ever shifting wants and needs of women in his mother's beauty salon.
Such an attitude could come across as posturing, since the two are now heading a multimillion-dollar company, yet it makes particular sense given their auspicious beginning as designers, which has become the stuff of fashion world legend. In 2002, their first collection was presented as a joint thesis while they were still at Parsons. Barneys New York bought every piece, signaling the start of what has been a swift and charmed ascension. In 2004, they won the inaugural CFDA/Vogue Fashion Fund, and in 2007, they took home the award for CFDA Womenswear Designer of the Year, which they earned again last year. Known for infusing classic European forms with a slouchy, contemporary sensibility, the designers have seen their clothes become the uniform of choice for slinky downtown girls and women as far apart on the style spectrum as Kim Kardashian and Michelle Obama. Earlier this year, Andrew Rosen, the CEO and founder of Theory, and his partners invested what is said to be between $10 million and $20 million in the company, ensuring that "the boys," as they are still invariably called in fashion circles, remain in control of their destinies for some time.
"When you talk to young designers now, it's kind of a goal to get their first collection into a major store," says Julie Gilhart, an Amazon.com consultant and the former fashion director of Barneys, who was responsible for snapping up that famous first collection. "The Proenza boys really just came along at the perfect time and signaled a kind of shift in power. People wanted something new, and that's what the boys delivered." As Gilhart sees it, Proenza Schouler has created a template for how to succeed in an industry with unforgiving margins, helping foster the current rise of young American designers like the Mulleavy sisters of Rodarte and Alexander Wang.
At the company's airy SoHo office, McCollough and Hernandez spend most of their days seated at a table surrounded by various shreds of inspiration: esoteric photo clippings, dizzying fabric swatches, pieces of industrial rubber. Some 66 employees share the space, evidence of a growth that has been so fast, the two still find it all mystifying. "The first five years, it really wasn't real—we were just hanging out having a good time," Hernandez noted on a recent morning.
On the opposite end from them is the office of Shirley Cook—the only CEO the company has had—whom both McCollough and Hernandez are quick to credit with being instrumental in allowing them to evolve without losing control. The three first met when their social circles intersected during college: Cook was studying religion at New York University, just a few blocks south of Parsons. Her involvement was initially limited to offering a friendly hand, ­primarily helping out with the accounting. She came on board full-time in 2002 after finding them their first major investor, whom she met while skiing in 2000. As the company gained traction, the three moved into a loft on the edge of Chinatown, where they lived and worked. "We would literally go days without leaving the house," recalls Cook.
Over the years, McCollough and Hernandez have made a point of surrounding themselves with an eclectic mix of independent women who help them envision the ideal ­personalities for their designs. It is a group that includes downtown fixtures like Sevigny and the photography agent Jen Brill, as well as socially connected ladies like Lauren Santo Domingo, the creator of the website Moda ­Operandi. "You could say they each, in some way, represent little pieces of the brand," explained McCollough. Though both he and Hernandez say that it is Cook—nonchalant but assertive, fashion-forward but not fussy—who most fully encapsulates the Proenza Schouler girl.
On the day I visited, McCollough and Hernandez were getting ready for their fall show. The two are inveterate travelers—they recently hiked the foothills of Mount Everest and hope to conquer China and southeast Asia next—and often their inspiration is triggered by something they encounter on a trip. Last year, a macramé basket they fell in love with in India evolved into a skirt, for instance, and blankets they found in New Mexico turned into a handbag. Their current collection, however, grew out of a joint fascination with Karlheinz Weinberger, a Swiss photographer who chronicled Switzerland's underground rock scene in the sixties. "It's really abstract, which we like, kind of based on this weird hippie shit," Hernandez said. "It's all very personal. Like, if you want to know what we're thinking about at any given moment, what's interesting to us, just look at our clothes." He laughed. "Then again, the references are all so oblique that we're the only ones who get them."
Indeed, being somewhat opaque is among the most dominant traits of both their personalities. McCollough and Hernandez rarely provide fodder for gossip columns—the notable exception being in 2009, when an intoxicated Kiefer Sutherland head-butted McCollough at a SoHo bar. Those in fashion circles have made a quiet sport of dissecting their relationship: Some have questioned if, considering that McCollough and Hernandez aren't overtly affectionate in public and avoid discussing their personal lives in the press, they are, in fact, still together. "Yes, we are," McCollough assured. "We just like to keep it all as separate as possible." Further fueling the speculation was that, when they moved out of the Chinatown loft in 2007, they opted to buy separate apartments: Hernandez lives in Chelsea; McCollough, in the West Village. "That was a really, really tough period," explained Hernandez. "Basically, we made the decision—probably the hardest we've had to make—that working together was more important than living together."
In recent years, they have had opportunities to design for major houses. "I can't say which ones," Hernandez demurred. "But, you know, the labels with dead founders." Appealing as the notion is, they've turned down all offers, largely on the ­advice of Cook. "She knows that we would go insane," McCollough said. "And we really don't feel like being two more designers in rehab," added Hernandez with a laugh. "But aside from that, it's really just not our style." And, more important, taking on a role in another company would mean losing at least a part of what they've created with Proenza: a global fashion house that, implausibly, still operates more like an ongoing art project than a corporate behemoth.
Leaving their boutique the evening before it opened, the pair decided to venture to the Carlyle hotel for a drink, where they reminisced about their 20s. Hernandez noted they were "very crazy." Though now they are far more reclusive—an ideal day would be spent at their country home, where Hernandez gardens while McCollough cooks—this is a somewhat ­recent development. They used to throw legendary costume parties. "Everyone would bring their drug of choice, and we'd have these epic, all-night insanities, where you didn't know who anyone was," Hernandez recalled.
As astonishing as their rise has been, perhaps most remarkable is how little it has changed them. Their core group of friends is the same since their early 20s, many of them in the fashion and art world, like the accessories designer Kate Fleming and the art photographer David Benjamin Sherry. "They really haven't been affected by their success," says Christopher Campbell, a fashion editor who met the pair during college. "I think a big part of it is that they just balance each other out really nicely."
Despite all that is going on with their company these days—they plan, over the next few years, to open up more stores—the two often find themselves thinking of life after fashion. In this, their model is less that of someone like the empire-building Marc Jacobs and more that of someone like Helmut Lang, who famously retired at the height of his popularity. "We're not doing this ­forever. We're not Karl Lagerfeld," Hernandez asserted. "Who knows, maybe we'll have kids and start a ­family—boring things like that." He then turned to McCollough and smiled. "Maybe at some point we'll actually live together again."