Proenza Schouler Officially Launches White Label With the Help of Chloë Sevigny
The new collection will range from $195 for t-shirts to $575 for outerwear.
---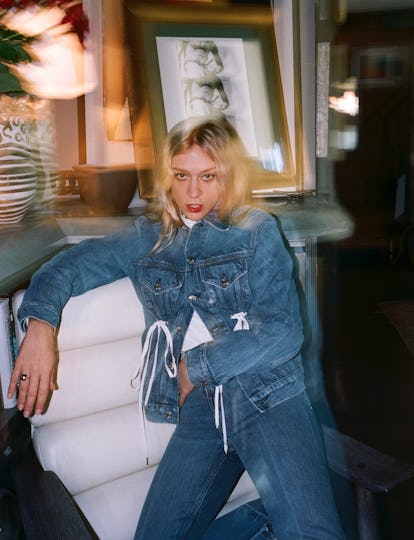 For several months, rumors have swirled that Proenza Schoulder designers Jack McCollough and Lazaro Hernandez have been working on a sister line to their their cult favorite label. Today, they were confirmed, as the pair announced the launch of Proenza Schouler White Label—PSWL for short—alongside an official campaign fronted by the eternally cool Chloë Sevigny.
An extension of the brand's ready-to-wear line, PSWL is composed of the sort of classic pieces the label has perfected over the years, such as denim, t-shirts, sweatshirts, and casual outerwear. Like past collections, the sister-line riffs on artistic and cinematic motifs, with the first collection citing references like the graphic artist Guy de Cointet and Harmony Korine's seminal film Kids, which, lest you forget, Sevigny also starred in.
In the campaign, which happens to also be shot by Sevigny's boyfriend, Ricky Saiz, the actress sports a denim ensemble from the line, looking predictably aloof. She posted an image of the campaign on Instagram, writing, "Thrilled to help my boys @proenzaschouler launch their new line of staples."
The designers themselves issued a statement about the intent of the new brand, saying, "It has always been a goal of ours to fully develop a well-rounded and balanced collection that mixes the high-end with the everyday in a way that speaks to both many of our personal friends, and to the designer customer we've developed over the years."
They added the two lines allows them to address both ends of the consumer spectrum "in a way that feels totally authentic to us and relevant to the way people dress today."
PSWL follows in the footsteps of similar lower-priced designer lines such as Derek Lam 10 Crosby, and Grey Jason Wu; Marc by Marc Jacobs was folded into the main line. It also comes at a time of renewed ambition for the New York-based brand, which this season moved their Spring 2018 to Paris, coinciding with Paris Haute Couture, and will soon launch a debut fragrance, having linked up with L'Oreal Paris.
The new collection will officially be available beginning on November 6 at the Proenza Schouler New York stores, its website, and additional online retailers. Prices will start from $195 for printed t-shirts and sweatshirts, $290 for denim and casual trousers, and $575 for outerwear—so you can finally follow in the steps of street style stars and deck yourself out in head-to-toe Proenza.
Related: Chloë Sevigny Remembers Fashion Week's '90s Glory Days
Fall Fashion Advice from a Very Young Stylist