Chloë Sevigny Remembers Fashion Week's '90s Glory Days
Like that time she was Kate Moss's wingman—and Kim Gordon's bride.
---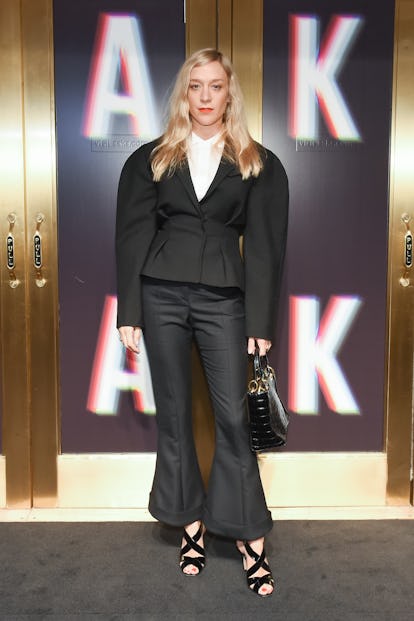 Courtesy of BFA for Saks Fifth Avenue
Even though Kurt Cobain had died just a few days before, grunge still managed to be as alive and well on the day in 1994 that Sonic Youth's Kim Gordon and stylist Daisy von Furth staged the first-ever runway presentation of their brand X-Girl—on the sidewalk across from Marc Jacobs's show, in true guerrilla style. A spray-painted white sheet served as the background—thanks to producers Sofia Coppola and Spike Jonze—and all pieces showcased, which were essentially thrift store recreations, cost less than $60. As usual, however, even with all that, things still didn't reach peak cool until Chloë Sevigny arrived—in true Chanel couture fashion, as a bride to close out the show.
"I came out last with this boy Ryan—just some kid, a skater boy, who worked at [the record store] Fat Beats," Sevigny recalled of her long lost husband and first-ever New York Fashion Week with a laugh on Friday night, at yet another season of fashion week, surrounded by Dolce & Gabanna on the newly renovated third floor of Saks Fifth Avenue, which the store was celebrating both inside and out with a much, much glitzier sidewalk runway presentation of its own that made use of its signature windows.
These days, after more than two decades of showgoing, Sevigny is trying to keep it "minimal" this season and "close among friends"—one of which, it turns out, stretching back for decades now, to when she was growing up in Connecticut, is Saks. "My father used to bring me shopping here when I was a little girl, and I still get this sense memory of being with my dad and the glamour of coming into the city," she said, noting that she's quite impressed by Saks's current selection—particularly of Jacquemus, which she was decked out in that night. ("I was like, They have that here? Okay great, I'll take it!")
Clearly, though, she has kept in touch with her old friend: "I came here right before Venice to get my undergarments, because the lingerie floor is incredible," she continued, referring to the Venice Film Festival, where last week she premiered Lean on Pete, the new film she appears in with her longtime pal Steve Buscemi, as well as screened her short Carmen, which she directed as part of Miu Miu's Women's Tales series, making her one of the rare women directors that made it into the festival, where only one film made by a woman made it into the main competition.
Its organizers didn't exactly seem to care about the issue, but Sevigny said "it was very discussed" throughout the festivities—and made the case that the discussion was worth carrying over to fashion week.
"You know, I think it spreads across every industry, even the fashion industry. We obviously have a lot of strong women in fashion—editors, buyers, designers—but still, I think men kind of rule to a certain degree," she continued. "So as much as we can promote other women and help lift each other up and give each other platforms, promote discussion and whatnot, I want to be there to help do that."
Chloe Sevigny Has Been the Coolest Girl in Town for 20 Years
At the 1998 premiere of Deceiver, the it girl looked cozy in a cream-colored fur jacket, grey sweater and black pin-striped skirt paired with black opaque tights and lace-up ballet flats.

WireImage
At the 52nd Annual Directors Guild Awards in 2000, Sevigny rocked a baby pink ensemble with a multi-colored silk scarf around her neck.

WireImage
Sevigny was simultaneously Hollywood glam and downtown cool at the 2002 Vanity Fair Oscar Party in a white Grecian-inspired gown with a gold pendant necklace and gold clutch bag.

WireImage
The actress looked darling in an '80s-inspired strapless dress and black velvet chocker at the Fashion Group International's 21st Annual Night of Stars in 2004.

FilmMagic
Fresh faced at ICP's 21st Annual Infinity Awards in 2005, Sevigny wore a sexy floral maxi dress with a low square-cut neckline and ruffled bodice.

FilmMagic
The actress wore a ruffled, belted LBD to a fundraiser in 2005.

FilmMagic
At the 2006 Cannes Film Festival, Chloe wore a flirty and fun look on the red carpet. Her black and cream graphic-print fringe dressed was paired with a pair of simple black peep-toe wedges and a gold link necklace.

WireImage
Chloe Sevigny arrived to the 2007 HBO Golden Globes After Party rocking another gorgeous graphic dress.

FilmMagic
In a cut-out white fringe midi dress, the actress looked chic on her way to the 2007 Vanity Fair Oscar Party.

Patrick McMullan via Getty Images
The actress celebrated her collaboration with Opening Ceremony in 2008 wearing a school girl-inspired look from the line.

WireImage
Sevigny turned heads on the red carpet of the 61st Annual Emmy Awards dressed in a gorgeous gown by Issac Mizrahi. The polka dot-covered sheer gown stayed true to the actress' quirky style, but was appropriately glamorous for the occasion.

WireImage
Ready to dance the night away, the actress wore a bold and edgy turquoise Proenza Schouler mini dress and black sky-high platform sandals to the 2010 Met Gala.

WireImage
Chloe Sevigny showed a little skin at HBO's Big Love premiere in 2011 in super chic blue floral Rodarte dress paired with red and gold cutout sandals and matching red lip.

FilmMagic
At the New York premiere of Orange is the New Black, the actress wore a sparkly navy crew-neck sweater, high-waisted printed shorts and white patent oxfords.

WireImage
Sevigny went matchy-matchy in an orange suede Chloe mini-dress paired with orange strappy sandals, at the Cartier 100th anniversary of their emblem La Panthere De Cartier in 2014.

Getty Images
At the LACMA 2015 Art+Film Gala, Sevigny was glowing in a lace bright yellow printed Gucci gown. She kept her accessories very minimal by only wearing baby blue teardrop earrings, a yellow crystal ring and burgundy clutch bag.

Getty Images for LACMA
The actress stunned on the red carpet at the New Yorkpremiere of her film #Horror in a pink and black Proenza Schouler dress. This dramatic number featured a high neck, thigh-high split and scandalous hip cutout.

FilmMagic
At a New York screening of her newest film Love & Friendship, the actress looked simply angelic in a Peach chiffon Prada gown. The gown featured a white embellished collar and cuffs and a multi-colored graphic on the the bodice.

BuzzFoto via Getty Images
At the 2017 Sundance Film Festival's premiere of ' Golden Exits, Chloe debuted her signature vintage style as she posed for pictures in a brown suede duster coat over a vintage print dress. She completed her look with black leggings, leather oxfords and handbag.

VALERIE MACON
The actress/director debuted a 60's inspired gold and green sequin Miu Miu mini dress at the Sundance "Beatriz At Dinner" premiere. She added a bit of edge to her look with a pair of black motto boots and black leather handbag.

George Pimentel
Chloe looked adorably hot in a red Miu Miu mini dress that featured bow-adorned shoulder detailing at the amfAR New York Gala 2017. She completed her look with a pair of black bejeweled mules, embellished black clutch bag and black chocker necklace.

Craig Barritt
While attending the Metrograph Theater 1st Year Anniversary Party, the actress donned a silver floor-length J.W. Anderson turtleneck dress. Keeping her accessory pairings simple she opted for a black leather chain strap bag and gold statement earring by the designer.

Nicholas Hunt
Chloe Sevigny attends The Hollywood Reporter 2018 Sundance Studio at Sky Strada, Park City on January 20, 2018 in Park City, Utah. Photo courtesy of Getty Images.

John Parra
Chloe Sevigny attends the 'Lizzie' Premiere during the 2018 Sundance Film Festival at Park City Library on January 19, 2018 in Park City, Utah. Photo courtesy of Getty Images.

C Flanigan
Chloe Sevigny arrives at the Gucci show during Milan Fashion Week Fall/Winter 2018/19 on February 21, 2018 in Milan, Italy. Photo courtesy of Getty Images.

Vittorio Zunino Celotto
Chloe Sevigny attends Metrograph 2nd Anniversary Party at Metrograph on March 22, 2018 in New York City. Photo courtesy of Getty Images.

Sean Zanni
Chloe Sevigny attends the "Last Days Of Disco" 20th anniversary screening at Walter Reade Theater on May 24, 2018 in New York City. Photo courtesy of Getty Images.

Monica Schipper
Chloe Sevigny attends the Gitano NYC preview celebration on June 21, 2018 in New York City. Photo courtesy of Getty Images.

Andrew Toth
Chloe Sevigny walks the red carpet ahead of the "L'Annee Derniere a Marienbad" screening during the 75th Venice Film Festival at Sala Giardino on September 5, 2018 in Venice, Italy. Photo courtesy of Getty Images.
Chloe Sevigny, wearing Fendi, attends Moet & Chandon and Virgil Abloh New Bottle Collaboration Launch at The New Museum on October 16, 2018 in New York City. Photo courtesy of Getty Images.

Mark Sagliocco
Sevigny, for her part, will be directing her third short—a ghost story "about five ladies"—in the spring, and is hoping to move onto features soon after. Film, after all, is her "real job"; "this is like my fake job," she said of fashion week, which she seemed relieved to be leaving in the middle of to head up to the Toronto International Film Festival. "It's always good to have an excuse—a film excuse," she added with a laugh.
Not that Sevigny hasn't had any fun this time around, despite the fact that her pal Pamela Anderson was a no-show at the Vivienne Westwood dinner she attended earlier this week. ("Those were my boobs, actually," she clarified of the photo that, like a true friend, she Instagrammed with Anderson's name tag and her chest in honor of Anderson's absence.)
Few would dare to directly compare their décolletage with Anderson's, but from the very beginning for Sevigny, Fashion Week has long been the time of year to tease, or at the very least get intimate with, her fellow icons: After making her debut as a bride, Sevigny's next go at the shows was walking Miu Miu, which she described as "a whole shakedown—I went from X-Girl, guerrilla-style, to Bryant Park, Miucca [Prada], coming out after Kate Moss, and then having to teach me how to walk," she recalled.
One would think her supermodel runway mate would be able to help out with the latter, but it turned out the pair got along so well in part because in fact she couldn't: "She was pretty fresh then as well," Sevigny said. "It was quite the casting."
Related: Chloë Sevigny Is Secretly Still a Deadhead
Kate Moss on How Photographers "Always Ask" Her to Take Her Clothes Off: