Launching Sofia
Girl-of-the-moment Sofia Coppola has turned herself into a designer.
---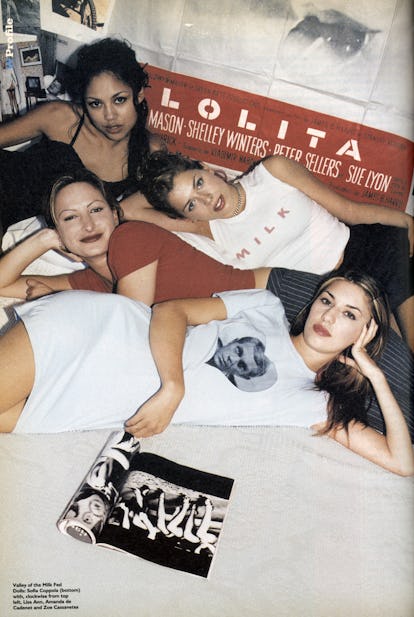 Photographer: Paul Jasmin
It could be a photo session for the hottest young starlets in Hollywood. Pretty, pouty girls in skimpy dresses are strewn across a bed in a penthouse at the Chateau Marmont. Behind them is conspicuously poised a Lolita poster. Various cellular phones are ringing constantly, but the photographer clicks away even when the girls are on the phone giggling with their boyfriends. Pitchers of margaritas arrive regularly. Young hunk actors drop in off their Harleys to catch the action—and the hormones. The son of a famous director is shooting it all for a documentary. TV journalists are calling up for interviews. It's just another day in the life of Sofia Coppola—actress, costume designer, Chanel apprentice, Hollywood scenemaker, TV producer (of a show called "High Octane" for Lifetime Television). And now, add "fashion designer" to her growing list of hyphenates. After years of attending the New York collections, palling around with the likes of Anna Sui and Marc Jacobs and spending teenage summers hanging around the Chanel atelier, the 22-year-old has finally decided to launch her own line of about 20 pieces that she calls Milk Fed. Today, she's assembled her L.A. babe pals Zoe Cassavetes, Lisa Ann and the transplanted English model/TV host Amanda de Cadenet to do a little modeling for W. "I always wanted to be a designer, but I didn't think I knew enough," admits Coppola. "When I helped Kim Gordon and Daisy von Furth put on the X-Girl show in SoHo [last season], I discovered they didn't know how to sew, either. I realized I admire people who just jump into things and do it. So I started this with Linda Meltzer who has a line out of L.A. called Tease Tee's; she did the first shrunken T-shirts, which became known as 'baby Ts.' I designed the clothes and she's the grown-up; she put the rest of it together."
"'I Love Booze'—this is my T-shirt!" squeals Zoe Cassavetes, as she wriggles into a baby T suitable for margarita consumption. Coppola's first line consists of numerous baby Ts printed with things like "Wasted"; nylon T-dresses with stenciled likenesses of Che Guevara or Steve McQueen; hip-hugger pinstripe pants and skirts, and little nylon necktie dresses built mostly for tiny, groovy gals like herself—although she disagrees. "The samples were cut small, because I was the fitting model. But I want the clothes to be able to be worn on every kind of figure, even though I'm flatchested. I refuse to wear a Wonderbra. I don't even own a bra! Marc Jacobs discouraged me from buying one—he said, 'Why be something that your not?' I'm not voluptuous sexpot. One of my big inspirations for the line was men I saw in Central America. They were wearing faded T-shirts with suit pants. And as for the drinking references on the shirts, when were people not drinking? I hate 12 Steppers, I avoid them." Coppola does not see Milk Fed as a "little girl line." "I'm more into the 'Mom sensibility' than the little girl thing. I'm sick of all the A-line minis. I did one skirt just above the knee—it's a bit Calviny. I guess it's a bit fashion victimy. 'The Lady Skirt.' It's a silk charmeuse slip with a tiny bit of lace at the hem. Do I sound like a fashion designer now? I'm starting to do all that corny talk!" She felt rather like a grown-up designer last month when she showed buyers the line at New York's Sherry Netherland Hotel. "It was very encouraging, " she says of the experience. The line will be out in November in Bloomingdale's (which will throw Coppola a launch party on December 8, and give her the Lexington Avenue windows). Stussy Union and X-Girl will carry it in both their Los Angeles and New York stores, and Fred Segal, Melrose and Supreme on Lafayette in New York have also bought the line. "The best was when Polly Mellen came by. She's so amazing, she was ecstatic. But then, I hear she cries at fashion shows." Coppola had a little help from her friends—and family. "Marc Jacobs was great, and the person who's been the most helpful and amazing has been Anna Sui. She gave me a list of stores. She went beyond the call of duty." As for her famous father, Sofia claims, " He's always wanted me to do this. He said when I wanted to do a real line, he'll back me. But I wanted to try it with inexpensive clothes. "You know, most clothes in this prices range are pretty generic. The Gap all looks the same. My clothes are definitely different. Now my father wants to know when I'm going to do my perfume!" "I guess I didn't think about it that much," Sofia admits. "My business partner just told me I have to do a whole new line for fall. We're going to do the looks in heavier fabrics, although it never gets that cold in California." "I didn't realize this was gonna be so much work! But at least if it doesn't work, there will always be another season."
Valley of the Milk Fed Dolls: Sofia Coppola, with Lisa Ann, Amanda de Cadenet and Zoe Cassavetes.

Photographer: Paul Jasmin
Liza Ann, Stephen Dorff, and Zoe Cassavetes in Milk Fed.

Photographer: Paul Jasmin
Lisa Ann and Zoe Cassavetes wearing Milk Fed.

Photographer: Paul Jasmin
Stephen Dorff wearing Milk Fed.

Photographer: Paul Jasmin
This article originally appeared in the September 1994 issue of W Magazine.