New York Fashion Week's Street Style Stars Are Still Dressing Like It's Summer in Miniskirts and Crop Tops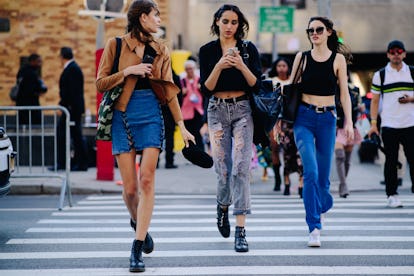 Photo by Adam Katz Sinding for W Magazine.
New York Fashion Week—and the rest of Fashion Month—may just barely be underway, but that hasn't made its beginnings any less of a spectacle: In the space of about 24 hours, Kim Kardashian went blonde, Cindy Crawford's lookalike daughter Kaia Gerber made her runway debut, LeBron James tried his hand at modeling, and Kendall Jenner stepped out channeling, of all people, Kris Jenner. And while Rihanna is, of course, already outshining everyone, the week's usual street style stars are definitely pulling their weight in stealing the scene, too, thanks in large part to making the most of pretty much every trend that emerged over the course of the summer. From miniskirts to crop tops to street-friendly lingerie to Canadian tuxedos—the latter of which has even been interpreted with yet another mini—showgoers are taking a nod from the Swedish stars in Stockholm last week by acting like it's still summer, whether their exposed abs like it or not. See the best looks to emerge so far, including bright blue hair and over-the-knee boots paired with latex, here.