How Gigi Hadid and Kristen Stewart Are Bringing Crop Tops to New Heights
From Fendi's cold-weather cropped sweaters to Kim Kardashian's glorified bra, crop tops are making a comeback.
---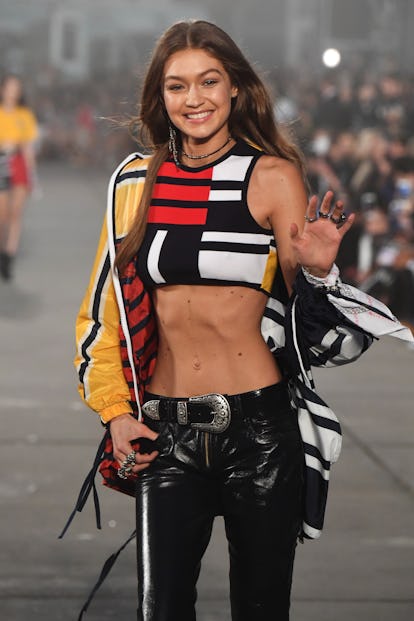 Jeff Kravitz/Getty Images
Last week, Kim Kardashian stepped out in one of her most Kim Kardashian looks ever, pairing a gilded Balmain skirt with what was essentially a bra to party with Olivier Rousteing. It was arguably at that moment that we hit peak crop top—a style whose hemlines have moved further and further up ever since Madonna, Britney Spears, and Christina Aguilera moved it from the realm of workout gear to street clothes. Hence Kim's crop-top-turned bra—though crop tops that go up high up enough to reveal your bra are definitely equally acceptable these days, too.
In part, we have Gigi Hadid, Bella Hadid, and Kendall Jenner to thank: Ever since they started dominating fashion (and the world), their penchant for showing off their washboard abs has popularized all sorts of crops, and welcomed them to streetwear, too—as well as high fashion, as the tops are now also increasingly showing up on the runways. Indeed, when Gigi teamed up for her first spring collaboration with Tommy Hilfiger earlier this year, the early pioneer opened the show in a skin-tight crop top—followed by Bella in a cropped yellow polo, and more models baring their midriffs. Cold weather be damned, the trend also popped up across the board at the fall 2017 shows, sometimes paired with heavy woolen overcoats, like at Fendi.
Versace and Versus Versace have also been upping their crop game the past few seasons, but more importantly, the next month after the Hadids x Hilfiger, came Rihanna's approval, when she sent out cropped varsity shirts and sweaters at her Fenty x Puma show in Paris—and even a bright orange turtleneck that showed off some under-boob. And while when it comes to her personal style, Rihanna can often be found in cozy, body-obscuring tent dresses, plenty of other celebrities have been repping the tops for her: Emily Ratajkowski, Selena Gomez, Zendaya, Kristen Stewart, and Lily-Rose Depp are all fans of the trend; the latter two have even worn them together, in a twinning look you can try yourself with your friends. (Though good luck getting them gifted from Karl Lagerfeld.)
Related: Going Out Tops of the Early 2000s Are Officially Back Now
Gigi Hadid Reveals the Secret to Her Signature Runway Walk:
21 Crop Tops You Can Wear, Even If You're Not Emily Ratajkowski