How the Canadian Tuxedo Became the Newest It-Girl Approved Craze
We've hit peak denim, as Gigi Hadid can also readily attest.
---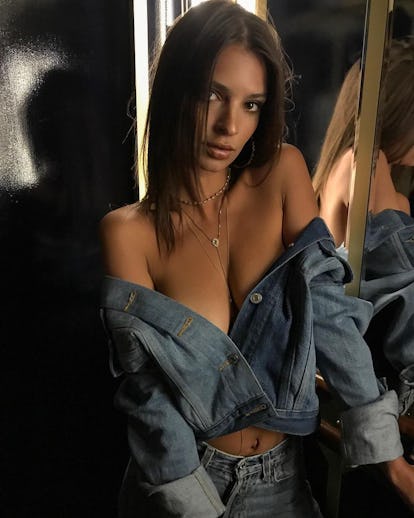 Courtsey of @emrata
Earlier this summer, Emily Ratajkowski had a problem: She could not stop Instagramming her bikini-filled vacation. About a week after she left Italy, though, Ratajkowski made it clear she'd sorted things out: In a 24-hour period, she posted three photos of herself decked out in head-to-toe denim, the heat apparently forgotten. It wasn't a phase: a week later, she posted another, proving her dedication to the denim craze was true. (And what we all already knew in our hearts: that if anyone can turn a jean jacket into a sleeveless top and still make it work, it's Ratajkowski.)
The last in her series of grams featured Ratajkowski alongside Virgil Abloh, the designer behind Off-White, who earlier in the year sent a model down the runway at his denim-heavy show in a shirt so sheer, she appeared to be wearing only a jean skirt. He's hardly the only designer lately to jump fully on the denim train: Thanks in large part to the newly Americana-crazed Raf Simons, the Canadian tuxedo, of all things, somehow beat out all the other lightweight possibilities in the world to become the ultimate cool uniform this summer. (Conveniently, it also promises to be one that continues into fall, thanks to designers like Dior's Maria Grazia Chiuri.)
A Definitive Guide To the Best Denim On the Fall Runways—Canadian Tuxedos Included
Not sure if you can pull off the Canadian Tuexedo? Dior's Maria Grazia Chiuri sent a few alternatives down the runway, including a great denim jacket and wide leg pant combo, broken up with a classic tee – beret is optional.

Pascal Le Segretain
This fall, give the overall a try – it's now more tailored and chicer than ever. Pair it with a heel and blazer for a new take on office dressing.

Pascal Le Segretain
Mary-Kate Olsen and Ashley Oslen, unsurprisingly, know how to create a cool and easy pair of jeans. This washed out black straight-leg jean is a must-have for fall.
The Canadian Tuxedo is back and here to stay. Layer yours with a slim-fitting turtleneck from Raf Simons first collection for Calvin Klein 205W39.

Estrop
Roses are a micro-trend for fall. We've seen them crop up on the streets of New York and Paris, as well as on the runways. Adam Selman's Fall 2017 collection took elements of the street and mixed it up with ladylike florals. Opt for either the denim moto jacket or high-rise jeans – you'll be right on trend either way.
The Canadian Tuxedo doesn't have to be a tailored dark denim look. Cult-favorite French label A.P.C. offered up the Tuxedo in a classic medium blue wash.
Channel the '90s in Marc Jacobs' oversized denim shearling jacket and baggy jeans, as seen on his Fall 2017 runway. Don't forget the chunky chains.
Virgil Abloh is an expert when it comes to manipulating denim in covetable new ways. Forget the A-line denim skirt – the ruffled asymmetric denim skirt with zip-closure is the way to go for Fall.
Louis Vuitton's fall collection featured easy pieces that offer an instant update to your fall wardrobe. This denim-inspired shearling jacket is perfect for transitional weather.

Catwalking
As are these denim look-a-like pants, from Louis Vuitton. Add a chic jacket, bag, and boot to elevate any denim you wear this season.

Catwalking
Sacai's fall collection offered a bevy of statement-making winter jackets, including this denim trench dress with oversized cargo pockets. Styled with a pair of kick-flares underneath, this is the styling trick to try for fall.

Catwalking
Patchwork denim has been on the rise thanks to cool girls on Instagram who collect patches and pins and strong DIY skills. For those less handy, Coach has the answer – a great pair of home-spun quilt-inspired patched jeans that are perfect for weekends spent upstate. Add a cozy shearling for maximum coziness.

Peter White
Usually it is Off-White leading the pack with a cropped denim jacket, but this season, Stella McCartney takes the win for their tailored dark denim cropped jacket. Paired with a high-rise wide leg, its the denim dare to take this season.

Victor VIRGILE
Mixing washes is another take on the patchworked look, first made popular again by Vetements' patched and re-worked Levi's. Public School's version, especially the oversized denim shirt, is a great option for weekends in the city.

Randy Brooke
Dries Van Noten celebrated his 100th show during Paris Fashion Week, and the denim he created for this outing was certainly inspired by his most popular jeans from past collections. He has a knack for color, and this medium blue is one of the best denim shades we've seen in a long time.

Victor VIRGILE
As Ratajkowski, Kylie Jenner, and the Hadids can attest, double denim has come a long way since that time in 2001 that Britney Spears and Justin Timberlake both showed up to the American Music Awards in head-to-toe jeans—a moment that this summer, by the way, the brand Filles a Papa commemorated on a $150 t-shirt. Historically, head-to-toe denim has been unacceptable, from when the term "Canadian tuxedo" was first invented: As the story goes, back in 1951, Bing Crosby and his friends's all-denim outfits managed to turned even the Canadians unfriendly, when staffers at a hotel in Canada saw their ensembles and initially denied them entry.
These days, though, Gigi Hadid not only wears the look on the street, but on magazine covers, and Jenner lets her denim belt hang so low, it almost leaves a denim trail behind her on the ground. Beyoncé even rocked the look while pregnant with Rumi and Sir, while names as small as the underground designer Matthew Adams Dolan have found fame since Rihanna started wearing his characteristically denim-heavy designs.
Altogether, their combined efforts have somehow made jorts even more controversial than the Canadian tuxedo. These days, if you're looking to stir things up, you're much better off rocking Vetements's scandalous butt cheek-exposing jeans—just make sure you take Kate Moss's advice, and pair them with denim on top, too.
Kate Moss, Gigi Hadid, and Yara Shahidi Prove There's No Wrong Way to Wear Denim
Gigi Hadid is seen in NoHo on June 29, 2017 in New York City.

Getty
Kate Moss is seen on September 30, 2016 in Paris, France.

Getty
LLady Gaga is seen on December 8, 2016 in Los Angeles, California.

Getty
Karlie Kloss is seen in the West Village on November 4, 2016 in New York City.

Getty
Sara Sampaio is seen in the streets of Manhattan during New York Fashion Week on September 9, 2016 in New York City.

Getty
Rosie Huntington-Whiteley is seen checking out of her Manhattan hotel on September 16, 2016 in New York, New York.

Getty
Kourtney Kardashian is seen on September 30, 2016 in Paris, France.

Getty
Miranda Kerr is seen on October 4, 2016 in New York City.

Getty
Lily Donaldson seen at Topshop Unique at Tate Modern on Day 3 of London Fashion Week February 2017 on February 19, 2017 in London, England.

Getty
Hailey Baldwin pictured shopping on December 4, 2016 in Sydney, Australia.

Getty
Emily Ratajkowski attends Take-Two Interactive Hosts Miami Beach Kickoff Party On November 30th At Oceanfront Miami Beach at Oceanfront Miami Beach on November 30, 2016 in Miami, Florida. =

Getty
Elsa Hosk seen during Milan Fashion Week Fall/Winter 2017/18 on February 23, 2017 in Milan, Italy.

Getty
Charli XCX visits Music Choice on January 18, 2017 in New York City.

Getty
Emma Roberts is seen on December 21, 2016 in Los Angeles, California.

Getty
Priyanka Chopra is seen at LAX on January 18, 2017 in Los Angeles, California.

Getty
Alexa Chung is seen arriving to the Proenza Schouler collection during, New York Fashion Week: The Shows on February 13, 2017 in New York City.

Getty
Taylor Hill and Romee Strijd are seen on the streets in Manhattan on September 4, 2016 in New York City.

Getty
Margaret Qualley attends Caroline De Maigret and Pharrell Williams dinner in celebration of CHANEL's Gabrielle Bag at Giorgio Baldi on April 6, 2017 in Santa Monica, California.

Getty
Caroline de Maigret during Paris Fashion Week Womenswear Fall/Winter 2017/2018, on March 1, 2017 in Paris, France.

Getty
Yara Shahidi attends the 2017 BET Awards at Microsoft Theater on June 25, 2017 in Los Angeles, California.

Getty
Lily Collins is seen on July 13, 2017 in Los Angeles, California.

Getty
Bella Hadid is seen in the Meat Packing District on July 18, 2017 in New York City.

Getty
Kendall Jenner is seen in the East Village on July 29, 2017 in New York City.

Getty
Related: 15 Sexy Ways To Wear Your Jeans, Courtesy of Kate Moss, Irina Shayk, and Cara Delevingne
Paris Hilton Breaks Down Her 13 Favorite 2000s Trends, and Why They're Still Hot: