The Canadian Tuxedo Is Your Ultimate Cool Summer Uniform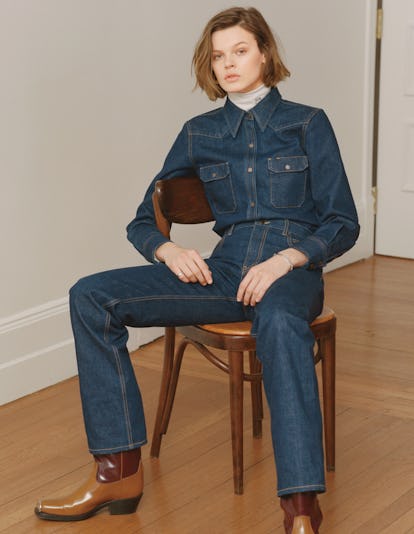 Photographs by Jeff Henrikson, Styled by Zara Zachrisson; Hair by Tamas Tuzes for Bumble and Bumble at l'atelier NYC; makeup by Asami Taguchi for Giorgio Armani at Frank reps; manicure by Dawn Sterling for Dior at Mam nyc; set design by Bette Adams at Mary Foward Studio; model: Cara Raylor at Silent Models; photography assistant: Jordan Zuppa; fashion assistant: Sara Van Pee.
What's not to love about the Canadian tuxedo? There's nothing better than a truly perfect denims shirt and pair of jeans, so when they come together, it's the perfect sartorial marriage—and an outfit that looks incredibly cool. For Fall 2017, Raf Simons presented the ultimate Americana collection at Calvin Klein filled with plenty of denim to make your own jean-based ensemble, while A.P.C. makes the ultimate in denim jackets that can pull together any outfit.To truly up the It-factor, add in Western-inspired accessories that will give your look a modern day cowboy feel. Golden Goose makes chic printed silk scarves that make for a perfect upscale bandana, while Fontana Milano 1915 makes a Creamsicle-hued saddlebag that will have you dreaming of summer long after September rolls around. Top off the look with turquoise jewelry, such as a signet ring by Annabel Higgins, and you are ready to roll.