'90s Icon Kim Gordon on Making Art Inspired By Fleetwood Mac and Sharing Clothes with Daughter Coco Moore
The musician has teamed with & Other Stories on a line of clothing that features her artwork.
---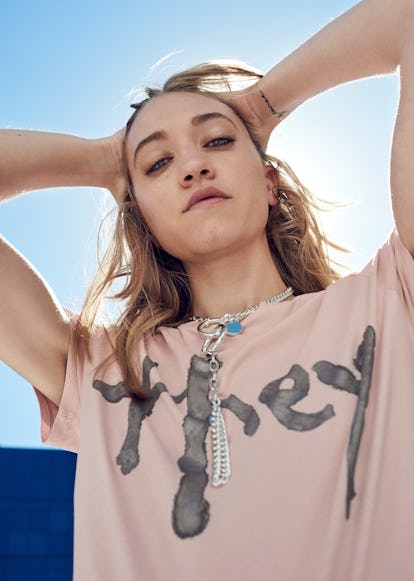 Though she may be best known for her status as a rock icon and founding member of Sonic Youth, Kim Gordon's influence spreads well beyond the music charts. She's best-selling author, thanks to her 2015 autobiography Girl In A Band and an artist whose pieces have been the subject of exhibitions around the world. Gordon is also a fashion icon; she helmed her own line, X-Girl, in the '90s; has served as a muse for countless designers, including close friend Marc Jacobs, for whom she starred in his Fall 2015 campaign alongside daughter Coco Gordon Moore; and most recently became the face of UGG. Now, Gordon is combining the latter two for her new collaboration with & Other Stories. The collection, which hits stores tomorrow, features a number of pieces selected from the brand's archives, including sweatshirts, t-shirts, and silk scarves, reimagined and printed with Gordon's original paintings that the musician created specifically for the project. What's more: Coco serves as the face of the collection, and was Gordon's inspiration for much of the artwork. Here, Gordon talks about her artwork, her own personal style, and sharing clothes with Coco.
How did this collaboration come about?
They reached out to me through a friend, but I already was a fan of the brand. I discovered the store in New York.
What was your starting point when it came to designing?
They sent me an image of something I'd done for a small boutique in downtown New York. It was a portfolio book of word paintings from a Fleetwood Mac song. It was the word "She," so that was a starting point: thinking of other pronouns. And then as I was painting. I decided to expand on that and do some other words and abstract paintings. I used metallic inks and watercolors. When I first made paintings of Names of Noise bands I saw the large canvases as similar to T-shirts, the way people buy T-shirts to places they I've never been as souvenirs. They already had different shapes of hoodies, sweat-shirts and T-shirts to choose from. I suggested we add scarves.
How did your daughter Coco inspire this collection?
I just thought she has a great look, beautiful but not conventional. She looks great in the simplest things like t-shirts and hoodies… I just think of her a lot.
What inspired your art for this collection?
I wasn't thinking of anything in particular but I was listening to a lot of Steve Gunn at the time. I like to listen to music when I paint.
What are the three most important wardrobe staples in your own closet?
A slightly faded black T-shirt, an old Isabel Marant pinstripe wool blazer, and Acne track boots.
How does Coco's style differ from your own?
She's more minimal, but also because she's tall and lanky, basically anything looks good on her.
Do you ever share clothes?
I've given her a lot of my clothes over the years. She deeply regrets not having my shoe size though.
How would you define your own personal style today?
Now that I live in Los Angeles, it's very casual. But I've always been a bit of a tomboy; somedays I dress like a 12-year-old boy. But it's a challenge not to look like everyone else here, and I like to feel a little dressed up occasionally… like a woman.
Related: If Anyone Can Make Uggs Cool Again, It's Kyle MacLachlan and Kim Gordon
Exclusive: Inside Kim Gordon's New Art Book
Watch W's most popular videos, here: