If Anyone Can Make Uggs Cool Again, It's Kyle MacLachlan and Kim Gordon
Nostalgia at it's very best, they're the two stars of Ugg's latest ad campaign.
---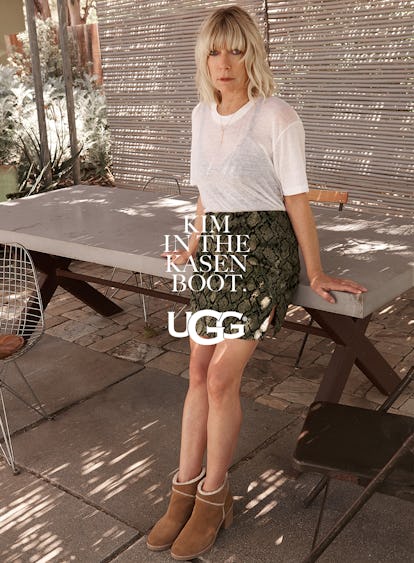 In case you haven't heard, nostalgia is in. Nineties and early 2000's nostalgia, to be specific. It's on the runways, on your television set and on the big screen—even Paris Hilton is having a moment.
So who better to capitalize on the moment than Uggs, the unofficial footwear brand of the early aughts? It's a challenge easier said than done, after all, how do you turn camp nostalgia into sales? Well, the sheepskin boot company has tapped two unquestionable avatars of cool for its Fall 2017 campaign. Yes, that is Kyle MacLachlan and Kim Gordon proudly wearing their Uggs.
MacLachlan is starring in the return of Twin Peaks, the 1990 David Lynch show that's an opioid for today's cultural intelligentsia. And Gordon, well, she earned her stripes even earlier, as the front woman of Sonic Youth, a designer with her label X-Girl who went on to become a muse for other designers like Marc Jacobs, an accomplished author with her memoir Girl in a Band, an artist and a working musician with her band Body/Head, not to mention the fact that she's Kim Gordon! (Her daughter Coco Moore just happens to be a budding style muse herself).
The pair come together in the set of images, which marks the second of the brand's The Collective campaigns featuring a cast of real Californians who embody the "spirit" of the label. Joining MacLachlan and Gordon in this go-around are L.A.-based artist Uzumaki Cepeda, photographer Zackery Michael, and musicians Fletcher and Wyatt Shears of the Orange County-based band The Garden.
The images, shot by Frederic Auerbach, were shot around the state of California, and feature the ragtag crew staring broodingly into the camera—wearing Uggs, of course. Upping the approval factor just that bit more: the video campaign will feature music provided by indie rock band Cold War Kids.
The campaign comes on the heels of Jeremy Scott's announcement that he will be collaborating with Ugg on a capsule collection featuring eight styles, ranging in price from $90 to $1,195. It was a project that Scott was drawn to because of—what else?—fond memories of 2000s fashion. "That was my first impression, of Kate Hudson and Britney Spears wearing them," he told WWD. "There's a sense of nostalgia for that era right now."
Related: Jeremy Scott, "Undercover Ugg Fan," Comes Out of Hiding, Designs Some Uggs
TRL Is Back! Revisit Some of the Show's Most Iconic, Early 2000s Fashion Moments
Rihanna poses for a photo backstage during MTV's Total Request Live at the MTV Times Square Studios on May 8, 2007 in New York City.

Getty
Britney Spears backstage at a taping of MTV's "TRL" in Times Square.

Getty
Kanye West during MTV's "TRL" announcing the nominations for the 2007 MTV Video Music Awards at MTV Studios in Times Square on August 7, 2007 in New York City.

Getty
Shakira and Carson Daly during MTV's Spankin' New Music Week on TRL at the MTV studios in New York City.

Getty
Christina Aguilera during "Spankin' New Music Week" on TRL at the MTV studios in New York City.

Getty
Jessica Simpson and Damien Fahey during a taping of MTV's "TRL" in Times Square.

Getty
Gwyneth Paltrow poses for a photo backstage during MTV's Total Request Live at the MTV Times Square Studios September 16, 2004 in New York City.

Getty
Daniel Radcliffe and Emma Watson appear on stage during MTV's Total Request Live at the MTV Times Square Studios May 24, 2004 in New York City.

Getty
NEAlicia Keys poses for a photo backstage during MTV's Total Request Live at the MTV Times Square Studios December 21, 2005 in New York City.

Getty
Beyonce Knowles makes an appearance on MTV's Total Request Live on February 28, 2007 in New York City.

Getty
Paris Hilton at the MTV Studios Times Square in New York City, New York.

Getty
Charlize Theron attends a taping of MTV's "TRL" in Times Square.

Getty
Avril Lavigne attends a taping of MTV's "TRL" in Times Square.

Getty
Amy Adams appears onstage during MTV's Total Request Live at the MTV Times Square Studios November 19, 2007 in New York City.

Getty
Solange Knowles visits MTV's "TRL" at the MTV studios in Times Square August 26, 2008 in New York City.

Getty
Taylor Swift poses for a photo backstage during MTV's Total Request Live on June 16, 2008 at the MTV Times Square Studios in New York City.

Getty
Jennifer Lopez and Carson Daly at a taping of MTV's "TRL" in Times Square.

Getty
Kris Jenner and Kim Kardashian arrive at the "TRL" taping at the MTV Studios in Manhattan on August 25, 2008 in New York City.

Getty
Ashley Olsen and Mary Kate Olsen during visit MTV's "TRL" – May 5, 2004 at MTV Studios, Time Square in New York City, New York, United States.

Getty
Keira Knightley during Keira Knightley Visits MTV's "TRL" – June 28, 2004 at MTV Studios in New York City, New York, United States.

Getty
Gwen Stefani with the Harajuku Girls during "TRL" – March 22, 2005 at MTV Studios, Times Square in New York City, New York, United States.

Getty
Lauren Conrad visits MTV's "TRL" – September 14, 2005 at MTV Studios in New York City, New York, United States.

Getty
Michelle Williams, Kelly Rowland and Beyonce Knowles of Destiny's Child visit MTV's "TRL" in Times Square.

Getty
Lindsay Lohan visits MTV's "TRL" – December 7, 2004 at MTV Studios in New York City, NY, United States.

Getty
Anne Hathaway visits MTV "TRL" – June 29, 2006 at MTV Studios in New York City, New York, United States.

Getty
Ashlee Simpson visits MTV's "TRL" – September 20, 2004 at MTV Studios – Times Square in New York City, New York, United States.

Getty
Miley Cyrus appears on MTV's "TRL" at the MTV studios in Times Square on July 18, 2008 in New York City.

Getty
Rachel Bilson visits MTV's "TRL" – February 23, 2005 at MTV Studios in New York City, NY, United States.

Getty
Cameron Diaz, Lucy Liu and Drew Barrymore visit MTV's "TRL" – June 26, 2003 at MTV Studios Times Square in New York City, New York, United States.

Getty
Carson Daly and Angelina Jolie during a taping of MTV's "TRL" at MTV Studios- Times Square in New York City, New York, United States.

Getty
Paris Hilton Breaks Down Her 13 Favorite 2000s Trends, And Why They're Still Hot