Public School, New and Improved, Plots a Return to New York Fashion Week
Plus, Bobbi Brown moves on, and Tom Ford contemplates giving himself even more work.
---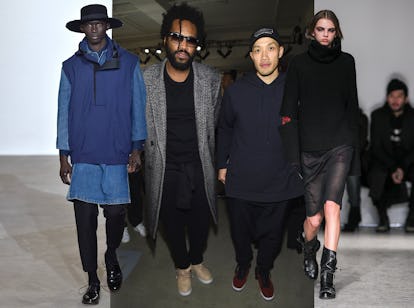 Monday was a somber day in Berlin: A truck plowed into a crowd at a local holiday market, killing 12 and wounding 48 more. Its echoes of the Bastille Day terror attack on Nice have led some early reports to call the Berlin crash a terror attack, though the suspect and their motives have not yet been confirmed. "We don't want to live with the fear of evil," German chancellor Angela Merkel said in a statement following the crash.
Yet there's still some levity out there, as the fashion world ticks on as always. Here, your fashion highlights for this frosty Tuesday.
Brown, Bobbi Leaving her eponymous makeup brand after 25 years at its helm, time that including pioneering a gel liner revolution.
Chiuri, Maria Grazia Dior's first woman creative director, Valentino alum Maria Grazia Chiuri, has revealed her first campaign, for the brand's Spring 2017 collection — a female-forward spread featuring twins Ruth and May Bell, shot by Brigitte Lacombe.
Chow, Dao-Yi, and Osborne, Maxwell The designers, formerly of DKNY, still of Public School, are likely coming back on the New York Fashion Week calendar come February. New look (and co-ed runway), same time slot.
Ford, Tom Reportedly pondering an expansion into underwear and watches, because ready-to-wear and directing movies just weren't quite enough.
Gabor, Zsa Zsa The actress, socialite, and all-around celebrity, who died Sunday at age 99, mastered the art of fame for being famous long before Kim K. arrived.
Machado, China Model and muse to Oscar De La Renta and Halston; first model of color to be featured on the cover of a major fashion magazine (Harper's Bazaar, shot by Richard Avedon in 1959). Machado died Sunday at 87.
Marling, Brit Once a movie star on the rise, Brit Marling's career was stymied by her penchant for weird, weird roles. But with Netflix's The OA, she may have found the perfect space to play with complex, eccentric characters: television.
Rihanna The internet can't deal with a Givenchy-clad platinum blonde Bad Gal.
Wang, Alexander Real Yachty, fake Drake. The Spring 2017 party extravaganza continues chez Wang.
Willis, Tallulah The 22-year-old daughter of Demi Moore and Bruce Willis debuts her first solo gallery show, starring the genderless line-drawn creatures she's been doodling since childhood.
See W's most popular videos: