Public School Teams Up With Daniel Arsham…Again
The design duo hosts a dinner with the artist at The Surf Lodge.
---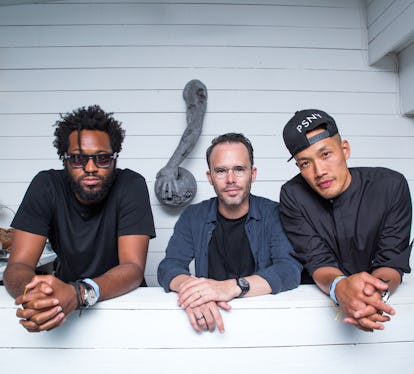 On Sunday evening, artist Daniel Arsham carefully placed white plaster casts of Spalding basketballs on long tables, setting the scene at the Surf Lodge for a dinner with Maxwell Osborne and Dao-Yi Chow of Public School. In keeping with the theme, NBA players Blake Griffin and Spencer Hawes, both of whom wore Surf Lodge hoodies over their Sloppy Tuna tees (another Montauk hot spot), squeezed their long legs beneath the picnic table, alongside guests like Jenné Lombardo. While basketball tied the event together (and served as a theme of New York Fashion Week: Men's), the occasion was simply to get away for a moment with old friends before the craziness of Fashion Week: Women's in September, where the Public School design duo will present their own line in addition to their debut collection for DKNY.
"We're maybe going to bring [Daniel] in to do the DKNY show," Osborne revealed before dinner. The potential collaboration doesn't come as a surprise: Arsham has even designed their runway sets in the past, and they all share a love of both basketball, and clean aesthetics.
At the end of the evening, Osborne collected all the basketball shards left behind on the tables and brought a stack back to his car. The NBA players also left with more Montauk souvenirs, perhaps the chicest ones yet: black Public School hats.
Photos: Public School Teams Up With Daniel Arsham…Again
Maxwell Osborne, Daniel Arsham, and Dao-Yi Chow. Photo by bfanyc.com.
The Surf Lodge. Photo by bfanyc.com.
Don Lemon and Blake Griffin. Photo by bfanyc.com.
Rainey Forkner. Photo by bfanyc.com.
Aleah Morgan. Photo by bfanyc.com.
Jenné Lombardo. Photo by bfanyc.com.
Peggy Leboeuf. Photo by bfanyc.com.