Get to Know the Faces Involved with Pyer Moss, Eckhaus Latta, and More of New York Fashion Week's Most Exciting Talent
A blizzard might be raging outside, but New York Fashion still kicks off on this frigid Thursday.
---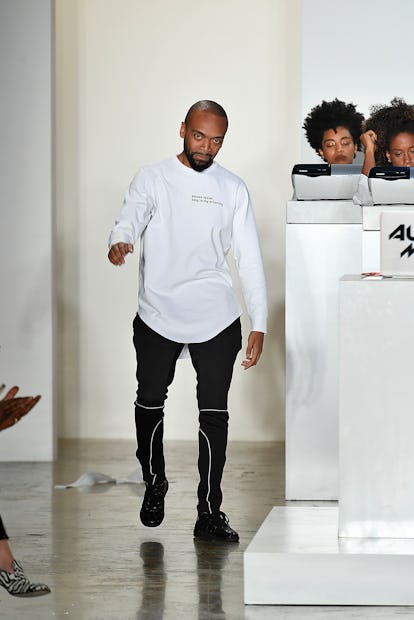 Marcelo Soubhia/FOTOSITE/Getty Images
Biden, Joe The unlikeliest face at New York Fashion Week, the former vice president showed up in support of his daughter Ashley's new fashion-philanthropy endeavor: a line of hoodies, under the name Livelihood, benefiting the Delaware Community Foundation.
Driver, Adam Not just Adam on Girls anymore — with roles in Star Wars: The Force Awakens, Paterson, and Martin Scorsese's passion project Silence, Driver is proving he's also a veritable movie star.
Jean-Raymond, Kerby The Pyer Moss designer looks back on his childhood in Flatbush, New York, where he was raised to a Haitian immigrant father; his father — and his distinctive look, which Jean-Raymond has only just begun to appreciate — is the primary inspiration for his Fall 2017 collection.
Jolie, Angelina Once a front-row star, but no more: Where have the big names gone?
Karolinski, Alexa The filmmaker and Eckhaus Latta collaborator discusses how the vision of the brand has evolved, and how it's stayed the same, over their five-year relationship.
Pettersen, Josefine Frida As the star of Skam, Norway's answer to Skins or Gossip Girl, Pettersen has achieved an almost improbable level of fame in her home country. It's high time the rest of the world gets to know her, too.
Taylor-Johnson, Aaron Perfectly content to watch the Oscars from home, thank you very much — especially after his surprising win at the Golden Globes for Best Supporting, beating out favorite Mahershala Ali for the prize.
Winfrey, Oprah Reportedly behind the one of the biggest art deals of 2016 — the $150 million sale of a Gustav Klimt painting from her private collection. Oprah's art collection is full of secrets.
See W's most popular videos: