Pyper America Smith Has a DIY Approach to Beauty
The model does her own nails–and makeup. No surprise, she's as good as the pros.
---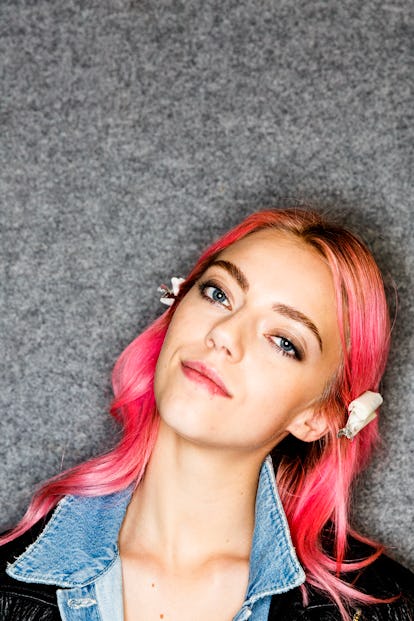 Getty Images
Pyper America Smith isn't just Lucky Blue Smith's sister (and bandmate). The blue-eyed, platinum blonde model is a star in her own right. In addition to modeling for Calvin Klein and Moncler, Smith's also the face of nail polish brand OPI's Infinite Shine nail polish collection. At a recent event for the brand, the guitarist shares her beauty must haves, her newfound interest in surfing and why it's okay to be called an alien.
What color are you wearing on your hands today? Malaga Wine.
What about the Infinite Shine formula do you love? I feel like the shine looks really professional. I love to do my nails myself because I like to take the time. I'm okay at it. I cut my cuticles, juice them up with oil. I change the color a lot, sometimes every other day. I like to switch it up a lot.
Tell me about your citrusy pink hair. How often do you change the color? I first dyed it pink on Christmas vacation. Any time I have a week where I'm not doing work or on vacation–like this summer, I was in Montana and I had my hair green, blue, purple.
It's really pretty. Thanks. I like to mix pink and orange. And I always put some conditioner in there to keep it healthy.
Do you always do it yourself? I do. Except my blonde. Then Jeremy Tardo at Salon Benjamin in Los Angeles. He's THE BOMB.
How would you describe your look? A lot of people call me alien, because I have big eyes. A lot of people say I have an interesting look.
What is your next project? A lot of music. We're doing a few shows in Utah this month. Music is the main focus in my life right now. We're hopefully going to release music this fall.
What beauty products are always in your purse? I have, like, a million different lip liners. Ok, let's get down to business (pulls out a handful of pencils and a few compacts) This is what's important. Some powder: Laura Mercier Matte Translucent powder. I really love this Lancome Natural Mauve lipliner. It has a little brush attached. Urban Decay concealer stick. And I love Glossier's Balm.com. The mint one's really the best.
Are you a big Glossier fan? Yes. I buy all the stuff. I love their face masks.
If we pulled back your shower curtain, what would we find? Davines conditioner in a caramely cream color. I use Olay Body Wash and Herbivore Coco Rose Coconut Oil Body Polish. And I like Nivea's after shower moisturizer with cocoa butter.
What are you currently obsessed with right now? Surfing. I met this cute guy and he's a professional surfer. I was like, 'Oh, you've gotta take me surfing.' But I was really interested in learning. Also, you're cute. So he took me surfing and I got up on the longboard! And it was so much fun. I need to get better at it. I love living in California and I love the beach and the ocean. It's my new favorite thing.
You seem to have a natural look. I assume you had your makeup done for this event? I did my own makeup.
Good for you! Tell me about it. I like to keep it simple but I like a little sparkle on my eyes. I moisturize with Ceravie A.M. Face Moisturizer with a little bit of sunscreen and I also use a vitamin C serum, it's sold at Urban Outfitters. I use Urban Decay Naked Palette in Number Three, with lots of pink tones, really pretty. And this Givenchy Mister Radiant Bronzer. I LOVE it. It's kind of a primer but it has these tiny little brown beads that you just rub together and it gives you this little tinted brown glow. Also, I love freckles, but I have very faint ones, so I darken them.
Your lashes are also amazing. What mascara do you use? Cover Girl. The yellow tube, but I think they discontinued it. It's the length one, but I haven't been able to find it so I try to make it last. I curl my own lashes, too. I have very straight lashes, so I always curl them. And the eyeliner is Lancome Crayon in Black Coffee. It's like a dark brown.
Is there a beauty professional you can't live without? My hair colorist. He makes it happen. And makeup artist friends in the business, I go to them for tips and stuff. Mary Jean Rose in L.A.
Aside from surfing, do you work out? There's a hike by my house, so I like to run up it and run back down. For exercise, I try to find activities that are fun so I'm not in a gym doing pull-ups.
Describe first 15 minutes of your day and the last 15? I wake up and I think, "Is this real life?" Maybe say a little prayer, maybe run to my sister's room to wake her up. Face time my friends, sometimes I get right up and jump in the pool. In my clothes sometimes. The last 15 minutes is either with my friends or just kind of zoning out on my phone, reading a book, or listening to music, thinking about my day.
Do you wear fragrance? I just got YSL Black Opium. It smells so nice. Also Maison Margiela's Memories collection? LOVE that. There's one, Jazz Club, it smells like mint tea and I'm obsessed with it. I'll spray it on my sweaters and in my bed. And Beach Walk, I love. Oh my god, it smells SO GOOD.
Do you believe in beauty from the inside out? Oh my gosh, of course. You could put on ten layers of foundation, but if you don't feel good, it's going to show.
Are you a healthy eater? Um, I go through phases. Like, I should get a salad and water, but then I'll go home and make brownies and eat them. I feel like it's great that I love brownies.