The Only 5 Quarantine Hair Trends That Are Possible
From unnatural DIY dye jobs to G.I. Jane buzzcuts.
---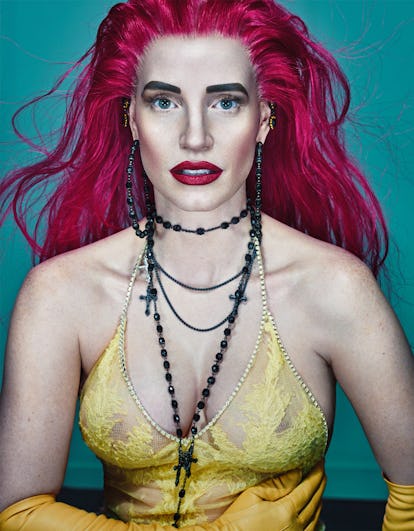 The world has stopped, and yet, quite rudely, hair has not stopped growing along with it. We're all forced to decide what to do with our coiffure without the benefit of direct professional help. For some, that's just desperate DIY measures to keep up some semblance of normality. Others, however, are taking the social distancing moment as permission to try out some new things. In certain cases, that involves simply letting nature take its course and embracing grays and God-given curls. Some however, perhaps feeling that nature has betrayed them, have experimented with distinctly unnatural neon-hued hair days. Others are just deciding to have a field day with the buzzer kit that usually just takes up room in a bathroom cabinet—to varying degrees of success. Then there are those who are just going, well, absolutely bat shit.
Celebrities are no exception, and may in fact be taking this odd moment of haircare purgatory as a moment of freedom. When your appearance is closely tied to your image and income, there's a lot of pressure to maintain the perfect tresses. What better time to have permission to rebel without the worry of paparazzi catching you off guard?
Here, the (sometimes questionable) hair trends taking over quarantine as told through celebrity Instagrams.
The Neon Eon
Manic Panic is both one of the moods we cycle through daily as well as the name of the most tried-and-trusted neon hair dye brand. It seems to be in high demand right now, as many a celeb are opting for unnatural hues. Dua Lipa, following in the foot steps of Gwen Stefani, Lady Gaga, and so many of her pop star foremothers, debuted pink locks today. Kristen Stewart has decided to go for a bright orange. Hillary Duff, meanwhile, has gone a moody blue.
Luckily, we did once talk to the founder of Manic Panic about how to best to temporarily dye your hair if you're interested in following suit.
Not to go too "galaxy brain" on this, but the synthetic trend makes a certain kind of sense. It actually took a fair amount of chemical development to get humanity to a point where we could dye our hair an icy shade of green if we felt like it. Oddly, a bright pink bob represents centuries of human development over the natural world.
Going Gray
On the flip side, some have decided to forgive hair dye of any color, naturally hued or not. With fewer social expectations, they're letting their gray hairs out. Diddy has a salt-and-pepper beard, '90s childhood icons Tia and Tamera Mowry are now old enough to join the trend, and Sarah Silverman suddenly looks a whole lot like Stacey London.
The Beau-Assisted Buzz
Having someone your trust attempt a normal haircut is a little less anxiety-producing than doing it yourself, and several celeb couples are now playing barber for each other. Stefani even demonstrated her skills live on The Tonight Show with Blake Shelton.
Meanwhile, one of the Property Brothers, Jonathon Scott, revealed on The Talk that girlfriend Zooey Deschanel gave him a touch-up. "She did, like, a better job than most of the salons I've ever been to do," he said. The idea here is to keep things looking somewhat normal, which, actually seems sort of boring, all things considered.
The Total Buzz
Of course, there is no easier haircut to pull off at home than the complete (or near complete) buzz. Pink, whose stage name used to align with her hair color, now has a brunette pixie. Tallulah Willis allowed her dad Bruce shave off her hair, while Cody Simpson let Miley Cyrus do the honors.
https://www.instagram.com/p/B–MX25JzPl/
Complete Hair Anarchy
Then there are the folks whose choices may or may not require a buzzcut after this is all over. But for the moment, they're just going for whatever they please.
Related: Now's the Time to Chop Off Your Hair