In Quarantine, Teens Are Manufacturing Their Own Celebrity Gossip
Yes, everyone is really that bored.
---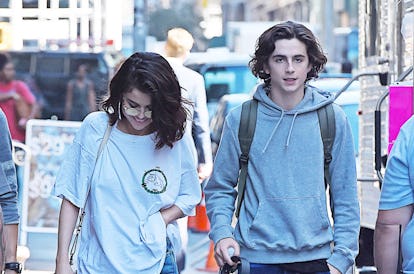 Photo by Josiah Kamau/BuzzFoto via Getty Images.
In the six weeks or so that many Americans have been living in quarantine, a number of trends have emerged.
You can get on TikTok to see various dance challenges or beauty challenges, everyone is baking sourdough, and most people, in between scrolling on social media and working from home if they can, are just plain bored. In fact, many people seem bored enough to start some drama, if they can help it.
While paparazzi—the usual source for prime celebrity gossip—struggle to find people out and about, since most of them are staying at home and practicing social distancing, many bored teens on the Internet have taken to manufacturing their own celebrity rumor mill and circulating generally baseless gossip via TikTok and Twitter.
It all started with Timothée Chalamet. At some point last month, some people caught wind of what they assumed was a smoking gun proving the actor worthy of cancellation: an old clip of Chalamet reciting a line from a John Patrick Shanley play during a table read that included the actor uttering a homophobic slur.
However, people took the clip out of context and insinuated that Chalamet was saying the slur of his own volition, not just because he was reading a line from a play called Tennessee.
And the Call Me By Your Name actor's misfortune with the rumor mill does not end with the "#TimothéeChalametIsOverParty" trending topic on Twitter. Some very old photos of Chalamet kissing Selena Gomez, as part of the cursed film they made with Woody Allen called A Rainy Day in New York, have begun to recirculate on TikTok, causing people who must have had no idea that Chalamet and Gomez starred in one of Allen's films (which both actors have since renounced) believe the two are dating.
Demi Lovato has found herself caught in rumor mill, too. A fabricated collage created by one Twitter user intending to get "#DemiLovatoIsOverParty" trending was supposed to somehow expose the musician for bashing women in the entertainment industry, though she has been known to speak out against bullying.
You have to imagine how anyone could even find the energy to conjure up celebrity dating rumors amid a global pandemic, but somehow people are bored enough to do it. Unfortunately this has extended to Lili Reinhart, Cole Sprouse, and even Kaia Gerber.
Because Reinhart and Sprouse, who are a couple, have been quarantined away from one another for reasons unknown, with the former in Vancouver and the latter in Los Angeles, fans of the Riverdale stars have unnecessarily raised some flags about their relationship. Gerber, who became tabloid fodder earlier this year when she had a short stint with Pete Davidson, has been quarantined in Los Angeles with her friend Tommy Dorfman and their friends Cara Delevingne and Ashley Benson. But some people seemed to think that Sprouse had joined Gerber's quarantine party because of some old pictures that were posted on Instagram, and spread a rumor that the two were dating.
Sprouse addressed the rumors via Instagram Story, where he wrote, ""I tolerate a lot of rumors and slander from people online claiming to be my fans. Fans who feel entitled to my privacy precisely because I never indulge them. But attacking my friends, baseless accusations, leaking my address and sending death threats are all qualities of insanity and fanaticism. Choose humanity, stop being 🤡."
"When I first stepped into a public relationship this was one of the foreseeable consequences, and while I truly never intended to indulge any part of my private life to the ravenous horde, it's clear my restraint in updating them has allowed them to push their own agenda onto my habits and lifestyle," he added. "So in conclusion- please eat my delectable plump ass. (Making me post a goddamn white font insta story like a divorced mother of three)."
Reinhart, who has a tenuous relationship with social media, tweeted (and later deleted) a similar sentiment: "Twitter is actually the most toxic form of social media. People are assholes for the sake of being assholes. Do you not understand karma? It's fine if you don't, you'll understand when it bites your miserable ass."
And this sort of gossip isn't just limited to the teen beat set, either. Adam Driver has become the latest celebrity that people have tried to cancel. In a 2019 interview with the New Yorker, Driver opened up about his decision to join the Marines after the terrorist attacks on September 11, 2001. "It wasn't against Muslims. It was: We were attacked. I want to fight for my country against whoever that is," he said, which of course has since been taken out of context and used as fodder for people on Twitter to accuse the actor of being Islamophobic. Thus, the #AdamDriverIsOverParty" began to trend.
Whenever these "X celebrity is over party" hashtags get trending, it's hard to tell if the topic is trending because the celebrity in question actually did something wrong for which they should be called out on, or if their fans are just using the hashtag to talk about how the celebrity actually didn't do anything wrong and shouldn't be canceled.
With the Driver situation, for example, many came to his defense, reminding people that he starred in The Report, a film that exposes how the CIA used torture after 9/11. The tweets that came to his defense used the same hashtag that was intended to call him out, similarly to the fiasco with Chalamet.
Sometimes all it takes is the perfect storm of old photos, angry stans, and lots of time on the hands of, well, pretty much everyone, for things to get out of control with the rumor mill. It's as much of a headache and a half for those of us at home scrolling trying to figure out who got canceled and why as it is for the trending celebrity.
Related: How Are Celebrity Dating Rumors Still Happening Amid All This?