The Royals Have an IRL Reunion
Queen Elizabeth II invited her grandson and three of her children to her home of Windsor Castle.
---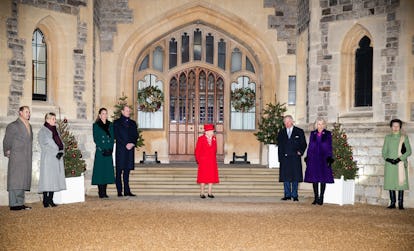 Photo by Samir Hussein/WireImage via Getty Images
Queen Elizabeth II has been literally riding out the pandemic at Windsor Castle, in the company of her horses. But on Tuesday night, the 94-year-old finally got to see some of the human beings who make up her immediate family. While the Queen reunited with her grandson, Prince William, at a chemical weapons lab in October, this time, they were joined by his wife, Kate Middleton; the queen's son, Prince Charles, and his wife Duchess Camilla; the queen's son Prince Edward, and his wife Sophie; and the queen's daughter, Princess Anne.
Anne's husband, Timothy Laurence, was a no-show. So, understandably, was Prince Philip. At 99, the queen's husband is at high risk for severe complications from the coronavirus. (The same goes for the queen herself, who's nonetheless returned to making occasional public appearances.)
Together, the royals paid tribute to the volunteers and groups behind coronavirus relief efforts in the county of Windsor Castle, Berkshire. But the reunion also served another purpose: It presented an opportunity to see each royal's taste in face masks. Kate Middleton, who waited until August to begin masking up for public appearances, once again opted for delicate florals. Charles's mask was perhaps the most notable; the teeny blue cloth barely covered his chin. Still, at least he wore a mask. The queen instead simply kept her distance, though William apparently couldn't resist trying to get close. Both Prince Charles and William have already battled the virus.
As for the other missing parties, Prince Harry and his wife, Meghan Markle, are currently settling in to their new home of Los Angeles. And at this point, the core royals know better than to publicly fraternize with the queen's fourth child, Prince Andrew. Since the revelation of his connections to the late sex offender Jeffrey Epstein, he's stepped down as a public member of the family.
Related: Who's Afraid of Being Knighted by Queen Elizabeth II?