Queen Elizabeth II's Umbrella Styling Trick Is Now a Fashion Week Trend
The queen's reign as a style icon continues.
---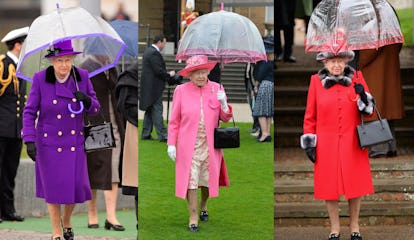 WPA Pool
It was two years ago that Queen Elizabeth II, once considered an icon of frump, was finally having her moment as a fashion icon. And her moment hasn't subsided since. Many of her preferred styling tricks — like monochrome dressing, headscarves, and neon brights — have all been recent runway trends; she even sat front row at her first fashion show ever last spring.
Now the queen's little styling trick for rainy days seems to be all the rage at New York Fashion Week, as the weather has transitioned from summer's last hurrah to a steady stream of showers over the past few days.
Just as fashion editors don't let rain keep them from the front row, the queen doesn't let it get in the way of her royal duties (she is a Londoner, after all). For the past few decades whenever she's stepped out into the rain she's been spotted almost exclusively with a trademark umbrella: Fulton's transparent Birdcage model. According to the Scottish company, which has the royal warrant for umbrella manufacturing, the queen prefers the transparent model because it allows her subjects to clearly see her at all times, even in inclement weather.
However, the queen adds her own special touch to her umbrella choices: the trim on each is specially coordinated to match her outfits. "The queen's senior dresser sends us a color swatch of the outfit she'll be wearing in advance of an engagement and we'll create an umbrella with a perfectly matched trim," claims the company.
You know who else likes to be seen by the public no matter what and appreciates going the extra mile to coordinate an outfit? Street-style stars and fashion types.
So the only surprise in the way fashion types have adopted the queen's umbrella of choice as their own is that it didn't happened sooner.
As The Cut has also noticed, transparent, birdcage-shaped umbrellas are almost as ubiquitous at New York Fashion Week right now as the rain itself. Rodarte certainly helped the trend along. The brand, a darling of editors, returned to New York after a brief stint of showing in Paris, and held their homecoming in a graveyard on Sunday. Unfortunately, weather was not obliging, so the brand's team handed out umbrellas reminiscent of the queen's to guests and models.
The transparent umbrella style kept being spotted throughout the week — with some users even adopting the queen's trick of matching the umbrellas to their outfits.
Queen Elizabeth II would likely approve.