Queen Elizabeth II Struck by a Rogue Man Scarf as Gillian Anderson Looks On
A gust of wind caused quite the upset at the Royal Windsor Cup.
---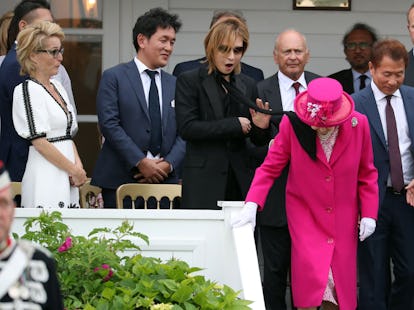 Steve Parsons/PA Images via Getty Images
Finals day of the Royal Windsor Cup in Windsor reliably draws Queen Elizabeth II, but this year's edition, held on Sunday, brought a surprise guest: Gillian Anderson, who ended up getting some field experience with royals—and particularly royal protocol—ahead of portraying Margaret Thatcher in season four of The Crown.
As usual, a polo match made up much of the day's agenda. But this time, the real action took place not on the field, but in the stands—specifically in the royal viewing box, where the Queen joined an array of relative commoners, including Anderson, the former boxer Chris Eubank, the actress Felicity Jones, and, most importantly, the Japanese musician Yoshiki, whose all-black ensemble and sunglasses stood out in stark contrast to the Queen's magenta coat and hat. Unfortunately for Yoshiki, that made it all the more visible when disaster struck—which is to say when a gust of wind sent his scarf flying in the worst possible direction: right toward, and then right onto, the Queen herself.
For one brief moment, the show simply went on; the Queen carried on with making her way down to the field, where she was set to present the winners with their trophies, leaving Yoshiki in her wake. Given that he'd arguably just broken two "rules" of royal protocol—both touching and stepping in front of the Queen—he, too, seemed relatively unbothered. After literally dropping his jaw, the musician hastily reeled his scarf back to where it belonged and even flipped his hair. (His followers have since begun to thank him for "the new meme inspiration.") Anderson, on the other hand, remained mortified.
As for the 93-year-old Queen, well, rest assured that she survived unscathed.
Related: Queen Elizabeth II, 93, Discovers the Wonder of Self-Checkout
An Appreciation of Queen Elizabeth II's 93 Years of Loving Corgis
Queen Elizabeth II with two corgis at her home at 145 Piccadilly, London, 1936.

Lisa Sheridan/Studio Lisa/Hulton Archive/Getty Images
Queen Elizabeth II and Princess Margaret at the windows of Y Bwthyn Bach, aka the Welsh House, a miniature house presented to them by the people of Wales, built in the grounds of the Royal Lodge, Windsor, 1936

Lisa Sheridan/Studio Lisa/Hulton Archive/Getty Images
Queen Elizabeth II with her dogs in her study, 1972.

Hulton Archive/Getty Images
Queen Elizabeth II with the Queen Mother, Princess Margaret, and one of the family's corgis at a railway station, circa 1935.

Evening Standard/Hulton Archive/Getty Images
Queen Elizabeth II arrives at King's Cross railway station in London with her corgis after holidays in Balmoral Castle in Scotland and before welcoming the astronauts of Apollo 11 who walked on the moon to Buckingham Palace, 1969.

STF/AFP/Getty Images
Queen Elizabeth II sitting on a garden seat with two corgis at her home on 145 Piccadilly, London, 1936.

Lisa Sheridan/Studio Lisa/Getty Images
Princess Margaret and Queen Elizabeth II with gardening equipment and a pet corgi on a terrace of the Royal Lodge, Windsor, 1940.

Lisa Sheridan/Studio Lisa/Getty Images
Queen Elizabeth ll arriving to the Aberdeen Airport with her corgis to start her holidays in Balmoral, Scotland, 1974.

Anwar Hussein/Getty Images
Queen Elizabeth II and Princess Margaret sitting on the grass in the grounds of the Royal Lodge, Windsor, stroking a corgi, 1936.

Lisa Sheridan/Studio Lisa/Getty Images
Queen Elizabeth II with her corgi Sue at Windsor Castle, 1944.

Lisa Sheridan/Hulton Archive/Getty Images
Queen Elizabeth II walking the Cross Country course with some of her corgis during the second day of the Windsor Horse Trials, 1980.

PA Images/Getty Images
Queen Elizabeth II and Princess Margaret studying whilst a corgi sleeps at their feet in a drawing room at Windsor Castle, Berkshire, 1940.

Lisa Sheridan/Studio Lisa/Getty Images
Queen Elizabeth II with her dogs at a window of Y Bwthyn Bach, aka the Welsh House, a miniature house presented to her and Princess Margaret by the people of Wales, built in the grounds of the Royal Lodge, Windsor, 1936.

Lisa Sheridan/Studio Lisa/Getty Images
Queen Elizabeth II and Princess Margaret in a carriage in the grounds of the Royal Lodge in Windsor Great Park, 1940.

PNA/Hulton Archive/Getty Images
Queen Elizabeth II relaxes at Sandringham with her corgis, 1980.

Anwar Hussein/Getty Images
Queen Elizabeth II with two corgis and Princess Anne on the runway of an airport in London, 1969.

Keystone-France/Gamma-Keystone/Getty Images
Queen Elizabeth II carrying one of her dogs at Windsor Great Park, England, 1990.

Anwar Hussein/Getty Images
Queen Elizabeth at Balmoral Castle in Scotland with one of her corgis, 1952.

Bettmann/Getty mages
Queen Elizabeth II traveling in the back of a car with one of her corgis, circa 1980.

Keystone/Getty Images
Queen Elizabeth II hugging Dookie, her first-ever corgi, 1936.

Lisa Sheridan/Studio Lisa/Hulton Archive/Getty Images