Queer Eye's Tan France On Why He Encourages Taking Style Risks in Moderation at the Oscars
Queer Eye's resident fashion expert walks through his preparation process for hosting the E! Live Oscars red carpet.
---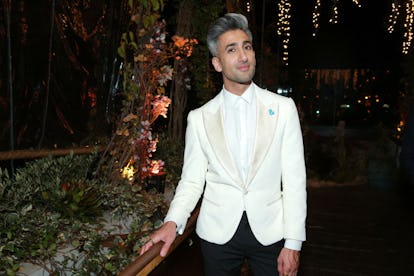 Rich Fury/Getty Images
For Tan France, the resident fashion expert on Netflix's reboot of Queer Eye, fame was never a goal, but networks like E! have always known he was a star.
Surely, you've already spent eight hours holed up in front of your laptop to binge the Netflix reboot of the early 2000s reality series about a crew of gay men known as the Fab 5, and their mission to makeover a new man each week, but before the Queer Eye phenomenon exploded in February 2018, France was almost cast in a different show. Years ago, the designer started a brand with his business partner Rachel Parcell, and they were both tapped by a production company to make a sizzle reel for a potential reality show with Bravo or E!. The series didn't work out, but the executives sent France's information to those at Netflix, who requested he audition for Queer Eye in Los Angeles.
On Queer Eye, France is such a natural in front of the camera, but he admitted he didn't always feel that comfortable with being on screen. "I wasn't really feeling a TV show, I didn't want to be famous!" France told W in his chipper intonation over the phone. He didn't think he'd get the job, but he "really wanted to make some gay friends" so he went in for the audition and nailed it.
It's been a whirlwind of a month for the Queer Eye Fab 5—France said he knew everything was about to change when Jon Bon Jovi asked to take a photo with him on the same day the show premiered. Now that he's getting used to the attention, France will step onto the red carpet at the 2018 Oscars, to host the pre-ceremony shenanigans for E! Live's 360 cam. Just ahead of his new gig on the red carpet, France spoke to W to walk through his preparation process for his first time hosting live television, and shares his all time favorite Oscars looks as well as the most stylish celebrities to watch out for at the 90th Academy Awards.
You had already been in contact with E! before joining Queer Eye; is that how you came to be the host of the E! Live red carpet for the Oscars?
The people at E! had seen the show the day it came out and arranged a meeting with me, and asked if I would come over and talk about some potential opportunities. When I went out there we just chatted about life and it went really well. They were like, okay we think you'd be perfect for this co-hosting gig!
What's your preparation process been like? What look are you planning?
I had to get over the absolute shock over the fact that I have to do something live—which I still feel a little bit off about; I mean I get really excited but it still makes me a bit physically sick every time I think about it because it's live TV and you never know what's gonna happen! [Laughs.] If I don't look the way I wanna look I don't feel confident. I'm sure that's most people, but it really does affect my confidence if I'm not dressed the way I want to dress. So I found a look that works for me. I'm wearing a navy tuxedo with navy lapels. I'm wearing a crisp white shirt and I'm torn about my tie. I'm might wear a white bowtie which I think is going to be a bold statement. White on white with navy might be a little much, but I think it's going to look sophisticated. Or do I stick with classic black? I don't know if I want to be classic with this one! I mean these decisions are important! [Laughs.] It makes me feel confident if I feel a certain way.
How have you researched the celebrities you'll have to interview on the carpet?
As for the interviews themselves, I actually don't know who I'm interviewing yet! I'm on something called a 360 camera. It depends on whoever wants to come over and be part of that, and usually it's somebody great. I'm really looking forward to that. I have watched some of the movies that are nominated and some of the nominees I'm already obsessed with and excited to meet them. A couple of them I know have seen my show and I'm really, really excited that any celebrity would be talking about our show, so I'm excited to find out why they like the show but to also tell me about the movies.
Which movies are you excited about?
Oh my gosh! Tell me you've seen Call Me By Your Name! I'm not just saying this because it's a gay love story. Actually, in my opinion it's not a gay niche movie; it's a love story that just so happens to be about two guys. I think that's why it's such an important movie. It's not pushing an agenda of 'This is a gay movie and that's why it's nominated for an Oscar.' It's a beautifully told story and it just so happens to be with gay men, and I love the fact that first and foremost it's a beautiful love story.
Are there any other performers or actors that you thought stood out this year?
Yes! Did you see The Shape of Water? Sally Hawkins! The fact that she doesn't say a single word in that movie but made me cry a few times blew my mind. I think she's incredible! She's a formidable actress. As much as, yes I know Meryl Streep is up against her, I actually want Sally to win. I also loved Margot Robbie, I think she was wicked. Did you see I, Tonya? Let me just mention this—I speak a mile a minute and I go to the cinema probably four times a week, no joke.
Do you have MoviePass?
No, I don't, but I live in Utah right now and it costs not even $8 to go to the movies! It's so cheap! I think in New York it's almost $20 but here it's inexpensive so I go to the movies a lot. I thought I, Tonya was fantastic. That scene where she's putting on her makeup, you know the one at the end where she has a full on breakdown. Incredible! I've always liked Margot Robbie, but in that scene I thought she was insanely talented. There's also something about the power of Sally Hawkins not saying a word, but still conveying everything.
What's the last movie you saw?
Call Me By Your Name. I've seen it three times now!
Are there any TV shows keeping you up at night? Anything you're binging besides Queer Eye?
I actually haven't binged my own show. I watched it before it came out because we get access to the show a few weeks before. I haven't seen it since it dropped on Netflix just because I find it very uncomfortable watching myself on the show! I watched all eight episodes to make sure I didn't embarrass myself at any point. [Laughs.] But I think it's beautifully done and it's a stellar show! The other shows that I watch—okay, I'm not just saying it because it's Netflix, but I loved The Crown and I love Claire Foy. I think she is probably the best actress we've had come out of England in a very long time. There are so many great English actresses, of course there are. And I love that many of them are classically trained! They are awesome! I feel like she came out of nowhere and she killed it with her portrayal of the Queen! I think she's incredible and I pray that I get to meet her and fangirl out. I'm gonna try and keep my cool. Also, have you seen the Amazon show The Marvelous Mrs. Maisel? Rachel Brosnahan is wicked! She's so good. I watched it in like two days and I'm desperate for more! The costume design for that show is impeccable.
Speaking of costumes, were there any costumes or looks on film this year that you were particularly excited about?
Phantom Thread. Listen, I can't even articulate how gorgeous that was. The costumes in that were insane. I thought they were incredible. Everything [Mark Bridges] does is incredible; I don't remember a time where he's not been amazing. I thought the costumes were to die for.
What were some of your first memories of watching the Oscars? Did you watch it often while growing up in England?
I've been watching the Oscars for so many years. I was always fascinated by clothes, and I think I've had clothing in my blood for as long as I can remember. I was raised in a very Middle Eastern household, and modesty was very important, and dressing to not be desirable or provocative was very important. However, my mum reminded me a few weeks ago since she saw the show, she said, 'By the age of five or six, you would do a minimum of three or four outfit changes each day. We were going nowhere, but you would change your outfit a thousand times a day!' And she noticed that every time there was a TV show on I would talk about their clothes, but she never expected that this is how my life would turn out. I was always fascinated by fashion so watching things like the Oscars was really appealing to me. However, we didn't have easy access to that. It was more things like the BAFTAs, I had easy access to that. It was hard to watch the Oscars until my teens. My family used to call it 'English TV' or 'White TV,' we weren't allowed to watch because it was more sexualized than Middle Eastern TV. Which is why I think it's surprising that I now work in a field that promotes sexuality and being your best self and wanting to feel desirable. As I got older and moved into my own place, some of those outfits on the red carpet I thought were incredible.
What are your all time favorite Oscars red carpet looks?
That Julia Roberts Valentino gown, it stands out massively. It was a beautiful moment, it was so simple. I remember that dress so vividly. I think in 2011, Cate Blanchett wore that lilac Givenchy dress. That's one of my favorite looks of all time! Of any red carpet. That is the one Oscars look that stands out in my mind so strongly! It was different from what everyone else was wearing, it wasn't a safe choice, but it was still super sophisticated and very appropriate for the show at the awards ceremony. And her hair complimented it beautifully, her makeup was flawless, she always brings it! I've never known a time when she hasn't looked awesome. She received criticism for that dress because it wasn't traditional or super simple. I loved that it stood out because it was very different. And that strong shoulder, honey! My god!
Who else are you anticipating will bring a strong look to the Oscars red carpet this year?
Saoirse Ronan. I know when they're nominated for something like Best Actress, they step it up massively. She's gorgeous. Her last few looks over the last couple of years have been great. I never noticed her style up until a year ago, but she's really stepped it up on the red carpet so I'm looking forward to what she wears. And she was wicked in Lady Bird! I think she's going to turn it out on this red carpet. And then, I know they aren't nominated but I always look forward to seeing what Jennifer Lawrence wears, and I'm praying that Tilda Swinton is there. She's nuts and her style is just otherworldly! I think she's one of the coolest celebrities out there.
You mentioned that your self confidence is affected by the way that you dress, and it seems that your motive on Queer Eye is to change how someone feels about themselves rather than simply put them in new clothes. What's your ultimate tip for achieving that level of self confidence and self assuredness that we see on Queer Eye?
For me, personally, the most important thing is that the product that I put on my body is appropriate for me, my situation that I'm in, and that it fits me in a way that makes me feel the best about myself. There are trends out there that come around and aren't the most flattering for your body or make you feel sexy, but you feel like you have to wear a trend because it's in fashion and you want to feel cool. I hate that kind of pressure and I try to make sure I never put that pressure on myself. I try to make sure that what I wear is appropriate for my age, appropriate for the job that I'm doing and appropriate for my body. I make sure the fit is right, because if the fit is not right, no matter how pretty or cool it is I'm not gonna feel good about myself. So, fit I think makes more of a difference to a person's confidence than anything else.
Are there any trends right now that you feel strongly about?
There's a trend on the red carpet that I'm in love with, and I don't know if it's a trend yet, but it's been around for a couple years. Yara Shahidi, she's very young, did you see what she wore at the Golden Globes? That jumpsuit with the bodice! She is killer! I think Kate Hudson wore something similar a couple seasons ago on a red carpet. I'm hoping to see more of that and the way that Yara did it, it really looked like a full length gown but when she stepped out you realized it was a jumpsuit. The way she did it was perfectly appropriate. I'd love to see somebody rock something like that! But quite honestly when it's the Oscars, I don't want to see a trend. I want to see something that's either going to stand the test of time or is so unique it's not necessarily a trend, it's just something that stands out from the rest of them. Something that you'll look back on in twenty years' time and think that it was incredible.
Do you think people should lean towards taking risks for the Oscars especially?
Well, when I say take a risk at the Oscars, it definitely still has to be appropriate. I don't think a cocktail dress or short dress is appropriate. I don't think anything too sexy is appropriate, but it's appropriate to remember that this is the Oscars, not the Grammys.
Oscars Red Carpet: The All-Time 15 Fashion Risks That Paid Off
You can't have a look back at daring fashion without including Nicole Kidman's John Galliano for Dior dress worn to the 1997 Ceremony. Chartreuse, mink-trimmed, and silk, it has gone down in style history as one of the bests.

Kevin Mazur/Wire Image
Jennifer Lopez is known a very specific style of gowns: nude-colored, plenty of sparkle, and even more skin. But at the 2003 Academy Awards, the singer went for a romantic, one-shouldered gown in an unexpected mint hue that was a welcome change.

J. Vespa/Getty Images
As the off-screen counterpart to Carrie Bradshaw, Sarah Jessica Parker can always be counted on for a daring fashion moment. This Chanel Couture gown from the 2010 ceremony was equal parts elegant and unexpected.

Jeff Vespa
She's Cate the Great for a reason. Blanchett made a major statement in a lilac-hued Givenchy Couture gown with tonal embellishments at the 2011 Academy Awards.

Lester Cohen/WireImage
From the front, Hilary Swank was completely covered up, but when she turned around, that was the "Wow" moment. This Guy LaRoche dress was an instant classic.

Dan MacMedan/Getty Images
Beaded bodice, ombre purple, a full train: Zoe Saldana's Givenchy couture dress certainly had a lot going on, but on the actress, it all worked in perfect harmony.

Steve Granitz
It's not often you see a formal Peter Pan collar, but when it's Chanel couture, that's a different story. Kirsten Dunst was just the girl to pull off the bold neckline.

Jeff Vespa/Getty Images
Before cape gowns came with every red carpet, Gwyneth Paltrow kicked off the trend in a simple, masterfully crafted Tom Ford number at the 2012 ceremony.

Jeff Vespa/Getty Images
It was the leg that launched 1,000 memes. Angelina Jolie made quite the statement in 2012 awards; a look that many others have since tried to emulate to less effect.

Dan MacMedan/Getty Images
If you are to believe stylist lore, Anne Hathaway's Prada gown was a decision made just moments before hitting the carpet. True or not, it made for a refreshingly simple look.

Jeff Vespa/Getty Images
Naomi Watts tried out a new silhouette altogether in a fashion-forward take on the bandeau. It was a sparkling addition to the 2015 carpet.

Steve Granitz/Getty Images
Rachel McAdams opted for a lesser-known designer, August Getty Atelier–a bold red carpet mood in itself–for the 2016 awards, wearing a slinky, jade number.

Dan MacMedan/Getty Images
The Academy Awards typically calls for strict black tie, but newcomer Daisy Ridley made a memorable showing in tea-length Chanel couture.

Gregg DeGuire/Getty Images
A bubble-hem is not one typically seen on the red carpet, but Alicia Vikander made it work–it was custom Louis Vuitton, after-all–in 2016.

C Flanigan/Getty Images
Jessica Biel arrived on the red carpet for the 89th Oscars on February 26, 2017 in Hollywood, California wearing a busy gold dress topped with a busy gold necklace—and yet, it worked.

Photo by Getty Images.
At the Grammys, celebrities wore white roses and at the BAFTAs and Golden Globes they wore all black in support of the Time's Up initiative. Should we expect any sartorial political statements on the red carpet at the Oscars this year?
I would never describe myself as a political person, I don't get involved in American politics, but this is something that everybody could and should get involved with. Whatever your political party is, it's important that we stand together and stand against what is happening in Hollywood. It is something that affects every industry, men get away with this all too often. I love that finally it's okay to talk about it, and I love that women and men are willing to stand together and say this isn't okay and has to stop, and if it means they're wearing black in protest, I love that. It's a silent protest. If they do something similar at the Oscars, I would be more than happy to see that.
What are your thoughts on E! News allowing Ryan Seacrest to continue to host the Oscars red carpet, given the allegations of sexual misconduct against him?
I would love to comment however I don't know enough about the conversation. I know that just sounds like a PR response, but I just heard about this last night. All I can say is, I pray it's not true. I pray [to get] to the point where I can trust men and know that not every one of them is a dirty slimeball. I hate to ever assume that anyone isn't telling the truth. I want to believe that we live in a world where not every man is a slimeball. It's so painful to hear that people have gone through this for all these years and only now feel comfortable to stand up… and that it's taken us all the way until 2018 to finally discuss this stuff, but I'm glad that people are taking a stand. And the fact that Oprah made that speech at the Golden Globes, hopefully everyone will now take this seriously.
Related: Queer Eye's New Fab 5: Meet the Lifestyle Experts Making Every Netflix Binge-Watcher Cry
Oscars Red Carpet: The 21 Most Memorable Dresses of All Time 

Speaking of Galliano: At the 69th Annual Academy Awards in 1997, Nicole Kidman would forever change red carpet dressing by sporting one of his designs for Dior, a flawless, devastating silk gown in iridescent chartreuse that immediately appalled Joan Rivers and upstaged Tom Cruise.
Cher at the 45th Annual Academy Awards in 1973 wearing a bedazzled crop top.
Anjelica Huston at the 58th Annual Academy Awards in 1986 wearing a one-sleeve emerald green dress.
Madonna at the 63rd Annual Academy Awards in 1991 wearing Bob Mackie and $20 million worth of Harry Winston diamonds.
Sharon Stone at the 70th Annual Academy Awards in 1998 wearing a Gap shirt paired with a Vera Wang skirt.
Cate Blanchett at the 71st Annual Academy Awards in 1999 wearing a sheer John Galliano dress with an open back.
Celine Dion at the 71st Annual Academy Awards in 1999 wearing a Dior tuxedo backwards.
Halle Berry at the 74th Annual Academy Awards in 2002 wearing a sheer Elie Saab gown.
Marion Cotillard at the 80th Annual Academy Awards in 2008 wearing Jean Paul Gaultier couture.
Charlize Theron at the 82nd Annual Academy Awards in 2010 wearing Dior.
Angelina Jolie at the 84th Annual Academy Awards in 2012 wearing Atelier Versace.
Gwyneth Paltrow at the 84th Annual Academy Awards in 2012 wearing a Tom Ford cape.
Lupita Nyong'o at the 86th Annual Academy Awards in 2014 wearing Prada.
Barbra Streisand at 41st Annual Academy Awards wearing sequin see-through bell bottom pants with a matching top.

ABC Photo Archives
Diane Keaton at the 76th Annual Academy Awards wearing three-piece menswear-inspired suit with bowler hat.
Hilary Swank at the 77th Annual Academy Awards wearing backless Guy Laroche gown.
Penelope Cruz at the 79th Annual Academy Awards wearing an Atelier Versace gown.
Jennifer Lawrence at the 83rd Annual Academy Awards wearing a red Calvin Klein Collection dress.

Jeffrey Mayer
Lady Gaga at the 88th Annual Academy Awards wearing new designer Brandon Maxwell.
Jennifer Lopez during The 75th Annual Academy Awards, donning an unexpected mint hue.

J. Vespa/Getty Images
In 2018, Rita Moreno walked the Oscars red carpet in the same black and gold gown she wore to the Oscars in 1962.

Dan MacMedan