Saoirse Ronan's Stylist Elizabeth Saltzman on the Ladybird Star's Red Carpet Evolution and Her Oscars Dress
The 'Ladybird' star has been taking inspiration from Debbie Harry all awards season.
---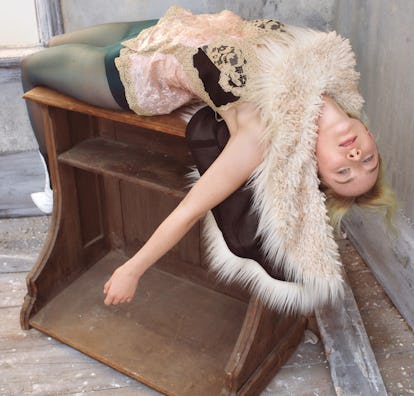 Photographs by Mario Sorrenti, Styled by George Cortina; Hair by Akki at Art Partner; Makeup by Diane Kendal for Marc Jacobs Beauty At Julian Watson Agency; Manicures by Honey for Marc Jacobs Beauty at Exposure NY.
If you've glimpsed any of Saoirse Ronan's standout looks this awards season, then you're familiar with the work of Elizabeth Saltzman. The London-based American stylist is responsible for the Oscar nominee's transformation over the past couple of years into a fashion darling. Along the way, she's also helped translate Ronan's inner evolution into a strong, feminist sartorial look on the red carpet. After dressing Ronan in sculptural black Versace for the 2018 Golden Globes, Saltzman revealed that the dress, as with Ronan's other recent awards show looks, was born from the pair deciding to work solely with women in the wake of Ladybird. "Saoirse and I had a conversation at the beginning of the season that should Ladybird go the distance, we wanted to work with all females—female makeup, female hairstylists, female designers—and that we would never talk about it to anyone," she told Vogue UK. "It would be our fun secret, our empowering moment."
One of the reasons narrative plays so strongly in Saltzman's work is that, unlike many of her peers, the mildly social media-phobic stylist started her career first at Vogue and Vanity Fair. "All my years as an editor really helped because I was trained as an editor versus trained as a red carpet stylist, and that's very different," she told me over the phone.
It was through her relationship with Gwyneth Paltrow that brought Saltzman to celebrity styling. "It happened naturally," she said. "I moved to London. Gwyneth lived here. She and I had been friends. It started out as 'Can you help me find some stuff?' 'I like your style too, let's make it you.' It's about finding their voice. It's their identity with a little of my taste thrown in," she said of her clients, which also include Deepika Padukone, Sophie Turner, and Rebecca Ferguson, among others. But the most memorable look she's ever been responsible for may still be Paltrow's caped white Tom Ford moment at the 2012 Oscars. Of course, we've yet to see what she has planned Ronan at the 2018 Academy Awards on Sunday night. Here, Saltzman reveals the inspiration for Ronan's Oscars look, how Paltrow's iconic moment came to be, and how much the red carpet has changed over the years.
Oscars Red Carpet: The All-Time 15 Fashion Risks That Paid Off
You can't have a look back at daring fashion without including Nicole Kidman's John Galliano for Dior dress worn to the 1997 Ceremony. Chartreuse, mink-trimmed, and silk, it has gone down in style history as one of the bests.

Kevin Mazur/Wire Image
Jennifer Lopez is known a very specific style of gowns: nude-colored, plenty of sparkle, and even more skin. But at the 2003 Academy Awards, the singer went for a romantic, one-shouldered gown in an unexpected mint hue that was a welcome change.

J. Vespa/Getty Images
As the off-screen counterpart to Carrie Bradshaw, Sarah Jessica Parker can always be counted on for a daring fashion moment. This Chanel Couture gown from the 2010 ceremony was equal parts elegant and unexpected.

Jeff Vespa
She's Cate the Great for a reason. Blanchett made a major statement in a lilac-hued Givenchy Couture gown with tonal embellishments at the 2011 Academy Awards.

Lester Cohen/WireImage
From the front, Hilary Swank was completely covered up, but when she turned around, that was the "Wow" moment. This Guy LaRoche dress was an instant classic.

Dan MacMedan/Getty Images
Beaded bodice, ombre purple, a full train: Zoe Saldana's Givenchy couture dress certainly had a lot going on, but on the actress, it all worked in perfect harmony.

Steve Granitz
It's not often you see a formal Peter Pan collar, but when it's Chanel couture, that's a different story. Kirsten Dunst was just the girl to pull off the bold neckline.

Jeff Vespa/Getty Images
Before cape gowns came with every red carpet, Gwyneth Paltrow kicked off the trend in a simple, masterfully crafted Tom Ford number at the 2012 ceremony.

Jeff Vespa/Getty Images
It was the leg that launched 1,000 memes. Angelina Jolie made quite the statement in 2012 awards; a look that many others have since tried to emulate to less effect.

Dan MacMedan/Getty Images
If you are to believe stylist lore, Anne Hathaway's Prada gown was a decision made just moments before hitting the carpet. True or not, it made for a refreshingly simple look.

Jeff Vespa/Getty Images
Naomi Watts tried out a new silhouette altogether in a fashion-forward take on the bandeau. It was a sparkling addition to the 2015 carpet.

Steve Granitz/Getty Images
Rachel McAdams opted for a lesser-known designer, August Getty Atelier–a bold red carpet mood in itself–for the 2016 awards, wearing a slinky, jade number.

Dan MacMedan/Getty Images
The Academy Awards typically calls for strict black tie, but newcomer Daisy Ridley made a memorable showing in tea-length Chanel couture.

Gregg DeGuire/Getty Images
A bubble-hem is not one typically seen on the red carpet, but Alicia Vikander made it work–it was custom Louis Vuitton, after-all–in 2016.

C Flanigan/Getty Images
Jessica Biel arrived on the red carpet for the 89th Oscars on February 26, 2017 in Hollywood, California wearing a busy gold dress topped with a busy gold necklace—and yet, it worked.

Photo by Getty Images.
How did you start working with Saoirse? Her publicist called me and said they needed help for the Toronto Film Festival. She was in Ireland; I was in London. They asked, "Can you do this as a favor? She has a stylist." I said yes, as long as it's cool with the other stylist I'm happy to help out. I have a weird way of working. I like to meet someone and see if we click, because when I work with someone I like to give it my all and really get to know them to understand what I'm doing. I don't normally do someone for less than three times because then it's not a consecutive story.
It was interesting because I didn't know anything about Saoirse, so I pulled what I thought was appropriate. She walked into our studio and we were laughing and talking in a dialogue that sounded like it would take a long time to establish. I made a comment about something [in reference] to a Jimmy Fallon character where he goes "Ew!" She put on something and I was like, "Ew, no." She broke into the same dialect and we went off and started having fun. Then she said, "I have to tell you. I'm not into pink. I'm not into sparkles." Of course, my favorite piece on the rail was a pink, sparkly Chanel sweater and a pair of white sailor pants. I said, "But this is my favorite look." And she tried it on and loved it. That's when I knew we were going to have a good time working together. I thought it was only for a few looks and we just kept the relationship going.
How has her style evolved since then? Completely, totally. She's the oldest, most wonderful soul that I've been fortunate enough to meet. I met her at 21 and she was far older than I was at 50 and wiser, smarter, and cooler. What wasn't happening is that her personal style hadn't developed. Now at 23, she has the confidence to try things. Her body has changed. Her attitude has changed. She's all grown up.
What kind of direction has she given you this awards season? The main focus before the season started was we wanted it to be a bit more editorial, a bit stronger. I put together some ideas and it came from if Debbie Harry from the '70s and '80s had to walk these red carpets—but really keeping it true to Saoirse. We probably would have gone harder-core if Ladybird wasn't such a small budget movie. There's no ad dollars. This is as bare bones as it gets. So everyone is doing what they can to pitch in: Every outfit mattered, because it meant Ladybird might get mentioned or it might get picked up somewhere or maybe 100,000 more people will know how to say Saoirse's name.
Making Saoirse look strong rather than pretty isn't the norm on the red carpet. There's so many pretty dresses, often it feels like people are making safer choices. I think I take safe choices. I think people want more true fashion but I keep explaining that all I care about is Saoirse feeling truly confident and making wise choices for where to risk and when to risk. One of the reasons I love watching Cate Blanchett is because she takes fashion risks in a really strong way. There are statements in there. Whereas, I can see a pretty dress all the time. Pretty dresses are my favorite thing but it doesn't mean that I'm going to use the biggest red carpets in the world to showcase them on, and it doesn't mean I'm not going to. It just means I'm trying to make it Saoirse's style, which is a confident young woman. There's no reason to be something else.
If a look doesn't come together correctly, how do you handle that? I can tell you, but I don't want this to be a focal point. At the SAGs, I had planned for a different dress we made and it wasn't working. I flew to L.A. from London for less than six hours to make the call and it just didn't work. If I don't believe in it 100 percent, then it's not right and I wouldn't let Saoirse wear anything that I didn't believe in 100 percent unless she was so sold on it that she felt amazing. At the end of the day, that's all that matters. You have to get to 100 percent. There's no reason not to.
I don't have backup dresses. I found that Louis Vuitton dress at a meeting there and I was not thinking SAGs. When I saw it, I just thought, "That's cool, and it looks different. It feels different. It feels like Saoirse." The more I looked at the pictures of her, I thought that is her SAGs dress. I'm going to go there if I can't make this work.
Was that the hardest look the two of you have pulled off so far? I think it was one that was open to criticism because there was a lot of beautiful dresses there. This was a bit cool girl, casual. She really owned it. A bit of a shift from what everyone else was doing. I won't compare it to other work that I've done but I remember having the same feeling when I worked with Gwyneth Paltrow and we stripped her out of what other people had been wearing to the Oscars. I put her in a Tom Ford dress with a cape and I remember saying to her very directly, "There are two ways this is going to go. We're going to have a bit of a shift on the red carpet because we're doing away without beads, sequins, pouf. It's either going to be great or you are going to get nailed."
How did Gwyneth react when you told her that? We laughed and laughed. When she put it on, I freaked because she looked so pretty. I'm not going to let someone go out there without hoping that they feel great and look great.
Do you think there has been a shift on the runway since that moment? There's so many people on the carpet now. Before it used to be that you were waiting to see five to 10 to 15 people. Now there's so many more people of interest who are presenting or up for the awards; they're just guests that take up so much carpet time. There's so many more carpets. I don't ever remember there being an award show every week. There's truly a premiere everywhere, and I guess because we didn't used to see premieres outside of America or the main carpets. You wouldn't see red carpets in Australia, China, wherever all the films are touring. Now there's at least a carpet every day of the week and a mega one every other week if not every week.
Do you have any predictions for the dominant trends at the Oscars? I laugh because now that the Oscars are in March, I'm like, "Oh, so we have exactly two months till Cannes starts," which just seems so bizarre and uncanny. But I think that anything goes. There will obviously be layering. The things that we're seeing at couture is probably because everyone is already in Oscar mode. So there will be fringe, tulle, beadwork, black and white and pink. I'm just as excited as everyone else.
Can you give a teaser about what Saoirse will be wearing to the Oscars? We've been talking about the sky. We're still in full blown fabric and sketch mode so it hasn't been decided. It's just been narrowed very down. I can tell you that a big part of the reference is the sky.
Oscar Nominations 2018: See Photos of Mary J. Blige, Meryl Streep, Timothée Chalamet, and More Actors
Frances McDormand, Best Actress, Three Billboards Outside Ebbing, Missouri

The Neal Peters Collection
Octavia Spencer, Best Supporting Actress, The Shape of Water

Sorrenti Mario
Gary Oldman, Best Actor, Darkest Hour

Sorrenti Mario
Christopher Plummer, Best Supporting Actor, All the Money in the World

Sorrenti Mario
Denzel Washington, Best Actor, Roman J. Israel, Esq.

Teller Juergen
Meryl Streep, Best Actress, The Post

Thompson Michael
Richard Jenkins, Best Supporting Actor, The Shape of Water

Ari Marcopoulos
Sally Hawkins, Best Actress, The Shape of Water

Anna Bauer
Mary J. Blige, Best Supporting Actress, Mudbound

VAN LAMSWEERDE INEZ & MATADIN VINOODH
Margot Robbie, Best Actress, I, Tonya

CRAIG MCDEAN
Saoirse Ronan, Best Actress, Lady Bird

SORRENTI MARIO
Daniel Day-Lewis, Best Actor, Phantom Thread

TIM WALKER
Timothée Chalamet, Best Actor, Call Me By Your Name

Luca Khouri
Willem Dafoe, Best Supporting Actor, The Florida Project
Jordan Peele, Best Director, Best Original Screenplay and Best Picture, Get Out

©Universal/Courtesy Everett Collection
Allison Janney, Best Supporting Actress, I, Tonya

Courtesy Everett Collection
Daniel Kaluuya, Best Actor, Get Out

©Universal/Courtesy Everett Collection
Greta Gerwig, Best Director, Best Picture and Best Original Screenplay, Lady Bird

Everett Collection / Everett Collection