Quincy Jones Is Like Joan Didion
In case you missed them, here are the top style news stories of the week.
---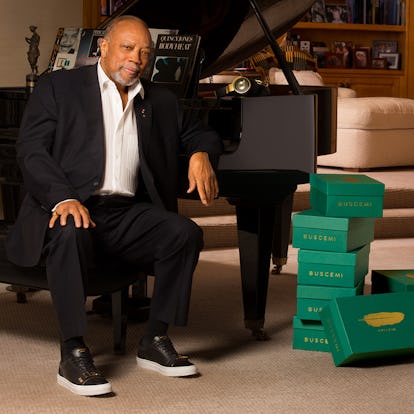 Brinkley, Christie Tried to save a bird, got injured. Never again, birds.
Chanel Plans to launch e-commerce with Net-a-Porter. Yoox celebrates.
Clinton, Hillary May poach the makeup artist responsible for Julia Louis-Dreyfus's beauty look on Veep. It's lovely when life imitates art, no?
Delevingne, Pandora Cara and Poppy's mom reveals plans to pen a memoir. Delevingners everywhere to purchase.
DKNY Hey, Prabal, they may be looking for a new creative director. In case you're interested.
FKA Twigs Is reportedly marrying Robert Pattinson in an attempt to secure his cool status.
H&M To launch eco-friendly pop-up shop in Times Square. Because nothing says conscious commerce like a big billboard with Olivia Wilde on it.
Hillier, Katie The former Marc by Marc Jacobs designer announced plans to reboot her jewelry line. Without Luella Bartley.
Jones, Quincy Is the "Joan Didion of men's wear," according to Vanessa Friedman, because he appears in new Buscemi ads.
Kardashian-West-Jenners The entire extended family wore skimpy white outfits to church on Easter. Of course.
Lively, Blake Recruited her Sisterhood of the Traveling Pants co-stars to be her baby's godmothers. Ryan Reynolds's Van Wilder co-stars are not even the slightest bit jealous.
Lopez, Jennifer And that green Versace dress can take credit for the invention of Google Images. Thank you.
Poumaillou, Maria Luisa The legendary Paris fashion maven passed away.
Uniqlo Brings back +J collection. With or without its founder, Jil Sander.
Upton, Kate Revealed that photographer Terry Richardson was never supposed to release the now-viral Cat Daddy video. Now that it made her famous, though, she's no longer mad that he leaked it.
Westman, Gucci The makeup artist plans to part ways with Revlon after seven years. Getting the Gucci look just got a little bit more difficult.