The Stylist
Working behind the seams with some of Hollywood's most glamorous starlets has made Rachel Zoe something of a celebrity herself.
---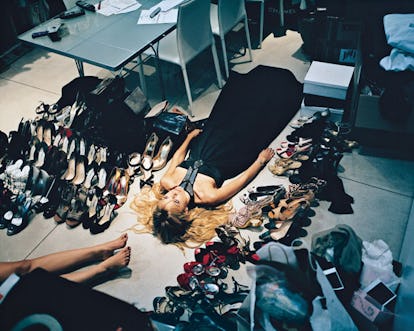 Shopping with Rachel Zoe, the pixie-size celebrity stylist who says she hates the term "celebrity stylist" and instead wants to be referred to as "just a stylist," is a dizzying, even exhausting, experience. Five minutes into a visit at What Comes Around Goes Around, a vintage-clothing shop in New York's SoHo, she has swooned, kvelled and plotzed over any number of items. On this brisk November afternoon, she's searching for goddess dresses for the spring 2007 Jimmy Choo and Judith Leiber advertising campaigns she'll be styling; outfits for public appearances by her clients Lindsay Lohan, Mischa Barton and Nicole Richie (the last of whom will hire a rival stylist a little more than two weeks later); and, of course, pieces to fit her own rail-thin frame. Each swoon, kvell and plotz is accompanied by a different, wildly effervescent superlative.
Zoe in a Missoni dress and Brian Atwood shoes at her Los Angeles studio.
"This is so amazing," she says, fondling a tiny gold purse. "Like, I'm kind of obsessed. And the silver one is just insane." (She takes both.) A pair of boots are "like, the dopest things ever." A sweater vest with a fur collar "is amazingly delicious. So yummy." A Missoni caftan "is so kooky crazy. I could wear it in St. Barths."
Then, one of the store's owners, Seth Weisser, has Zoe try on a Matrix-inspired, formfitting leather jacket of his own design. And that's when Zoe has a fashion orgasm. "Seth, this is on another level!" she squeals. "This jacket's so hot. This is not even on another level; it's on another planet. I need to rock this. I'll wear this left, right and center." (Weisser gives it to her as a gift, knowing that her tastemaking friends and clients will inevitably see it on her and want one too.) And then, after a 10-second cooldown, she's off again, combing the racks: "I'm looking for Alaïas. Any Alaïas, Alaïas, Alaïas, Alaïas?"
Though this scene might sound like a shopaholic's fantasy, for Zoe—who dropped her last name, Rosenzweig, professionally on an agent's recommendation—it was serious business. She's not a shopaholic but a workaholic, she insists, when she finally sits down, after several hours of hard labor, to rest her Brian Atwoods. (The shoe designer is a longtime friend; according to Atwood, they met "dancing on tables in Paris eight years ago" after Zoe left YM magazine to work as a freelance stylist.) "I can't plan anything," she says, sliding into a banquette in the lobby of the 60 Thompson hotel. "I don't get to see my friends. Ever. I can't keep a doctor's appointment. I can't make a dinner plan. I've canceled every vacation that I've wanted to take in the last three or four years."
Zoe, 35 and a native of New Jersey, considers herself a "fashion doctor on call, 24-7." She majored in sociology and psychology at George Washington University, and one can only assume that—with her high-drama twentysomething clients—she's putting that degree to good use. But she has lately become much, much more than a dressing-room shrink handy with double-stick tape. Besides the 15 clients she dresses at a rate of more than $6,000 a day—among them Jennifer Garner, Keira Knightley, Maria Sharapova, Demi Moore, Cameron Diaz and Salma Hayek—she designs a collection of ultra-expensive bags for Leiber; consults with piperlime.com, a shoe Web site run by Gap Inc.; styles runway shows for the fashion label Marchesa; is codesigning uniforms for the new Thompson Hotel, in Beverly Hills; works on the aforementioned ad campaigns for Jimmy Choo, Leiber and any brand a client may be promoting; stars in a current print ad for a Samsung cell phone; and will release her first book, set to be called Style A to Zoe, in the fall. Beyond all this, she is developing a jewelry line, an accessories line and possibly a television show, none of which she is ready to discuss. "I see Rachel almost as a brand herself," says Georgina Chapman, one of the designers behind Marchesa.
Keira Knightley, styled by Zoe, wears Vera Wang at the 2006 Oscars.
Celebrity stylists are a relatively new phenomenon. As recently as 15 years ago, many stars chose their own ensembles, even for Oscar night, or were dressed by designers or the wardrobe departments of the studios they worked with. But sometime in the mid-1990s, the increased focus on red-carpet fashion led celebs to start hiring fashion experts for big affairs. Now—thanks to the explosion of weekly gossip magazines doing their best to catch famous folks in unflattering sweatpants—more and more stars are employing wardrobe fixers to outfit them for everyday too. Suddenly, stylists are almost as integral to the Hollywood machine as publicists and agents—and a handful of them have been able to attain a certain degree of fame and fortune. In the words of Zoe's fellow stylist Cristina Ehrlich, who, with her business partner, Estee Stanley, has a clothing label called Miss Davenporte and a line of body-shaping underwear for Frederick's of Hollywood, "We're only as limited as we think we are." (Stanley also has a burgeoning home-decor business.)
Naturally, with such high stakes, the industry is especially cutthroat. Clients are constantly switching stylists, as happened this past November when Richie reportedly dumped Zoe and hired Ehrlich and Stanley the very same week. (According to press reports, Richie was angry that Zoe participated in an intervention aimed at helping her overcome an eating disorder. Zoe, in a statement, called the split a "mutual decision.") Adding to the drama, Ehrlich and Stanley are represented by Zoe's former agent, and they previously styled current Zoe clients Moore and Hayek.
Zoe with Nicole Richie.
"It's like Mean Girls," explains a New York—based celebrity stylist who, for obvious reasons, prefers to remain anonymous. Adds Steven Cojocaru, a fashion correspondent for CBS's The Insider, "It's ugly, ridiculous, Fellini-esque. Everybody hates everybody. They're not just jealous of each other. They're insanely, pathologically jealous."
Amid all the maneuvering, Zoe has managed to become queen bee. It's not that she makes her clients look more beautiful than does L'Wren Scott (who styles Nicole Kidman and Sharon Stone, dates Mick Jagger and recently began designing her own line of dresses) or Andrea Lieberman (who, besides dressing Faith Hill and Mary J. Blige, fashions jewelry for Mouawad and consults on L.A.M.B. for her client Gwen Stefani); it's more that Zoe's young, naughty clients get the most press. And quite often, when they're photographed living it up at events and clubs, Zoe is right there with them. Still, she insists that she's not a partyer—"My clients make fun of me when I want to go home at 10:30," she says—and claims to be uncomfortable with the fact that she's become something of a celebrity herself.
"I'm scared that it's going to be gone," Zoe says. "That people may like my work now, but then next week they'll be so over it. It's almost how they say when an actress wins an Academy Award, it's like the kiss of death. I just don't ever want to lose sight of why I'm here."
Indeed, Zoe's skyrocketing success—she moved to L.A. with her husband, Rodger Berman, a new-media entrepreneur, in late 2002, after working as a fashion editor and styling music videos—has made her the target of sniping. There is the accusation that she's more interested in her own fame than in working for her clients. "What I've observed is that if stylists go on the red carpet, they'll make a conscious effort to really dress down in jeans, carrying pins. You don't want to outshine your clients," says Mario Lavandeira, the editor of perezhilton.com, which devotes much blog space to Zoe. "Rachel dresses as well as her clients, and she'll talk to reporters."
Zoe with Lindsay Lohan.
Cojocaru concurs. "Certain stylists want to work on the down-low—L'Wren would run away from me when I saw her at fashion shows," he says. "But Rachel is very social. That's the way she's wired. She's part of it. She loves it. And if you want to put yourself out there, people are going to come scurrying."
Others complain that Zoe turns all of her clients into clones, putting them in Grecian gowns and loading them down with jewelry. But Sharapova, who says she hired Zoe because she wanted "the best," disagrees. "Everyone has their own sort of style," counters the tennis champ. "I didn't want her to make me into someone or change mine. But I've learned a lot. I would never have spent three grand on an Yves Saint Laurent cashmere sweater, but she taught me that key pieces are really important. And I'm wearing that sweater right now."
But the most scathing anti-Zoe chatter of all has little to do with dresses or diamonds. The real issue, according to her detractors, is how skin-and-bones thin many of her clients have become. A recent gossip report declared that the expression "Rachel Zoe skinny" is now being used regularly in Hollywood to refer to the extremely underweight look currently epitomized by Barton and Richie—and Zoe herself. "There was something that came out about me giving horse pills or diet pills from Mexico to my clients," says Zoe. "Anyone who knows me, they laugh. I'm so drug clueless. If I can get through a glass and a half of wine in a night, that's a momentous occasion. I mean, I take Tylenol once in a while, and that's about it."
Though she was born 10 pounds—"the fattest baby you ever saw in your whole life"—the ultrapetite stylist claims that she has been naturally thin for as long as she can remember. "I'm not going to lie. I don't eat like a pig. I don't diet per se, but I'm one of those people that, when I'm under a lot of stress, I have to remind myself to eat," she says. "You're not going to see me eating crap and junk food, because it doesn't make me feel good. But I eat tons of fish and vegetables. And I would never in a billion years tell anyone to lose weight. Ever."
But an especially nasty posting on Richie's MySpace page paints a different picture. The curiously spelled blurb, widely reported to have been written by Richie and aimed at Zoe, read: "What 35 year old raisin face whispers her order of 3 peices of asparagus for dinner at Chateau everynight, and hides her deathly disorder by pointing a finger at me?"
"That's kind of below the belt," Zoe huffs, when asked about the posting. "I just need to rise above it and let it go. My teenage drama years were a long time ago, and I certainly don't want to relive them. I'm 35, and I just don't want the drama. I'm tired."
Besides, Zoe has more important things to think about. In conversations about her life goals, she admits that what she really wants to be is a creative director at a fashion house, "a brand with history. It could be anything: Halston, Yves Saint Laurent. Those are the ones that come to mind."
To hear her friends tell it, she's got what it takes to make that—or anything else she wants to do—happen. "She's a great little networker," says pal Edward O'Sullivan, who, until recently, worked as a celebrity liaison for Ralph Lauren. "She works it. She'll have a dinner with Georgina Chapman, Margherita Missoni, Harvey Weinstein, Brian Atwood and Karolina Kurkova. Now that's a f—ing table."
And recently, quite by accident, Zoe seems to have stumbled upon a role model. In November she came down with what she describes as "the worst flu ever. Like a plague. It was literally the most horrible thing. It was like typhoid." Stuck in bed, she flipped on the television and happened to land on a program about megabillionaire investor Warren Buffett. "He's the most amazing man," she gushes, sounding like a high schooler with a crush. "And it's funny, because a lot of his mantras are very similar to the ones I live by. We both live by our gut."