Every Time Raf Simons Got Emotional About Animals
The Belgian designer, who once had a pet marmot, reserves a soft place in his heart for furry creatures.
---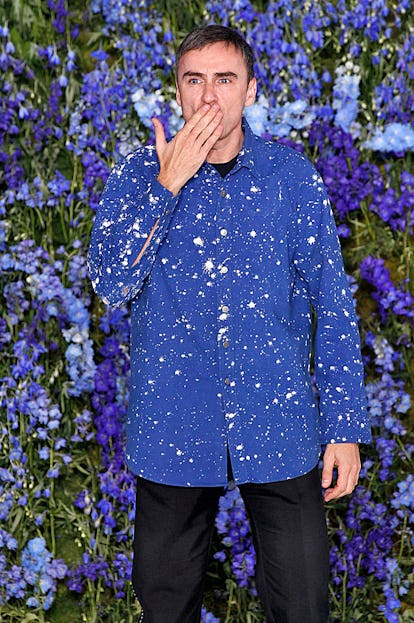 Victor Virgile/Getty Images
"I was raised on a street where there were farms and cows and animals," Raf Simons once told Humberto Leon. Right now, Simons's animal obsession, which he has not lost touch with since leaving the small Belgian town where he was raised, is centered around his dog Luca, a still-growing, already massive beauceron that Simons raised with his partner in the year he took off after leaving Dior, and whom he has brought to New York after moving here for Calvin Klein.
With Luca came a few friends—the pack of stuffed animals currently flooding his Midtown apartment. That's not to say Simons doesn't appreciate a good stuffed animal himself; the designer had plenty to reinforce the real animals growing up—though teddy bears must've been a little passé in Belgium. "Not bears. Lots of dogs, because I always wanted dogs," he told W this week on the occasion of his new collection for the European textile company Kvadrat. (Just don't tell his first pet: A marmot.) Revisit all the times the designer, who has a penchant for referring to himself as a "creative animal," expressed real feeling about animals, here.
"I spoiled [the marmot] like hell. I gave it great salad. It loved salad. Every time the fridge would open, it would start to scream when it saw the salad. My dad said, 'Stop, get out with this thing.'" — to Harper's Bazaar
"Because very few people go into the heart of things. They look at the surface, but I hunger for an ideal world always. Before I came to the city, I had also had the feeling that I grew up in an ideal world. My mom and my dad, what they have together is amazing. Then there's my village, with the grass fields and the woods and the animals." — to T Magazine
"I feel most proud about: simple things like being able to handle love and friendship and family. Or taking care of my dog." — to the Wall Street Journal
"I always wanted dogs … I'm training my dog not to bite [stuffed animals]—to see the difference between when it's an animal figuration and a bone figuration. Because dogs, they tend to, you know, bite things and chew things. You probably think, like, you're in cuckoo land. She's a really big dog, and very sweet—zero aggression in her. But she's very strong, so you give her a bone and it's gone in 15 minutes, but you give her a toy, and the ear can be off in a second. Now I taught her to not do that anymore, so she treats them like family. [Laughs.] Sometimes I put them on the couch, and she wants to take, and I say, 'No no no, they're your friends,' and then she doesn't take, and then I turn my back and then after half an hour she has one in the mouth, but she wouldn't chew all of them. It's interesting." — to W
"I wish I could always be with: my dog, Luca, a Beauceron, who behaves like everything except a dog—more like a cat or a frog. She's still a baby." — to the Wall Street Journal
"I am also one of these people who takes many years to decide on what to upholster a sofa in. And then moving to New York, we just bought some kind of like easy cover you can take off, because we have a big dog, so I didn't want to approach it too preciously … she always likes to be on the sofa and on the bed. She's a tall dog. She might like this [cushion] because she's very spotted. You might not see her very well if she lies on top. " — to W
"It's very different to how things work in fashion right now. Of course everybody's happy if it's successful, but not once have [the Kvadrat team] ever said to me, 'this is our expectation'. Never. They believe in me, I believe in them and it's a marriage. It's in their nature to collaborate with creative animals." — to the Telegraph
"It requires full focus, so we are always here, basically. And when we have the opportunity to take some time, we go out with her [Luca]. We go out of the city where it's beautiful and green. We go to the Berkshires. We've been to Connecticut." — to GQ Style
"I haven't done a lot since [we arrived in New York]. I saw a couple of shows. The Agnes Martin show at the Guggenheim, for example. Some gallery shows. In the beginning we're taking care of the house. You close down the whole thing in Europe, move it over, organize the the whole thing. It's a whole different life. We have a big dog." — to GQ Style
"So all of that together is a lot. Coming here. Living here. Your partner. Your dog. It's a new city. New experiences. Starting a new job." — to GQ Style
"A place I'd like to visit again is: Kruger National Park in South Africa. It's mind-blowing how it sits so far away from anything you've ever experienced in a city. There were no people, no proof of human life, just animals and animal behavior. It's survival of the strongest, which is fascinating." — to the Wall Street Journal
The butterflies of Paris Fashion Week: